The Wi-Fi Direct functionality was implemented in Android with the introduction of Ice Cream Sandwich (Android 4.0). Wi-Fi Direct allows Android 4.0 or later devices with the appropriate hardware to connect directly to each other via Wi-Fi, thus letting you share data between two Android devices in a much speedier way. Unfortunately, Wi-Fi direct has been integrated so badly on compatible devices that an average user finds it completely useless. That's because even after pairing aka connecting two devices through Wi-Fi direct, there is no option for sharing files over Wi-Fi, unlike Bluetooth. Luckily, the WiFi Shoot app is the first of its kind on the Google Play Store that takes advantage of Wi-Fi Direct technology and lets you seamlessly use this great feature!
WiFi Shoot is a free app that offers an easy and efficient way to wirelessly transmit photos, videos, and any file directly between two Android devices at a very high speed. The app reportedly works with a pair of ICS+ devices with Wi-Fi Direct support, but it may not work on every device due to the bad implementation of Wi-Fi Direct on some devices. The free version of WiFi Shoot allows sharing photos and videos only, this limitation can be removed by upgrading to the premium version for $2 approx.
The app is said to be working successfully on the following devices: Galaxy Nexus (GSM), Nexus 7, Galaxy S2 (International), Galaxy S3 International (both on Ice Cream Sandwich and Jelly Bean), HTC One S, Galaxy S, HTC One V, Nexus 4.
~ We've personally tested it between Galaxy Nexus (GSM) and Nexus 7 (Wi-Fi only). It worked like a charm, you just need to properly follow the steps below:
Firstly, make sure both your Android phones have Wi-Fi Direct option. Check it by going to Settings > Wi-Fi, and then tap on the menu. Also, see that both the devices are connected to the same Wi-Fi network and Wi-Fi is turned ON on both of them.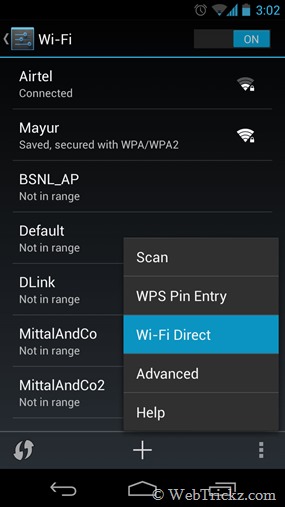 Using WiFi Shoot to share files wirelessly via Wi-Fi Direct –
Install the 'WiFi Shoot' app on both devices. A new sharing option WiFi Shoot will now appear in the Share menu. Run the app on the receiving device. Then share a file (from sending device) by selecting WiFi shoot, choose the appropriate device to invite, and establish a connection. Tap Shoot on the receiving device to receive the file.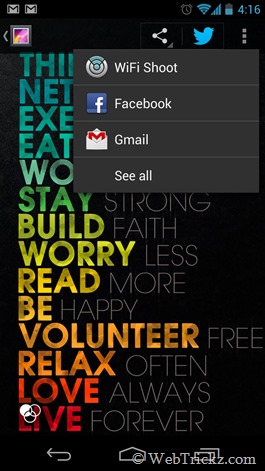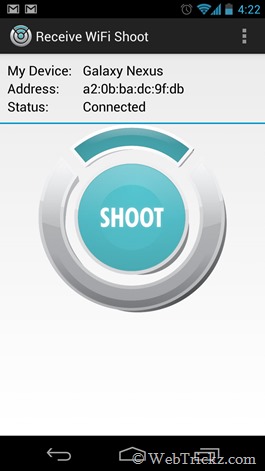 Demo Video –
Wishing all our dear readers a Very Happy New Year. 🙂