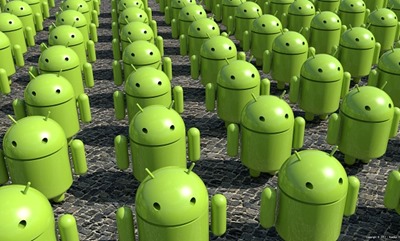 Photo collages are one the most popular photo editing entertainments on the web. There are over a dozen of Android photo collage makers: free and paid, with a different number of collage layouts and photo effects, with manifold collage saving options. Perhaps, the task to find the best free applications for Android devices that create collages is not so simple. So, here we bring you a collection of photo collage-making apps which all are available for free at the Google Play Store.
Photo Grid  [Google Play]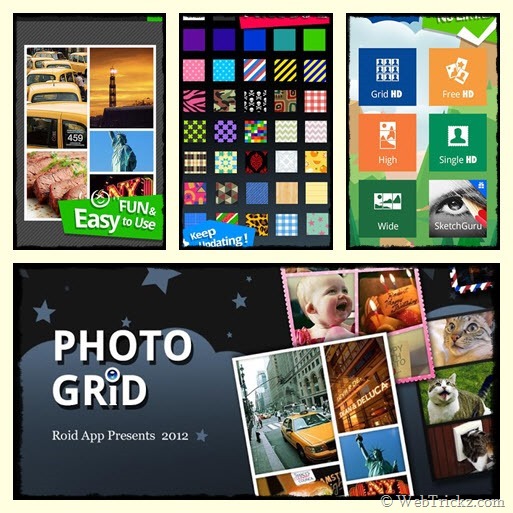 One of the undeniable advantages of this app is that it is really easy to use and it is not overloaded with tons of features, which is something basic users prefer.
With Photo Grid you can create a funny collage in the form of a grid or as a template with free style borders. The app allows you to edit borders, background and the photos themselves (rotate, zoom or move). After you're done with the collage making, you have two ways to go: it is possible to save a collage onto your mobile device or share your masterpiece on social networks including Instagram or spread it via email.
Interesting: The app can resize the edited pics half as much or more which is convenient when you need to upload collages using the mobile internet.
Pic Collage  [Google Play]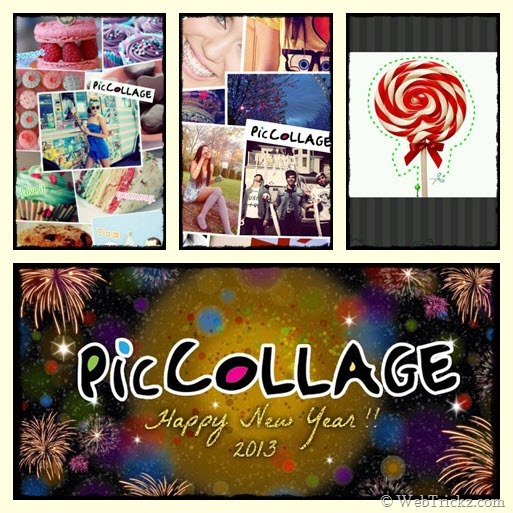 Pic Collage is also distinguished by a simple user interface that won't confuse anybody. All you need to do is to click on the empty spaces and add pictures from your galleries. The prominent fact is that you can also capture and add fresh photos or download images from the Internet or Facebook.
After picking a template and a set of images, the app enables you to process the details like photo rotation and zooming, changing background and borders in the collage. Photo editing features are awesome: contrast, brightness, remove red eyes, and much more.
Interesting: To change a background, tap for a while on it. The number of background templates is not very big but the number of effects compensates for it.
Worth keeping in mind: The app works better in portrait mode. But it is possible to work with it in the landscape mode too.
Apart from the stationary photo effects, it is possible to purchase additional sets which cost approximately $1 each.
KD Collage  [Google Play]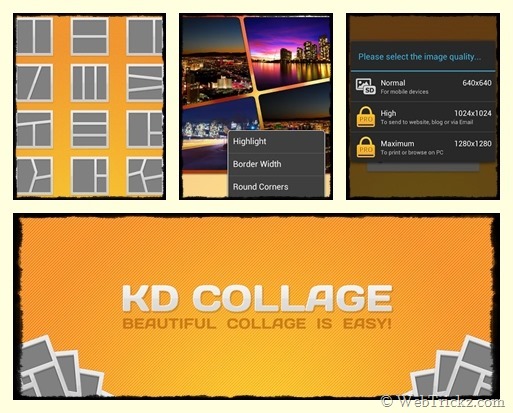 KD Collage attracts a user's eye with a gleefully orange interface which is really fun in grey winter. Plenty of collage templates helps you create artworks to any taste. The biggest template will enable you to stuff it up to 19 pictures. But there are also collages for one pic.
After selecting a template, you have to manually add images which theoretically won't take much time. A plus of the KD Collage app is that you can drag, zoom in or zoom out a photo in its window to fit it into the collage borders in the best way.
Interesting: You can select one of the pictures as a background for your collage.
The maximum size of the collage is 1620 x 1080. One may say this isn't much but take into account the fact that most of the Android photo apps don't even have such a feature.
Worth keeping in mind: You can save the created collage to your Favorites instead of the Gallery. It lets you directly share the collages across social networks.
InstaPicFrame for Instagram  [Google Play]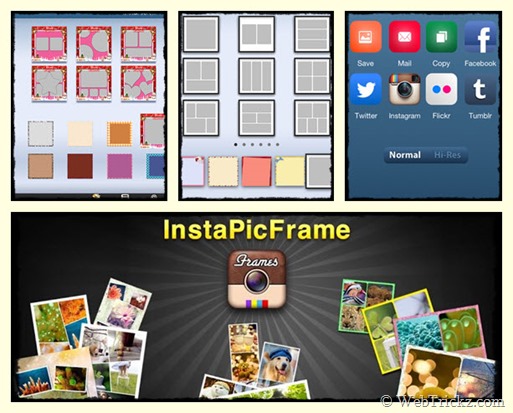 InstaPicFrame – It won't be a mistake to call this app the best on the market. Tons of frames, dozens of adjustable collage templates, texts, and social sharing are also included. The app is so rich that it is impossible to describe it in one short overview.
Interesting: You can glue virtual memory notes on your photos which is nice.
The created collages can be shared on Instagram, Facebook, Twitter, Flickr, Tumblr, etc. at a glance!
CollageFancier – PhotoFancie  [Google Play]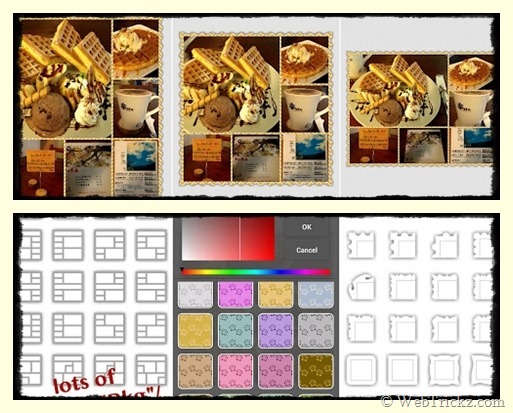 CollageFancier is one more app on the list that is able to "assemble" a wonderful medley out of your photos and images. Ready templates and editing features are as good as in other apps of this kind. The collage layouts are offered in two modes: grid and free style. One of the peculiar features that are worth mentioning is Polaroid-style photos that the app bakes in three steps.
Keep in mind: The last user reviews contain complaints that most of the interesting fonts were abolished in the latest release. For those who will check the app for the first time, it won't play any role. For those, who consider that the fonts range is one of the important points, I can say that we should look forward to the next version.
Also recommended to have a look at:
While the web was surfed for the best Android collage makers, we also found the following apps that you might be interested in:
PhotoShake
The intricate feature is that you need to shake your mobile device to get a random collage out of your photos.
Adobe Photoshop Express
The light version of the monstrous software adapted for Android devices. Apart from photo editing features, you can create collages too.
Collage Creator Lite
This is a powerful Android app to make collages but as it is said in the name, it has a paid big brother that has much more to entertain you.