Are you confused as where to insert the SIM in iPhone 4? Apple iPhone 4 uses a Micro SIM which is 15 mm × 12 mm in size while the standard Mini SIM is 25 mm × 15 mm in size. To insert a SIM in iPhone 4, follow the steps below:

1. Take a simple paper clip and make it straight. You can also use the SIM eject tool if it's included in the phone package.
2. Check the right side of your iPhone 4 to locate the SIM tray as shown below:

3. Insert the pin into the small hole and push it slightly firmly until the tray pops-out. Now pull out the Sim card tray with your hands.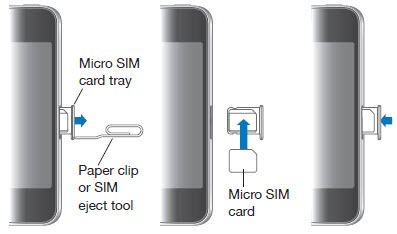 Watch the video below (By MyRandomReviews):
4. Place your Micro SIM card into the SIM tray. Make sure it fits perfectly and the golden circuit side of SIM is faced downwards.
5. Push the tray back into slot in the same manner you ejected it out. You'll hear a click upon successfully placing the tray in its place.
6. Wait for iPhone to recognize the SIM card. That's it!
Update: SIM insertion method is exactly same for iPhone 4 and iPhone 4S.
Update 2: How to insert SIM card in iPhone 5
Apple has announced the next-generation iPhone 'iPhone 5' which is just 7.6mm thick, the world's thinnest smartphone according to Apple. To make this happen, Apple has switched to a nano-SIM card in new iPhone 5, which is 44% smaller than a micro-SIM. Certainly, you wont be able to use your normal SIM or Micro SIM card in iPhone 5. And nano-SIM being a new standard introduced by Apple, wont be available anytime soon with all the carriers.
As stated by ETSI, The fourth form factor (4FF) card aka Nano SIM will be 40% smaller than the current smallest Micro SIM card design, at 12.3mm wide by 8.8mm high, and 0.67mm thick. It can be packaged and distributed in a way that is backwards compatible with existing SIM card designs. The new design will offer the same functionality as all current SIM cards.
Comparing the dimensions, there is a substantial difference in the sizes of Micro SIM and nano SIM. Even if you manage to cautiously chop down your current SIM card using a knife or a pair of scissors, then it still wont work because the nano SIM's thickness is reportedly reduced by 15%.
Here is a video tutorial that describes 'How to convert a Micro SIM into a Nano SIM' but it's not a foolproof way and there are high chances that you might spoil your SIM while doing it. Also, the converted SIM hasn't been tested yet in iPhone 5.
The nano-SIM tray on iPhone 5 is placed similarly, on the right side of the phone. Simply use the SIM eject tool or a paper clip to remove it and place your SIM card.
New – Convert Mini SIM (2FF) to Nano SIM (4FF) | Convert Micro SIM (3FF) to Nano SIM (4FF) | Convert Mini SIM (2FF) to Micro SIM (3FF) [Printable Guide]
Update (14th Sep) – How to Insert SIM in iPhone 6 and iPhone 6 Plus
Apple has launched the iPhone 6 that supports Nano SIM card, just like the iPhone 5 and iPhone 5S. The Nano SIM card slot on iPhone 6 and iPhone 6 Plus is located on the right side of the phone. The Power button is now placed on the right-hand side to make it easier to access, as the new iPhones are significantly bigger in size with screen-sizes of 4.7″ and 5.5″. The SIM insertion procedure in iPhone 6 is same as seen in earlier models. Users simply need to use the SIM eject tool or a paper clip to pull out the SIM tray and place their SIM card. You might need to apply some force until the tray pops-out.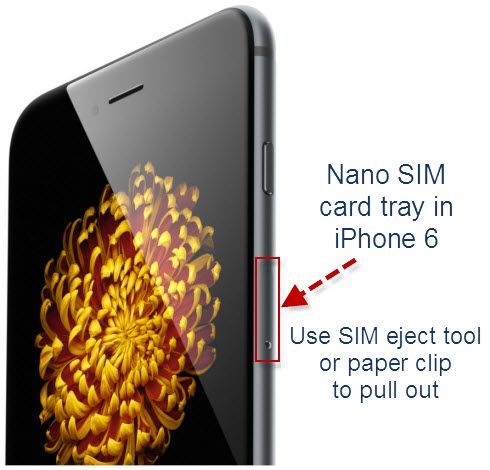 Related Posts: