New Year 2011 is finally here and apparently, this post is the first post to kick start 2011. Firstly, I'd like to wish all our lovable readers, friends, and subscribers a very Happy New Year. Wish 2011 brings joy, health, prosperity and you achieve all your goals in life!
This post is just to share a little insight into WebTrickz's journey in 2010. I started this blog in May 2008 as just a hobby but after stepping into 2010, I conceived to opt this as a profession. 2010 was truly a good and lucky year for me since the beginning in which WebTrickz made prominent and steady growth every month. This always pleased and motivated me to work a lot harder and smarter.
Below is WebTrickz Traffic Stats for the Year 2010 (Jan 2010 – Dec 2010) which will give you a view as to how we progressed with time. Includes both Total Visits and Pageviews: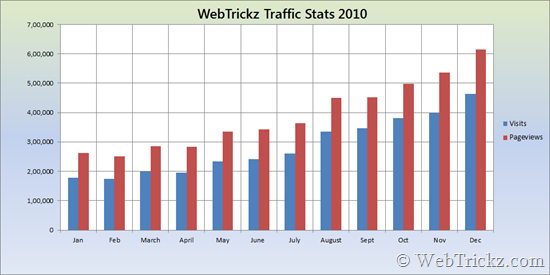 A total of 800 Posts were published in 2010 on webtrickz, mostly all were written by me.
As far as Revenue is considered, it is pretty good and has made similar growth like our traffic. Below is the Annual Income Report 2010 (AdSense) for WebTrickz but without the actual earnings figure. You can see the growth though. 😉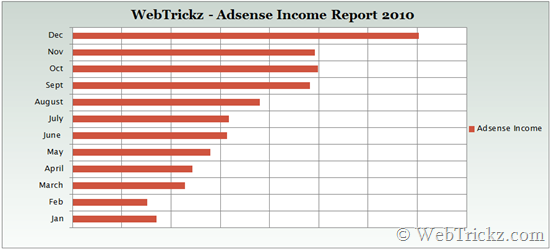 Thanks a lot to all our readers, friends, fellow bloggers, and my family for their love & support. This all couldn't have been possible without you. I'm looking forward to more perfection, growth, and sharing great articles in 2011. Keep supporting us in the future too!
Don't forget to follow us @webtrickz (The official Twitter profile of Webtrickz.com)
Again, Happy New Year 2011. 😀