A lot of security software are available in the market and finding the most capable one can be quite tricky. If you are looking for a high-end security suite with complete protection then check the likes of Bitdefender Total Security and Kaspersky Total Security.
What's Bitdefender Total Security?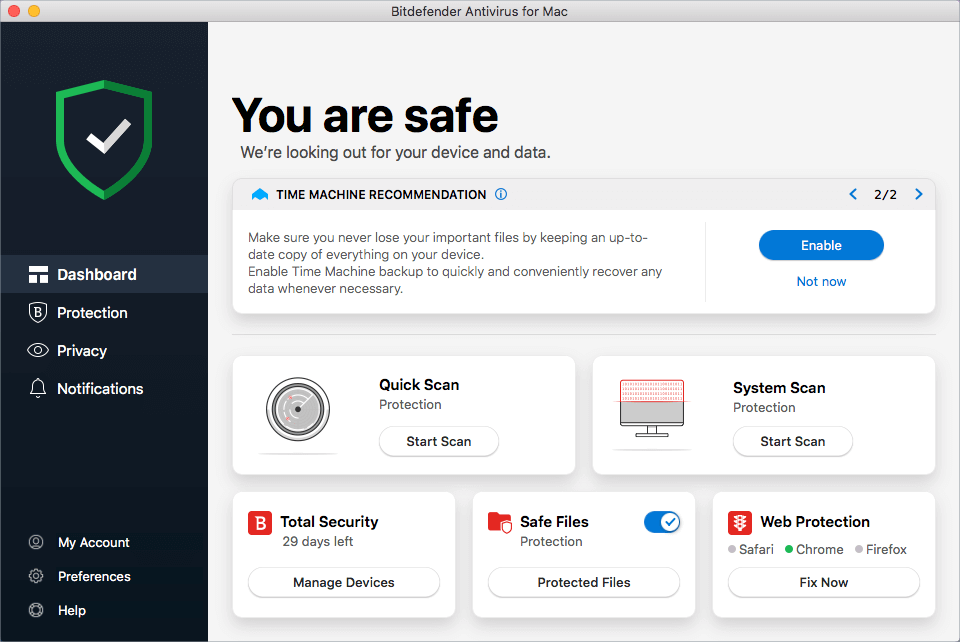 Bitdefender Total Security is an award-winning product that offers comprehensive protection for your device. While Bitdefender Antivirus Plus and Internet Security are meant only for Windows, Total Security is a cross-platform product, available for Windows, macOS, Android and iOS.
Bitdefender's Total Security is an apt solution for users looking to protect all of their devices across different platforms with a single product. The suite delivers multi-layer ransomware protection and the best protection against real-world threats, without slowing down your computer.
In comparison to macOS version, Total Security for Windows offers full-fledged protection with an array of security and privacy features. This, however, doesn't mean that its Mac counterpart is less capable or underpowered. It's just that macOS and iOS don't demand advanced protection as they are more secure and less susceptible to viruses and cyber-attacks.
Today we will talk about Bitdefender Total Security for macOS, one of the best anti-malware software for the Mac.
Key Features:
Cross-platform malware detection
This feature protects your Mac from malware designed for Windows and which can also be vulnerable to macOS. Total Security can detect and remove such cross-platform malicious stuff that targets both the operating systems, so users unintentionally don't pass it to others.
Anti-ransomware protection
Safe Files – Safe Files acts like a vault where you can add your most important files and sensitive data to prevent unauthorized changes. Bitdefender protects your stored files from ransomware, threats and malware. The files and folder stored in the protected files directory can't be changed or deleted by untrusted applications.
Time Machine Protection – The data on your Mac isn't 100 percent safe even if you create backups with Time Machine. In case of a ransomware attack, all your precious data such as photos, videos and other information can be rendered unusable by the attacker. This type of sophisticated attack usually involves paying a ransom to regain access to your data. Bitdefender's Time Machine protection adds an extra security layer to backups and stops dangerous malware from encrypting or destroying your backup files.
Blocks Adware
The adware that is often bundled with certain freeware applications can hijack your browser in the form of an unwanted toolbar. Such adware or browser add-ons can be really annoying as they throw intrusive pop-up ads and redirects while browsing. This can turn really distracting and slow your system as well. Thankfully, Total Security has a strong mechanism to remove adware and unwanted programs on Mac.
Anti-Phishing
A phishing attack is a cyber-attack wherein the fraudster uses a disguised email or instant message to obtain sensitive and confidential information, such as usernames, passwords and credit card details. Such online scams are rising and can be dangerous if the victim isn't aware of the attack. Bitdefender takes care of these phishing attempts by warning and blocking websites with such shady intent.
Real-time protection with Bitdefender Shield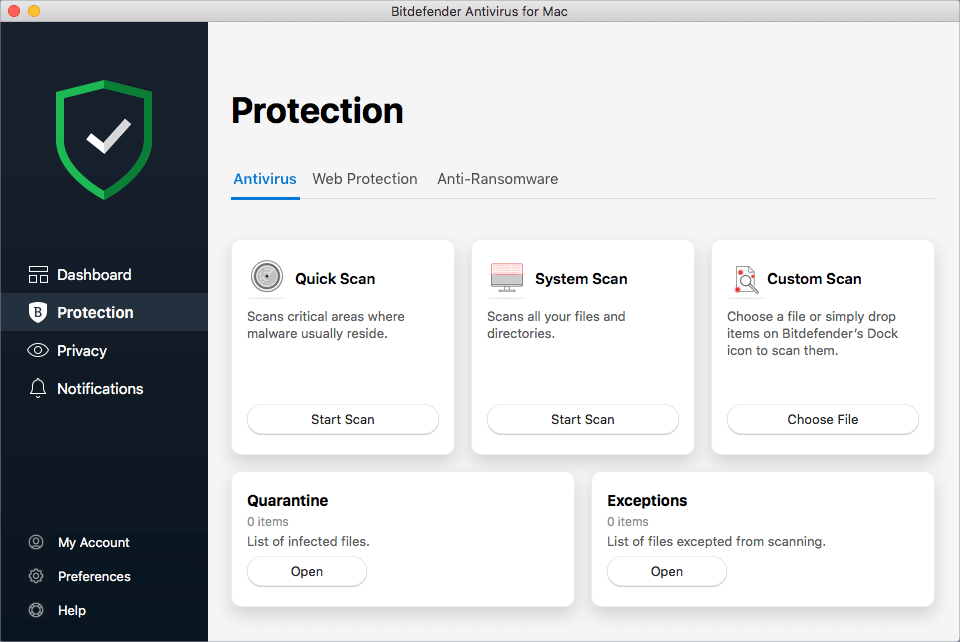 Bitdefender Shield offers real-time protection against various threats. It does so by actively scanning all the installed applications, new and modified files. The scan runs silently in the background and has a little impact on your system's performance. Users instantly get a notification in case the program identifies a new or potential threat.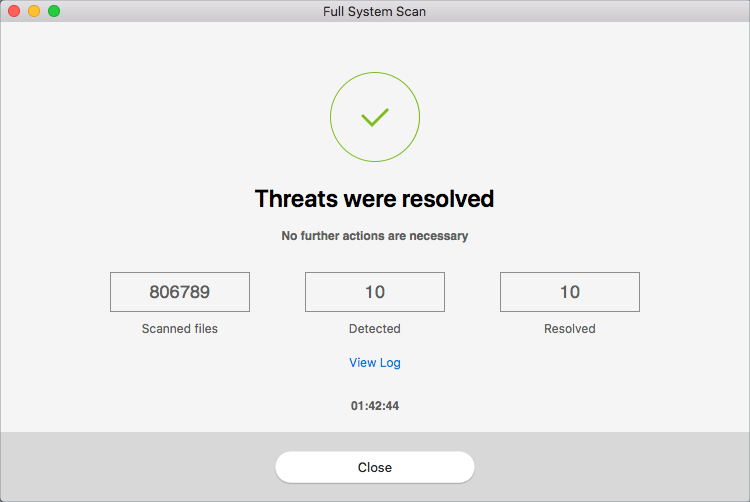 There is also an option to disable real-time protection, that comes handy when the security application conflicts with a certain program. One can also add files, folders or an entire volume to the 'Exceptions' list to exclude them from scanning.
Web protection (Traffic light)
Bitdefender for Mac completely secures your browsing experience with the Traffic Light extension. It filters all the web traffic and checks every web page you access for threats, phishing and fraud attempts. The extension also warns you about risky websites within the search results even before you open them. It works with Google Chrome, Mozilla Firefox, and Safari.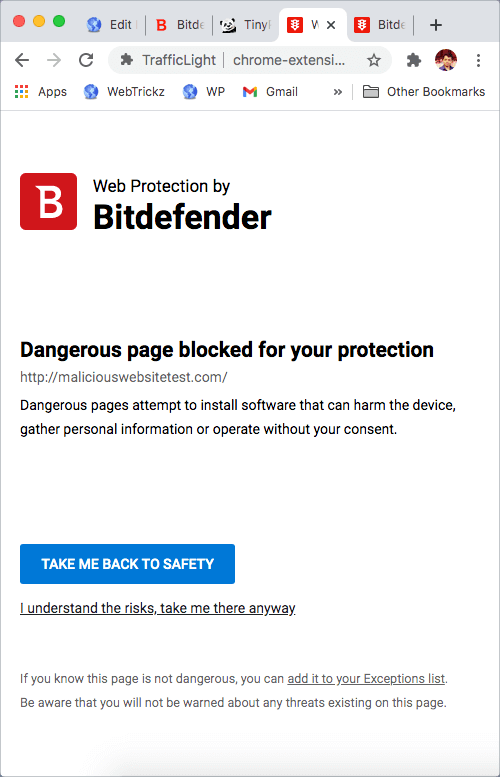 Built-in VPN
Bitdefender's Total Security makes it possible to access region-restricted content while staying anonymous using the built-in VPN, powered by Hotspot Shield. The VPN encrypts your Internet traffic and protects your data when using unsecured Wi-Fi networks at public places like airports, malls, or hotels. It also avoids incidences such as data theft as the device's IP address isn't accessible to hackers.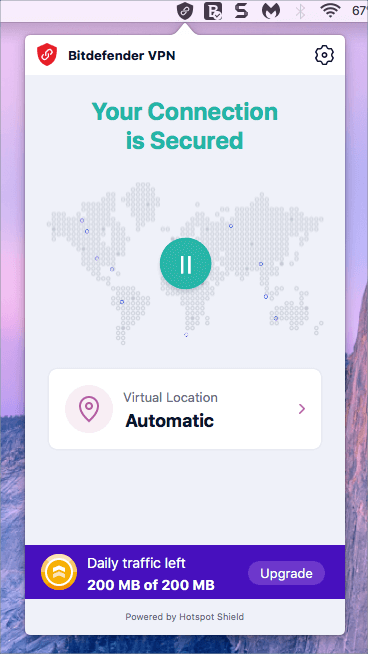 The free VPN comes with a 200 MB daily data limit per device and connects you automatically to the optimal server location. You need to upgrade to the premium version to choose the desired server location and enjoy unlimited encrypted data.
What's Good:
Protects Windows, macOS, Android and iOS

Clean design and easy-to-use interface

Takes minimal resources and doesn't slow your devices
Scans files and entire disk at ultra-fast speed
Keeps a detailed log of scans and detected threats
What's Bad:
Free VPN is limited to 200 MB per day
Mac version lacks essential privacy features including webcam protection, microphone monitor, parental control, anti-theft, and privacy firewall
Automatically deletes the infected files and identified threats without user consent
No option to quarantine a file or skip deletion in case of a false positive
Bottom Line:
Bitdefender is one of the best company in cybersecurity space with a 4.1 rating on Trustpilot. Bitdefender Total Security's cross-platform support eliminates the need to buy individual security products for different devices. The suite offers best malware protection and multi-layered ransomware protection without compromising the device's speed. Meanwhile, Windows users surely won't be disappointed as the Windows version packs ample of advanced features in a single package.
The fact that you can try a free 30-day fully-functional trial of Bitdefender Total Security without requiring a credit card itself is noteworthy. Moreover, the security suite is priced reasonably and you can grab it at 50% discount at the moment. Do give it a try!