An alarm can easily go unnoticed on the iPhone because the default sound is too low to wake a person from a deep sleep. Though it entirely depends on person to person and their actual state of mind while they are sleeping. I personally prefer using a peppy song with a loud volume for all the important alarms. Thankfully, it is possible to change the alarm sound on the iPhone 11 to a new one of your choice.
That said, if you are new to iPhone then you may find it difficult to switch to a new alarm sound. That's because the setting to change the alarm tone in iOS isn't present anywhere in the Settings. On the other hand, the option to change the sounds for ringtone, text tone, mail, and alerts is found under Settings > Sounds & Haptics. Let's now find out how you can set a custom alarm sound in iOS 13.
Changing alarm sound in iOS 13 on iPhone 11
Open the Clock app and tap the Alarm tab.
Tap the Edit button at the top left.
Tap an alarm from the list of set alarms to edit it.
On the "Edit Alarm" screen, tap "Sound" and select a song (from your library) or pick a ringtone. Tip: You can even select a custom ringtone that you might be using for incoming calls.
Tap the Save button at the top right.
It's worth noting that the selected audio will be your default sound for the following alarms as well. This makes sense as you wouldn't want to change the alarm sound every time. However, if you wish to set a different sound for a specific alarm then you need to choose it explicitly while setting a new alarm.
ALSO READ: How to change the alarm tone on OnePlus
How to change the alarm volume on iPhone 11
If the alarm sound is too low then you should consider increasing it to avoid missing an alarm.
To do so, go to Settings > Sounds & Haptics. Then drag the slider left or right under "Ringers and Alerts" to set the volume for alarm. You can also enable the "Change with Buttons" setting to change the alarm volume using the volume buttons on your iPhone.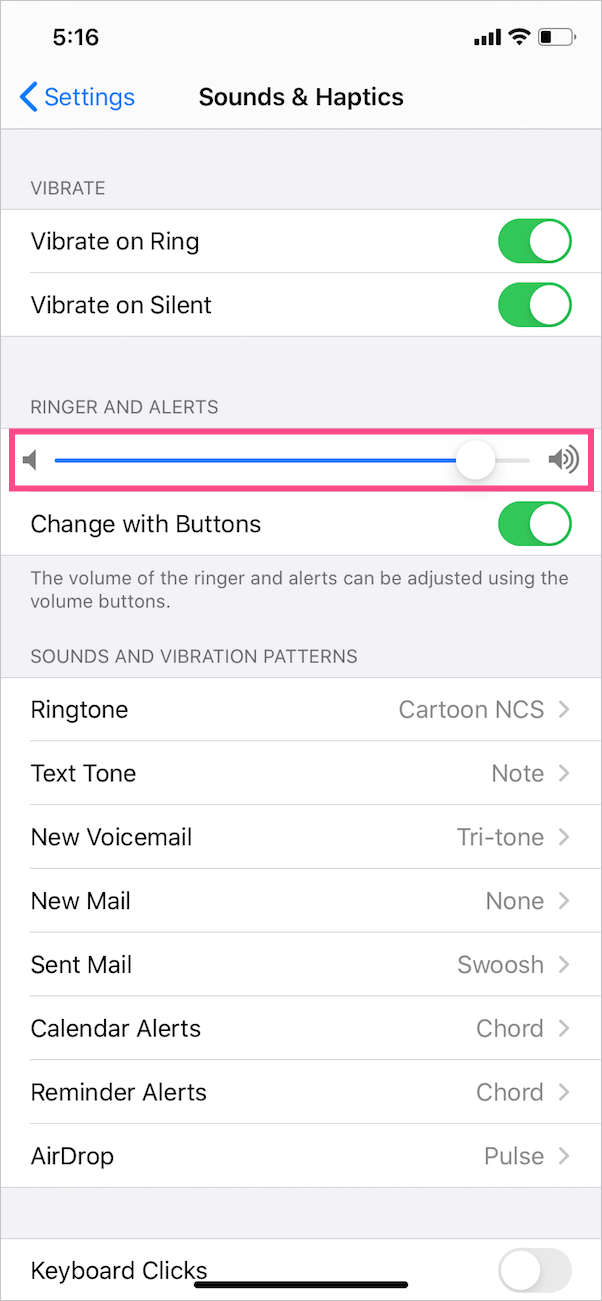 Change Bedtime alarm sound
If you have set a Bedtime schedule to track your sleep pattern then you can consider changing the wakeup sound for bedtime.
For this, go to the Clock app and tap the "Bedtime" tab. Tap Options in the upper-left corner and select "Wake-Up Sound". Then choose a song from the list of sounds. Unfortunately, there are limited tones available for bedtime reminder and you cannot set a custom tone.