At the WWDC21, Apple announced the latest version of iOS, iOS 15 with a host of new and interesting features. The developer beta of iOS 15 is currently available and the final release will happen in the fall. The iOS 15 update brings significant changes for Facetime calls, tools to focus and reduce distraction, new notifications experience, Live Text, redesigned Safari, new privacy features, and a lot more.
Coming to Safari, it now features a new design that moves the tab bar to the bottom of the screen. This makes it easier to reach the address bar with one hand and users can swipe between tabs. Tab Groups further let you create a group of open tabs that you can access across other devices. Users can now search the web by voice and web extensions on iOS are supported for the first time.
Custom Start Page in Safari on iOS 15
Safari in iOS 15 packs other enhancements that are small yet handy. These include the ability to customize the start page, refresh a webpage using pull to refresh (like Chrome) and see open tabs in a grid view.
Just like Safari on macOS Big Sur, users can now change the background image in Safari on iOS 15 and iPadOS 15. Moreover, you can select sections to display on the start page such as Favourites, Frequently Visited, Privacy Report, Siri Suggestions, and Reading List. Safari even syncs your customizations through iCloud so that your start page appearance remains the same everywhere.
Now let's see how you can set a background image in Safari on iPhone running iOS 15.
How to change Safari browser background on iPhone
Make sure your iPhone or iPad is updated to iOS 15 or later.
Open Safari and tap the Tab Overview button in the menu bar at the bottom of the page.
Tap the + button (at the bottom left) to open a new tab or start page in Safari.
Scroll down to the bottom of the start page and tap the "Edit" button.
On Customise Start Page screen, turn on the toggle button next to "Background Image".
Select one of the pre-included backgrounds such as butterfly or bear wallpaper.
To add a custom start page background, tap the + tile and select an image or wallpaper from your Photos or Albums.
Close the customization page.
That's it. The new background wallpaper will now appear every time you open a new tab in Safari.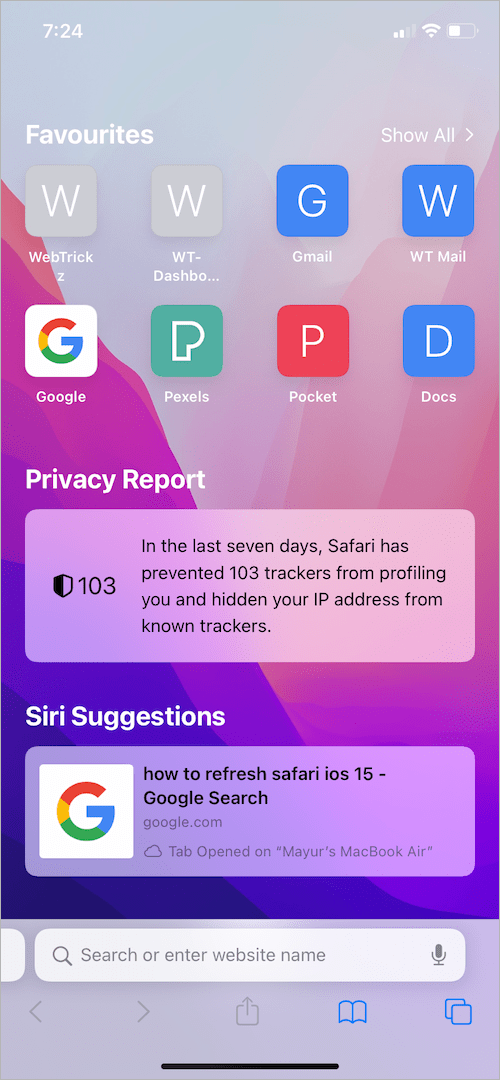 In a similar way, you can change your Safari background on the iPad running iPadOS 15.
RELATED: How to Open a Private Browsing Window in Safari on iOS 15