You've come to the right place if you're looking for the top Adobe Premiere Pro alternatives. Let's first examine Premiere Pro and the reasons why someone would search for alternatives to the top video editing program in the world. Adobe Premiere Pro is used by many creatives, including freelancers, professionals, and filmmakers. Users can make animations and modify videos or presentations because of its numerous strong capabilities.
It is clearly not the best option for everyone, however. But why? First off, Adobe's pricing models are prohibitively costly for casual users and independent contractors and unfavorable for long-term use. Additionally, a new user will find it's not easy to master this video editing tool, as the learning curve can be a deterrent. It can be a complex tool, especially if you have not previously worked on video creation before. We tested some free video editing software in the market and would like to walk you through some details about one of them, i.e. Wondershare Filmora.
Disclosure: This article has been published in collaboration with Wondershare.
Meet Wondershare Filmora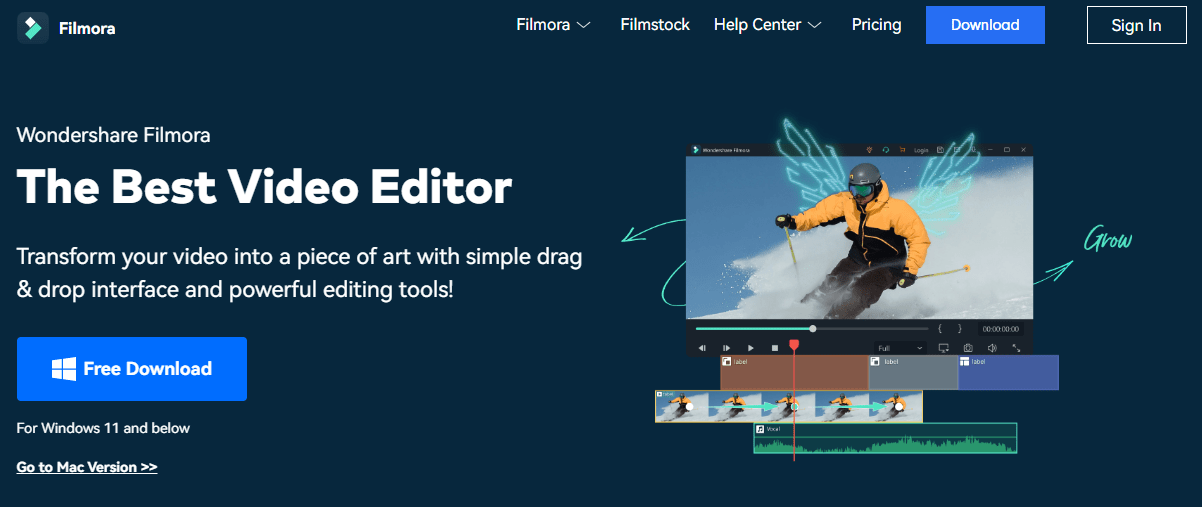 Wondershare Filmora is a professional video editing software designed for users who want to focus on editing and making great videos at different levels. The software assists in editing 4K videos. And it's an affordable product equipped with audio and video processing tools, and many options for styling elements and animations, video customization, and special video effects.
With Filmora Video Editor, you can adjust the video and sound by flipping or rotating. It can also help you add a voiceover and enable users to zoom in, out, and trim videos or fit them to a specific period. There is also a pan and tilt option to blur certain parts of the tape so you can focus on one subject. The ability to remove video noise is also available.
Key Features:
Stock Media – This one is related to stock footage, film, or video footage that can be used again in other films. Stock media is beneficial to video makers as it basically saves shooting new material.
Tons of video effects – With FilmStock and new plug-ins like Boris FX and NewBlue FX, Filmora offers a cinematic video editing experience.
Speed Ramping – It enables you to adjust your video's speed with better control of your keyframes.
AI Portrait – It is a fantastic feature in Wondershare Filmora, that can remove video backgrounds easily without using the Chroma Key or green screen, and allows you to add glitch effects, borders, noise, or segmented video effects.
Instant Mode – Filmora 11 has an 'Instant Mode' feature that allows you to choose an appropriate video template and add the media you want to edit. Filmora will then turn it into a nice video for you at your preference. No editing skills are needed for using this mode.
Split Screen – You can leverage multiple screens to multiply the fun with 30+ split screen preset templates in Filmora.
PROS:
Easy to use – The learning curve and user-interface layout are effortless as Filmora prioritizes user satisfaction while navigating the tool.
Budget-friendly – Filmora provides different subscription plans, which are affordable for various levels of users.
CONS:
Video exported with the free trial contains a Filmora watermark.
Plans and Pricing:
Filmora is a paid editing software but they do offer a free trial version. The trial has no time limit and restrictions but adds a big watermark to output videos. Whereas in the free version of Filmora 11, you won't be able to access advanced features like keyframing, speed ramping, and 4K output.
To remove the watermark and other limitations, individuals can opt for a monthly or annual plan that costs $19.99 and $49.99 respectively. There is also a Perpetual license that offers lifetime access to the software version purchased by you but doesn't include upgrades to future releases of Filmora.
Bottom Line
There are many benefits to video editing software, but the main aim is to make sure that you make the right choice. Available for Windows and Mac users, Filmora enables you to edit videos more flexibly and speedily than traditional video or movie editing. In general movie editing, you need to cut and paste the movie together or copy the selected video from one tape and paste it onto another with a simple process.
Wondershare Filmora is an ideal choice for beginners searching for an efficient video editing tool. The program offers the best features and is affordable compared to any other means for video editing. Its distinct elements set it apart and make it one of the best video editing tools. Try Filmora video editor today for the best results in the profession of video making and editing.