What to do when you lose your valuable data due to hard drive corruption? In case of hard drive failure, you need to work on repairing and removing the damaged drive from your device immediately. Otherwise, it might permanently delete your data which can lower the chances of restoring it.
Even though restoring your data seems impossible, it can be possible with the help of efficient data recovery software such as Wondershare Recoverit. This article shows how you can recover your data with the Wondershare Recoverit tool in a few simple steps.
Disclosure: This article has been published in collaboration with Wondershare.
Reasons for hard drive corruption
What causes a hard drive (HDD) to corrupt in the first place? Yes, we know you're wondering the same thing. Several internal and external scenarios can lead to your data getting corrupted or erased permanently. You can find some of them below:
1. Software and User Errors
One of the common reasons behind data loss is incompetent software or user negligence that can erase or damage important files on your hard drive. While performing an important task, some files may get deleted by software failure or the user. To avoid such unfortunate incidents that can cause data loss, you should only run trustworthy apps and stay focused while carrying out vital tasks.
2. Malicious Virus and Malware Attack
Virus and malware attacks often result in severely damaging your hard drive data. These viruses enter your computer through unknown links and pop-up ads that usually appear while browsing various sites. You must have an advanced anti-virus installed on your computer to safeguard your data against such viruses. Moreover, try maintaining a backup schedule at least once a month to ensure data safety.
3. CPU Overheating
While operating large operations, devices can overheat and stop working, leading to data loss. Excessive computer usage can result in a system shutdown that can erase or corrupt your valuable data. To avoid this issue, you should optimize your device within its capacity and even give it a rest for a couple of hours.
4. Improper Usage
Lousy software and applications are not the only reason behind corrupted or damaged data. Improper usage of the device can also lead to loss of data. You should use your device properly to avoid any mishaps, such as always shutting down your computer in a proper way and refrain from downloading warez or pirated applications.
5. Hard Drive Failure
The hard drive is a delicate part of the computer that stores all the data, so you should always maintain it carefully. If you think your hard drive is damaged or is about to stop working, then you should repair it as soon as you can; otherwise, it can lead to permanent loss of your data.
Wondershare Recoverit: Tool you should look out for recovering data
Wondershare Recoverit can restore your useful data efficiently with its excellent features. Its easy-to-use interface that anyone can navigate to regain their data, makes it the first choice for its users. Various data recovery software on the web claims to restore hard drive data, but not all are reliable and have a success rate as Recoverit. It lets you restore your data without compromising quality or privacy in a few easy steps.
Recoverit prioritizes its user's experience by giving them utmost attention with their 24/7 tech support. It supports 1000+ file types, making the data recovery process straightforward and stress-free. Recoverit can manage to recover severely damaged data with its advanced mode. It even lets you preview the files beforehand to ensure whether they can be successfully recovered or not.
The ultimate stress and regret of losing your precious data have become more like an old myth, thanks to such reliable data recovery tools. To sum up, if you want a reliable and smooth data recovery solution, Recoverit can be your first choice.
Plans & Pricing
Available for both Windows and Mac, Recoverit is a paid application. There is also a Free version that you can try to recover small files. To remove any limitations, you can choose from 3 subscription plans – Essential ($69.99/year), Standard ($79.99/year), and Premium ($99.99/year). One can also opt for a lifetime license but that doesn't include upgrades to future versions of Recoverit.
How to recover your hard drive data using Recoverit
The data recovery process of Recoverit is time efficient and easy to perform. With its extensive and eye-catching interface, anyone can efficiently perform the data recovery process. Let's see how.
Step 1: Choose Hard Drive Location
Launch Recoverit on your computer and click "Hard Drives and Locations" on the left side of the interface. Under the "Hard Disk Drives" section, select a particular hard disk. Now, hit the "Start" button to start the scanning process in your chosen location.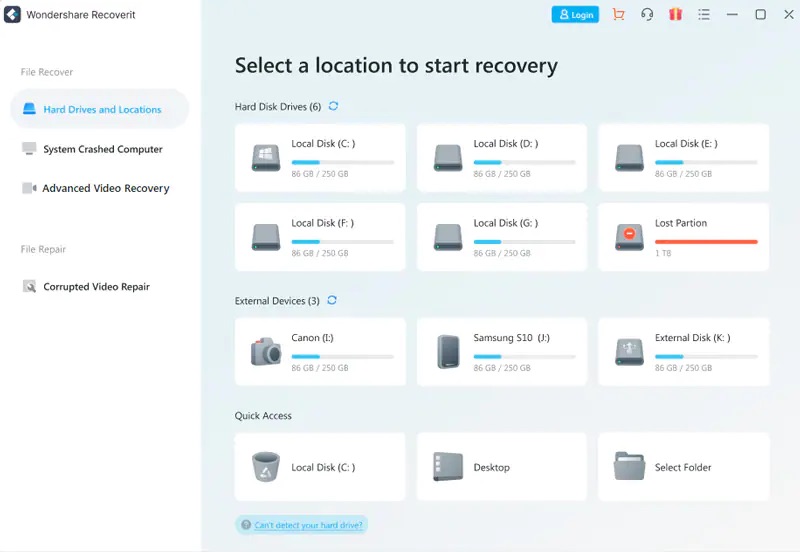 Step 2: Scanning Hard Disk Drive
After hitting the Start button, Recoverit will start its scanning process for recovering hard drive data. Moreover, with its real-time scanning update on the interface, you can easily check the scanning progress to see if has located your desired files yet or not.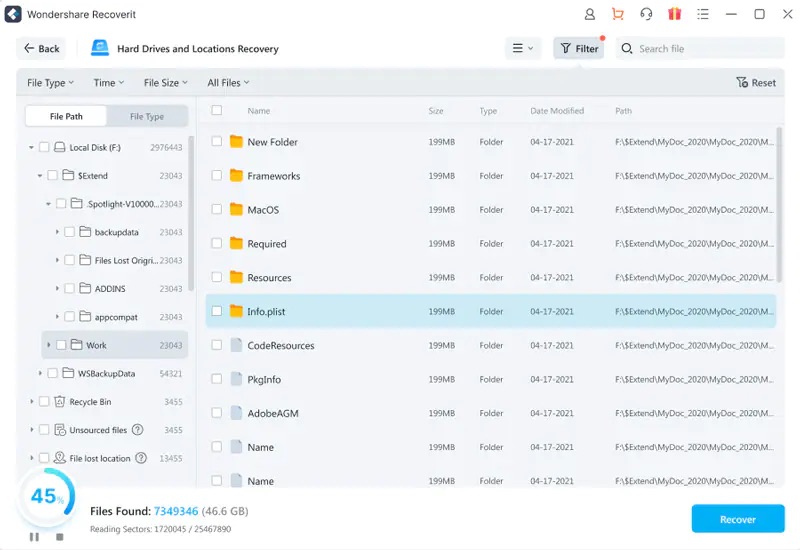 Step 3: Export Hard Drive Data
With its Preview feature, Recoverit lets you preview the recoverable data before completing the recovery process. For premium users, Recoverit offers unlimited preview time by which a user can preview the data for the absolute time and select the desired file to recover on the device. Whereas the Free version comes with a 10-second preview time.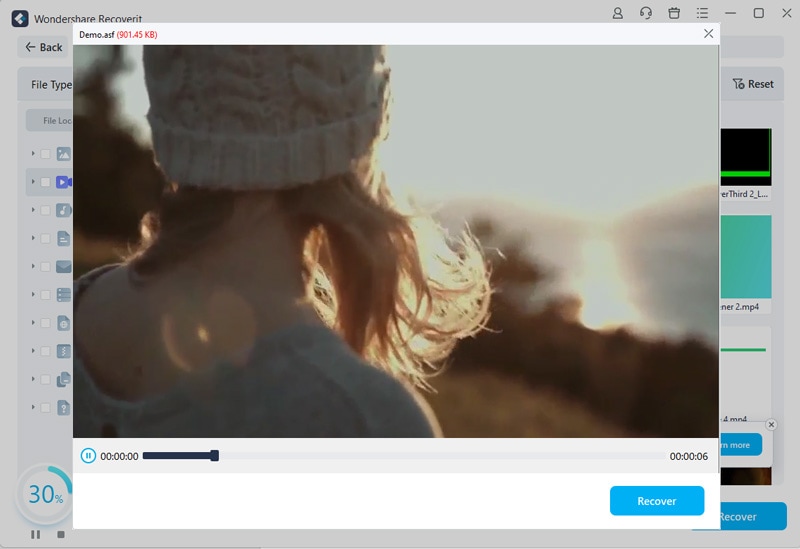 After reviewing the restored data, you can retrieve your lost files by clicking the "Recover" button.
Summary
Losing your precious data due to some error, which you've worked tirelessly on, can be disheartening, but no more stressing over it. Recommended by thousands of its users, Wondershare Recoverit can successfully recover your valuable data with its impressive data recovery process, all while maintaining the original quality of the data.
RELATED: How To Recover Corrupted Files from USB Drive using Recoverit