Recently, Google+ got a new feature that makes the 'black plus bar' float at the top of the screen when you scroll down. The black bar is a typical navigation panel that holds the commonly used services and other options. Apparently, Facebook also has a similar navigation bar (non-floatable) that carries most of the significant and useful options.
Are you looking to get Google Plus like navigation bar in Facebook that stays at the top of screen aka the header remains fixed at top? This can be done easily in Chrome and Firefox browser using a small userscript 'Facebook Fixed Header (Always-At-Top)'.
After installing the script on your browser, Facebook Blue Nav Bar will float at the top of the page and is thus always accessible no mater how far you've scrolled up or down. Now you don't have to scroll up to access the notifications, messages, friend requests, etc. as the top blue header remains fixed, just the content portion moves to and fro.

The script adds some other features as well like 4 profile bookmarks, a Top link, changes Profile link into your profile picture. The Top link is handy as it lets you move back to top of the page instantly in a click. You can simply add or delete the IDs from its options and retain the old interface by un-checking other options as shown in image below: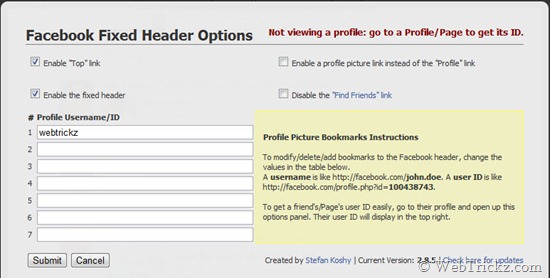 To access its settings, click on "Account" and select "Facebook Fixed Header Options". Luckily, it also saves the bookmarks/settings individually for each Facebook user.
To Install the script or extension on Chrome, visit: userscripts.org/scripts/show/103328 and simply click on Install button, then continue. Firefox users need to install Greasemonkey add-on to install this userscript.
Credit goes to Stefan 'Steve' Koshy for writing this awesome script.
Do try it out and share! Let's see when Facebook picks this nifty tip from Google+. 🙂