We're excited to hold the giveaway of a renowned software 'SUPERAntiSpyware PRO' once again as a gift for upcoming holidays. SUPERAntiSpyware was recently updated to version 5.6 which is the first significant update since 5.0. To make it more interesting, this time we're offering 30 free license codes of SUPERAntiSpyware Professional Edition sponsored by Support.com, which actually costs $29.95 each.
SUPERAntiSpyware is an efficient program with an intelligent system to detect and remove malicious stuff existing on your computer in the form of spyware, malware, adware, Trojans, worms, key loggers, hijackers, rootkits, and rogue security software. It's highly intended for power Internet users who are most concerned about online security and privacy. However, this software is not meant to replace your existing antivirus solution but can be rather used as a supplement over it. SUPERAntiSpyware comes in 2 editions – Free and Professional.
With SUPERAntiSpyware, one can quickly scan their computer's hard drive, removable drives, Registry, and more for potentially harmful threats and software. It offers 3 scanning options – Quick, Complete, and Custom Scan, and also integrates into right-click context menu, thus letting you scan specific files/folders directly in Windows Explorer.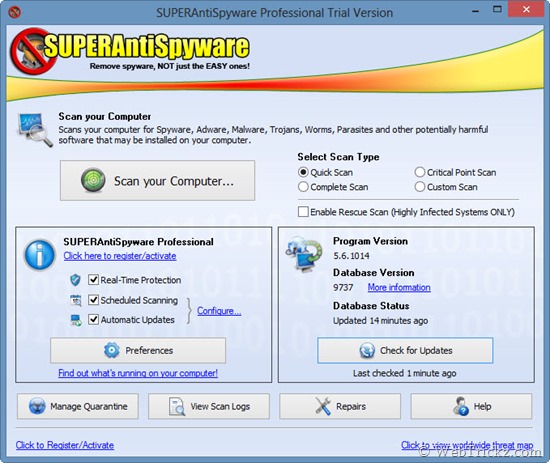 The program offers real-time blocking of threats and is fairly light on system resources to prevent your computer from slowing down. It can repair broken internet connections, desktops, registry editing and also offers a variety of customization options accessible via 'Preferences'. The detected threats removed are backed up/quarantined to prevent accidental removal of items which you can restore or delete afterward.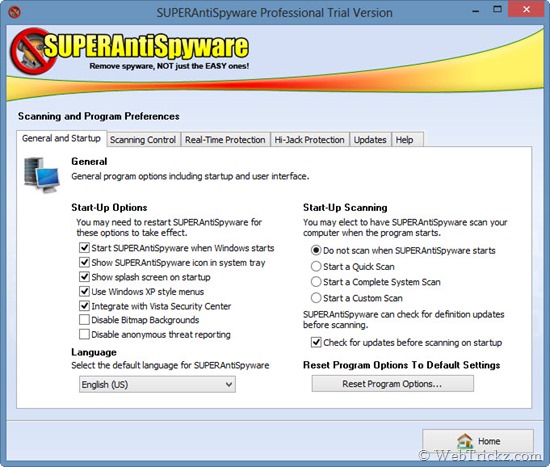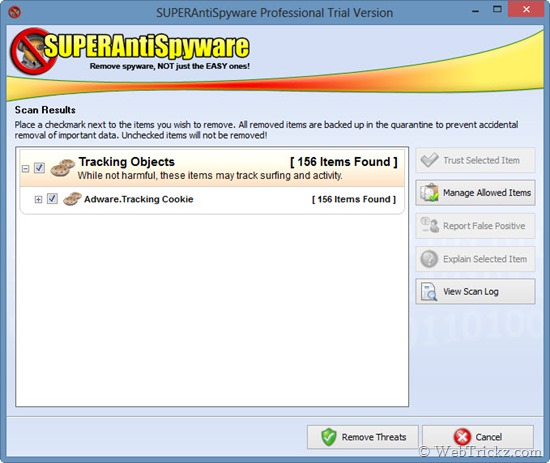 The Pro version is regularly updated in the background with the latest definition updates and the free version can be manually updated easily in one click.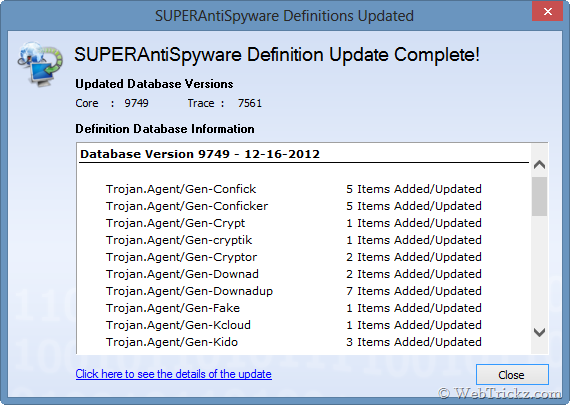 Why choose SUPERAntiSpyware PRO? Because the free version does not include real-time protection, scheduled scanning, and automatic updates. [Comparison]
What's New in SUPERAntiSpyware 5.6 –
All NEW User Interface
Completely redesigned definition database system
Enhanced Real-time Protection Engine
A more powerful Scheduling system
Quicker Application Startup
Faster scanning and faster malware detection
Significantly improved memory usage – up to 90% less compared to the previous version
Installs in the blink of an eye, i.e. in just one single click.
Download SUPERAntiSpyware Free / PRO (15-day fully-functional trial)
SUPERAntiSpyware Portable Scanner is also available that features complete scanning and removal engine to detect AND remove over 1,000,000 spyware/malware infections. The scanner contains the latest definitions, which means you DO NOT need internet access to scan and clean the infected system.
GIVEAWAY – We're offering 30 Free 1-year Licenses of SUPERAntiSpyware Professional that are eligible for upgrades during that period.
To participate in the contest, follow the rules below:
Tweet about this giveaway on Twitter. Remember to leave a valuable comment below along with your tweet status link. (Use the Tweet button below to tweet).
OR
Share about this giveaway on Facebook and make a comment below along with your Facebook post link. (Use the 'Like' button below to share on FB).
Note: Making a comment below is necessary for both of the above rules.
30 Winners will be chosen from the comments section below and results will be announced on Dec 26.