The wait is finally over for Xiaomi Mi 3 users (almost) as 'Ivan', the popular developer at Xiaomi has released a working Android 5.0 AOSP ROM for Mi 3. The ROM is based on the latest Android 5.0 Lollipop OS but it is not a final version and contains some bugs. The Lollipop ROM with build version 4.12.9 is available only for Mi 3W (WCDMA variant). The ROM by Ivan comes with minimal apps, thus offering users a Nexus like pure Android experience on Mi 3. It supports English language and seems pretty stable. As there are no Google apps included, you need to flash the appropriate Gapps file separately. Interested users can follow the below stated step-by-step procedure to flash Android 5.0 Lollipop on Mi 3W. The official Android 5.0 by Xiaomi will reportedly be released by Q1, 2015. So, either wait or better taste it now!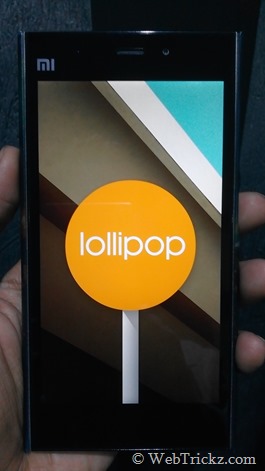 Supported device: Xiaomi Mi 3 WCDMA
Known Bugs (as on 2014.12.9) –
– Video cannot be saved
– NFC does not work
– Random auto reboot (Workaround given below to fix this issue)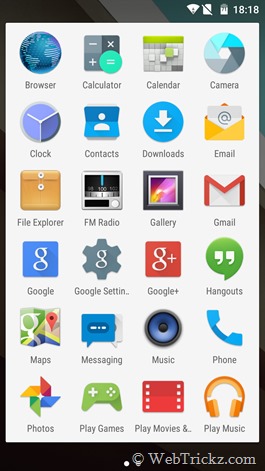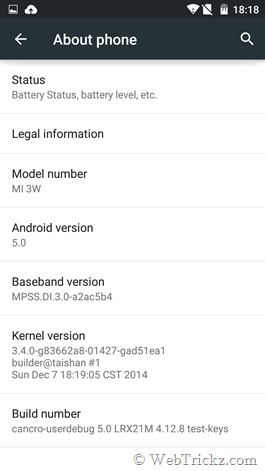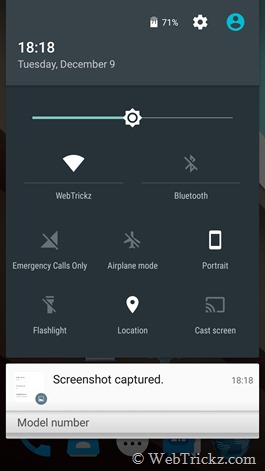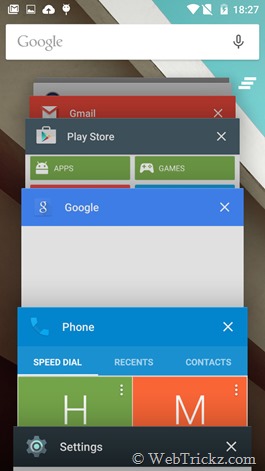 NOTE: This procedure won't delete your media such as files, photos, music, etc. All other settings, apps and data will be deleted. It's recommended to backup your important data.
How to Install Android 5.0 Lollipop AOSP ROM on Xiaomi Mi 3 –
Step 1 – Install CWM recovery 6.0.5.1 (R11) by furniel and donbot (For Mi 3W and Mi4W). Download here (Mirror – Direct link)
To install CWM on Mi 3, open the updater app, press menu button and then click "select update package". Select the 'CWM_recovery_r11_cancro.zip' and install it.
Step 2 – Download the required files:
aosp-cancro-4.12.8-kQ1vi7iZhK-5.0 (Lollipop ROM for Mi 3) – 245 MB
gapps-lp-20141109-signed.zip (Gapps package for Android 5.0) – 155 MB
Then transfer both the above files to the root directory (/sdcard) of your phone.
Step 3 – Flashing Android 5.0 Custom ROM on Mi 3 using CWM Recovery
Reboot into CWM Recovery (Go to Tools > Updater > press Menu key and select 'Reboot to Recovery mode')
Important – Go to 'advanced' and make sure 'active system' is 1. If active system is 2 then change it to system 1. (Use the defined touch controls at bottom of CWM screen to make your selection).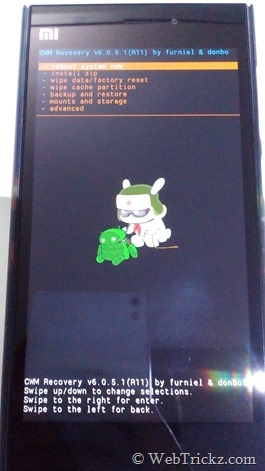 Select 'Wipe data/ factory reset' and confirm to wipe. (Wiping may take sometime)
Select 'Wipe cache partition' and confirm.
Go to advanced and 'wipe dalvik cache'.
Go to 'mounts and storage' and select 'format /system1 (active)' option to format it.

Then format /system2 as well

.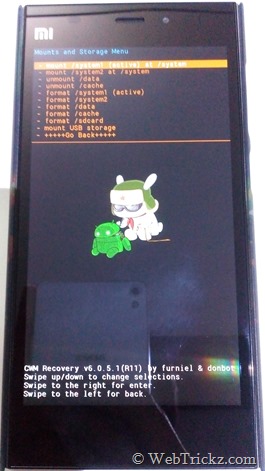 Go back and select 'Install zip'. Select 'choose zip from /sdcard', then 0/ and then choose the 'aosp-cancro-4.12.8-kQ1vi7iZhK-5.0.zip' file. Then install it to System 1.
Install Google Apps for Android 5.0 (GAPPS) – Go back and install the 'gapps-lp-20141109-signed.zip' file to System 1.
Now go back and make sure to Wipe data/ factory reset and Wipe cache again.
Reboot your phone by selecting 'reboot system now'. (Choose No when it asks to fix root permission and to root the device.)
P.S. We've tried this guide on Mi 3W (Indian version) and the ROM seems to be working fine without any issues of random auto reboot. Let us know if you've any questions!
Source: MIUI Forum
UPDATE: There is an easy workaround to fix the reboot issue in Ivan's Lollipop ROM for Mi 3. To do so, download and install the Wake Lock – PowerManager app from Google Play. Open the app and enable the "Partial_Wake_Lock" option. Then go to its 'Options' and enable the 'Autostart on boot' option. We've tried this and can assure that your Mi 3 won't reboot automatically. You can check the phone uptime from About phone > Status > Up time.