Like Internet Explorer, Chrome (Beta), Opera and Safari browser; Firefox 4 Beta 1 has added the feature to show tab previews in Windows 7 taskbar. We've already discussed as: How to disable Taskbar tab preview in Chrome, Opera and IE on Windows 7 and now it's time to turn this feature off in Firefox 4 because you may find it pretty annoying.

Turn off Firefox tab previews in Windows 7 taskbar –
1. Open Firefox, type about:config in the address bar and open it.
2. Enter browser.taskbar.previews in the Filter tab.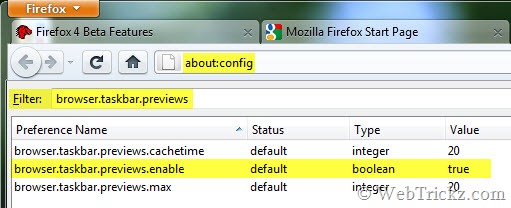 3. Double-click the entry named browser.taskbar.previews.enable so that its value is set as False. That's it!
Now the tab previews will be disabled and you'll see only a single preview of the active tab running in Firefox.