These days most kids and people love to play games online because they are available free in numerous categories and are easily accessible online without downloading or installing anything.
If you frequently play games online but don't want to visit their websites just to play them, then here is a solution. You can easily Save Online Flash games to your computer which aren't downloadable and share or play them offline without running the Internet.
Note: You must have Adobe Flash player and Adobe Shockwave player installed on your system in order to play games online.
To Download/Save and Run Flash games on your computer, follow the below guide:
1. Open the game in Firefox browser and LET THE GAME LOAD COMPLETELY.
2. Right-click on the web page > Select View Page Info > Switch to the "Media" tab >  Select the Flash file having .swf extension and Type as 'Embed' > Click Save As.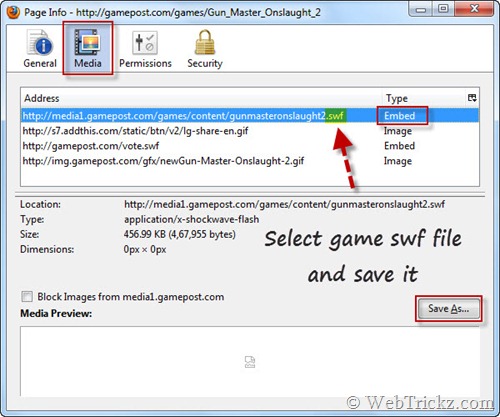 Save the flash game (SWF file) to your desktop. Now Download SWF Opener and install it. Just double-click on any flash game or .swf file on your hard drive to play it.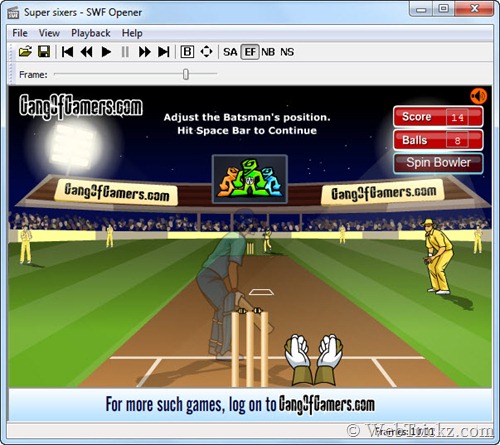 Saved Flash files/games can also be played with Internet Explorer, but SWF Opener will be the best choice because it offers several useful functions and is Free.
>> This method doesn't work with every website to download games because some sites don't save games data to cache.
You can also use this method to save e-cards, animations, flash ads, and videos, etc. 😀
Alternate Way – Firefox and Internet Explorer users can use Sothink SWF Catcher add-on/extension to save online games and flash files easily.