If you're a webmaster or blogger then you must be aware of how crucial it is to take regular backups of your site as they act as a lifesaver in case something unfortunate happens with your site server or it gets hacked. There are several ways to backup a self-hosted WP blog, you can do it manually via phpMyAdmin or simply use one of those Database backup plugins out there to export the backup file to your computer or email.
However, the above tricks are meant only to perform a backup of your WordPress site database which includes your posts, pages, comments, categories, tags, plugins data, and some other info. But the database doesn't include your blog images, plugins, themes, scripts, and any other files uploaded to your FTP server. Certainly, it's advisable to take a complete backup of your site to be on the safe side in case some disaster occurs. We're here to share an easy and efficient way that automates the task of backing up your Full WordPress blog (or just database) to one of the best and most popular cloud storage services 'Dropbox'. Until now, I had been uploading images and other important stuff manually to Dropbox but not anymore. Here comes the easiest possible way!
WordPress Backup to Dropbox is a free plugin for WordPress that automatically uploads a backup of your entire website, including all files and its database, to Dropbox. With a minimalist and simple interface, it makes it easier for you to set up a recurring backup in a few clicks. It lets you initiate a backup process manually and also offers the functionality to schedule backup as desired so as to perform backups on a regular basis. You can choose the date, time, and frequency for the backup to dropbox. One can also choose what files and folders are to be included in the full backup. There's a nifty option to select the files and directories that you wish to exclude from your backup.
In simple words, it can back up the root directory of your site (public_html) to a set location on your Dropbox account. You shouldn't be concerned about the security as the plugin uses OAuth to keep your Dropbox account details safe. No credentials are stored for the plugin to gain access.
How to Backup WordPress Blog to Dropbox –
1. You must have a Dropbox account. It is Free and provides 2GB of free storage.
2. Open your WordPress dashboard, install the plugin 'WordPress Backup to Dropbox'.
3. After activating the plugin, open its Settings from the Backup option in the menu.
4. You now need to Authorize the plugin to connect it with your Dropbox account. Then grant access by clicking the 'Allow' button.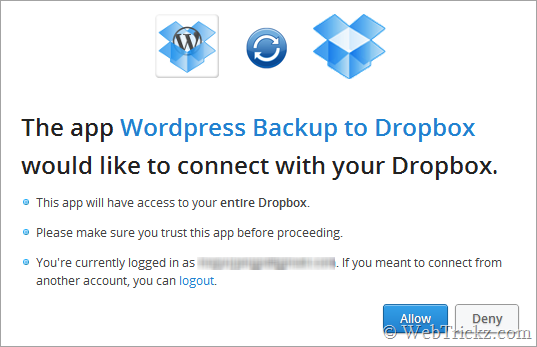 5. Now move back to WordPress Dash, go to plugin settings, and specify the backup schedule. Tick mark any files or folders that you don't want to be included.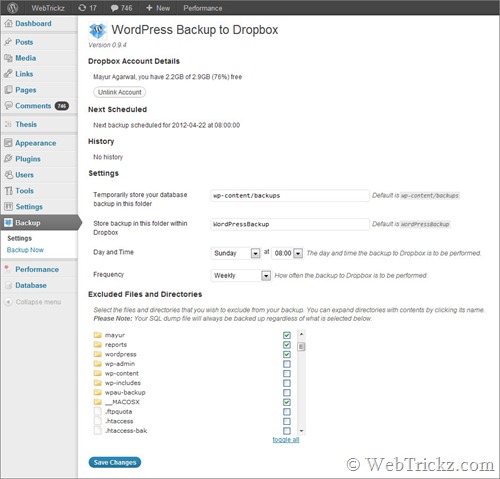 The backup would be automatically performed at the specific time interval to Dropbox. Voila! All your site's media and the database will now be accessible from anywhere. 🙂
Plugin site – WordPress Backup to Dropbox