Update – We've published a new guide to easily accomplish the below task. Follow it to quickly and automatically flash the Yakju or Takju firmware on your device.
NEW – Easiest Way to Change Galaxy Nexus from Yakjuxw (Non-Yakju) to Android 4.1.1 Jelly Bean Yakju/Takju and Get future Updates from Google
NEW – Guide to Manually Install Android 4.2 Takju on Non-Yakju/Yakju Galaxy Nexus and Get future Updates from Google (Without using Toolkit)
The Android 4.0.4 (Ice Cream Sandwich) OTA update for Galaxy Nexus (GSM/HSPA+) started rolling out back in late March but only for a handful of users. The OTA update has been pushed to most Galaxy Nexus with the product name as 'yakju', but still a lot of Google updated Galaxy Nexus haven't got it as these updates are region-specific. It should be noted that devices with yakju product code are updated directly by Google while the non-yakju ones are applicable to receive updates from Samsung which are apparently delayed by a couple of weeks. So, if you can't wait for the Galaxy Nexus OTA Android 4.0.4 update anymore, then you can opt to manually install the update.
See: [Check if your Galaxy Nexus is updated by Google or Samsung?]
Google has officially released the "yakju" factory images for Galaxy Nexus "maguro"  (GSM/HSPA+) which are meant to be flashed manually only on yakju version. However, there is a 100% working trick to Install the official Android 4.0.4 yakju update on any non-yakju version (yakjuxw, yakjuux, yakjusc, yakjuzs, yakjudv, yakjukr and yakjujp) of Galaxy Nexus. This will also change your Galaxy Nexus from non-yakju to yakju, which is indeed good as your device would then be eligible to receive official OTA updates directly from Google and Not Samsung.
Disclaimer: Try this guide at your own risk! We wont be responsible in case your device gets bricked. This may also void your warranty.
NOTE:
1. This process requires unlocking the bootloader which will wipe/factory reset your phone.
2. Your phone should have Official Stock firmware running and Not a custom ROM.
3. Your Galaxy Nexus device name should be maguro (See how to check that)
4. This procedure is meant only for GSM/HSPA+ Galaxy Nexus.
~ We're going to perform this entire task using Galaxy Nexus Root Toolkit, a reliable and easy tool to root, unlock, backup apps + data, and flash .img files on Galaxy Nexus.
Tutorial – Installing Android 4.0.4 Update on Galaxy Nexus (Non-Yakju model)
Step 1 – This is the most crucial step among the entire task. You need to install and configure the ADB and Fastboot drivers on your Windows system. Follow our guide on [Installing ADB & Fastboot Drivers for Galaxy Nexus using Galaxy Nexus Root Toolkit]
Step 2 – Take a backup of your installed apps (with data) and SD card contents. Check our article, [How to Backup Galaxy Nexus Apps & Data without Rooting]
Step 3 – After you've configured the drivers properly and performed a backup, it's time to unlock the bootloader. Follow our [Guide to Unlock Samsung Galaxy Nexus Bootloader]
Step 4 – Download the below files:
– Extract this .tgz file to your desktop using an archive program like WinRAR. Then rename this file and add a .zip extension to it. Extract the file to a folder on your desktop. Then open the folder and extract the file (image-yakju-imm76i.zip) to the same folder.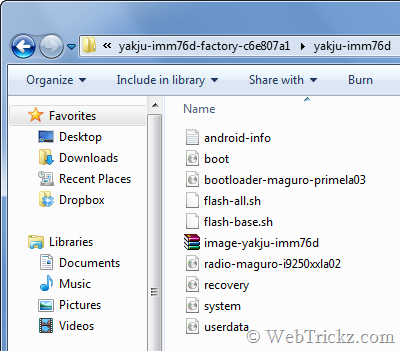 Step 5 – Installing Android 4.0.4 and Flashing the 'YAKJU' Firmware
1. Enable USB Debugging on your phone and connect it to the computer via USB. (Make sure it is charged.)
2. Open Galaxy Nexus Root Toolkit (Run as Administrator), select your device model (CDMA or GSM), and click on 'List devices' to verify that the connection is stable. Then select the 'fastboot-bootloader' option and click on 'Reboot Bootloader'.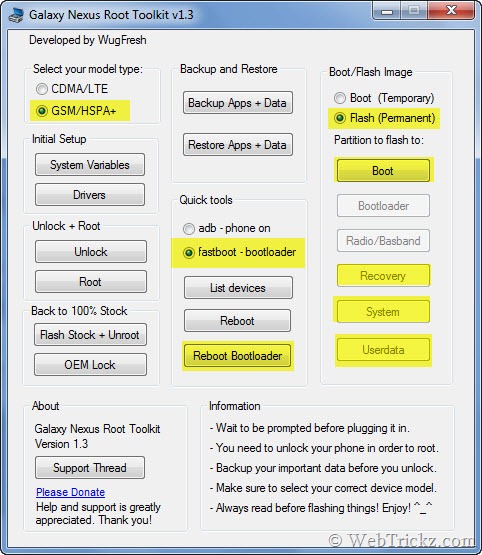 3. Your phone should now boot into Bootloader mode. Get ready for flashing!
To flash the image files that you extracted in Step 4, select the 'Flash (Permanent)' option from the Galaxy Nexus Root Toolkit. Next,
– Click on the System option and select 'system.img' file from the folder yakju-imm76d. (The flashing will start, wait until you see a finished notification in CMD)
– Click on Userdata option and select 'userdata.img'.
– Click on the Boot option and select 'boot.img'.
– Similarly, click on recovery and select 'recovery.img'.
Update – It's advisable to flash the new radio (baseband) and new bootloader as well.
After flashing the above 4 images,
– Click on Radio/Baseband option and select 'radio-maguro-i9250xxla02.img'. Flash it!
Then reboot the device by selecting fastboot-bootloader and clicking on 'Reboot Bootloader'.
– Next, Click on Bootloader option and select 'bootloader-maguro-primela03.img'.
4. Erase the cache partition. (Use one of the below-listed methods)
Method 1 – (Without using toolkit)
Download Fastboot & ADB – Extract the files to a folder 'platform-tools-v19' on your desktop. To erase the cache, right-click the folder 'platform-tools-v19' while holding down the Shift key. Click on 'Open command window here'.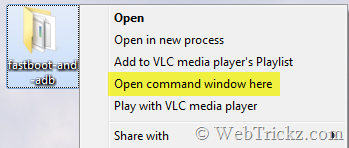 A command prompt window will open up. Simply type fastboot.exe and hit enter. Then type fastboot erase cache to wipe the cache.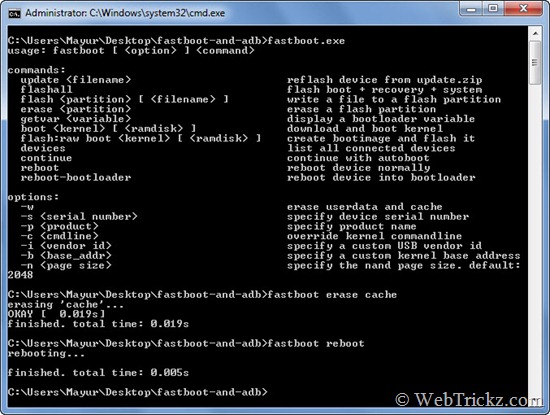 Reboot – Then type the command fastboot reboot and hit enter. That's it!
Method 2 – (If using Nexus Root Toolkit v1.5.1)
Make sure your device is in Bootloader mode. Then open the toolkit, launch Advanced Utilities and click on the 'Launch CMD Prompt' button. A CMD window will open up.
– Type fastboot.exe and hit enter. Then type fastboot erase cache to wipe the cache.
– Then type the command fastboot reboot and hit enter. That's it!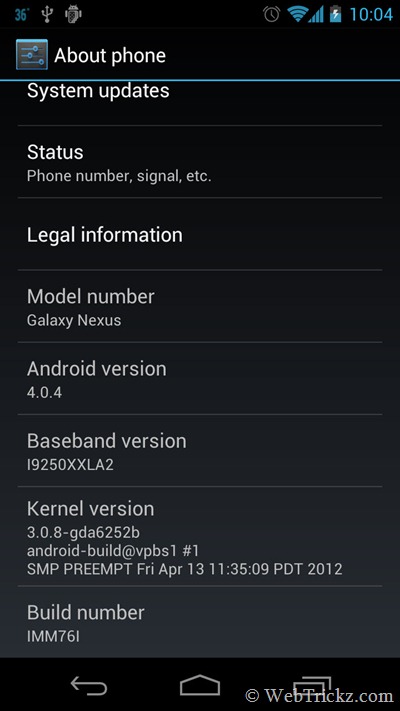 Your device should now boot up normally and present up with the new Android 4.0.4 update and 'yakju' firmware that will offer prompt updates directly from Google. You can confirm the product version using the 'GN updater checker' app. Restore the backup that you created in step 2 to get back all your installed apps along with their data.
What's new in 4.0.4 – The latest Android 4.0.4 update for Galaxy Nexus offers stability improvements, better camera performance, smoother screen rotation, improved phone number recognition, and more. We also noticed a significant improvement in battery life after upgrading to 4.0.4.
Enjoy the more awesome Ice Cream Sandwich on your GNex now! 😀
P.S. We've tried the above tutorial on our Galaxy Nexus and it worked perfectly. Do let us know if you face any issues while going through the described process.
[Thanks XDA Forum]
UPDATE – A pleasant gift for users who followed our above guide and appreciated it.
Guide to Update Galaxy Nexus running Android 4.0.4 to Android 4.1 (Jelly Bean) using ClockworkMod 😀
Updating Galaxy Nexus to Android 4.1.1 Final (JRO03C) from 4.0.4 (IMM76I) or 4.1 (JRN84D) on Takju and Yakju
Update 3 – Unable to install the 4.1.1 OTA update on Yakju? [FIX]
If you followed this guide earlier to update your Galaxy Nexus from Non-Yakju to Yakju, then you must have got the Android 4.1.1 Jelly Bean OTA update on your phone. Unfortunately, the update install will fail if you've NOT flashed the XXLA2 radio/baseband on your 4.0.4 yakju.
To fix this, simply use the toolkit again to Flash ONLY the Radio 'radio-maguro-i9250xxla02.img' and Bootloader 'bootloader-maguro-primela03.img' (steps updated above and these files should be on your PC). You don't need to erase the cache after flashing them. Next, clear the Google services framework to force check for updates. (Settings > Apps > Google Services Framework > Clear data). Then power off and power on, check for system updates again and the Jelly Bean 4.1.1 OTA update should pop up. 🙂
Note: For automated installation of OTA updates, your device should NOT be Rooted and should NOT be running Custom Recovery (CWM) or any custom ROM.