OnePlus One is a beast of a phone and there have been lots of options about custom ROMs that one can try. One of the most elusive ones has been the MIUI and especially the v6. There was a team working on this one but unfortunately, the project got terminated for some reason. However looks like someone has been working on this in the background and we've got hold of flashable zip released/built on the 27th of April 2015 and guess what, it's the MIUI v6! We had done an article earlier on how to install the Official MIUI v5 on the OnePlus One and we are back for the one with the MIUI v6. Please note that this is NOT the official build/release but our initial tests have been good. So let's roll:
Note:
We strongly recommend you take a Nandroid backup of your current OS
Your phone has to be rooted
Your phone has to have a custom recovery and we recommend TWRP
This is not an official version but a build that was released on 27th April. It is stable so far but there may be minor bugs that will not affect everyday activities. We will list them as we encounter them during our testing.
NOTE: Unlocking Bootloader will completely wipe all device data including internal storage. So, make sure to take a backup first of all your important stuff.
How to Install MIUI 6 ROM on OnePlus One [Unofficial & Stable] –
Step 1: If your OnePlus bootloader isn't unlocked and you don't have TWRP recovery installed, then simply follow Steps 1-5 listed here to do the needful.
Step 2: Download the required files:
MIUI 6 flashable zip for OnePlus One – Download here Password: hdmw
KitKat 4.4.4 gapps file – Download here
Step 3: Copy the ROM and the gapps into the phone's internal memory
Step 4: Booting into custom recovery
Boot into recovery mode – Press and hold Power + Volume Down buttons at the same time, let go when you see the OnePlus logo coming up
Step 5: Flashing MIUI 6 on OnePlus One with TWRP
Go to Wipe and select Advanced Wipe. Select the "Dalvik Cache, Cache, Data and System" option. Then perform the wipe by swiping.
Go back and Tap on Install and then select the ROM file "miui_Find7OP_5.4.27__4.4.zip" from internal storage. Swipe to install the ROM.
Reboot the phone and come back to recovery.

This is a very important step to be followed. If you flash the ROM and the gapps file without rebooting, your device may be bricked or may get stuck in the bootloop

.
Flash Gapps package – Choose Install > select gapps.zip file and install it. Then Wipe Dalvik/Cache and Reboot to system.
Step 6: The first boot of the MIUI v6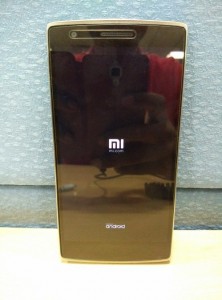 The device would show up the OnePlus and the Android logo after which the Mi logo would come up. The first boot is always long so give it some time – do not worry even if it takes 15 minutes. Once it boots up, the gorgeous MIUI shows up and gets through the initial setup. Guess what, AudioFX too is a part of this! All the Google apps would be in as well. Here are some screenshots. We did play around for a while and it looks pretty stable! Let us know in case you have any questions or feedback.