Our earlier tutorial on Installing ADB & Fastboot Drivers for Galaxy Nexus using Galaxy Nexus Root Toolkit was certainly a bit elongated one and most users weren't successful following it. Now to make it easier, here is a new and 100% working way that neither requires any toolkit nor Android SDK. This step is the most crucial of all tasks if you're planning to root, update manually or install a custom ROM on your phone. So, carefully follow the guide after the jump and let us know if it works for you or not?
1. Enable USB debugging on your phone. (Settings > Developer options > USB Debugging) and connect the phone to the computer.
2. Download USBDeview, extract, and open the .exe file (Run as administrator).
3. In USBDeview, carefully look for devices with Vendor IDs: '18d1' or '04e8'. Select all such devices, right-click and select 'Uninstall selected devices' to remove them.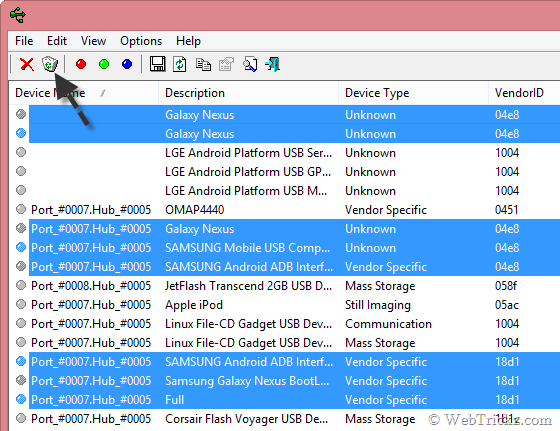 4. Now disconnect your phone from the computer.
5. Download Galaxy Nexus USB Drivers (GSM & Verizon) / (Sprint L700 Galaxy Nexus) and install the driver package.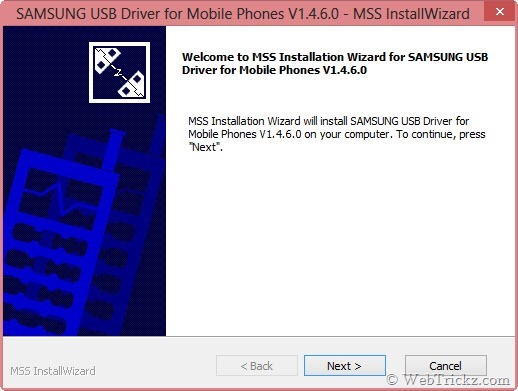 6. After installation, connect your phone to the computer and let it automatically search, download and install the rest of the drivers. (Computer should be connected to the Internet)
In Windows 7, the driver installation will appear like this.


In Windows 8, the driver installation will appear like this.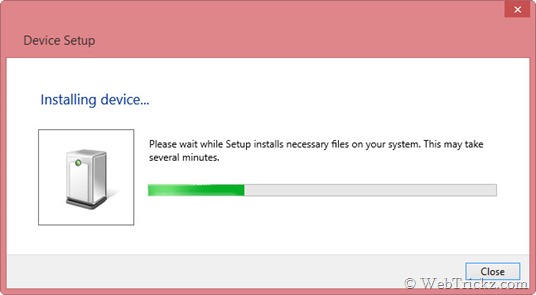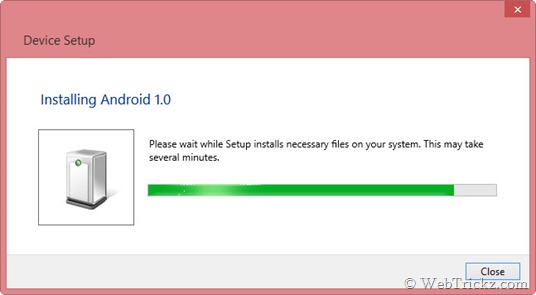 Now open Device Manager and your Galaxy Nexus should be listed as 'Samsung Android ADB Interface' in USB Debugging mode on both Windows 7 & 8. That means ADB drivers for your phone are working properly.

Installing Fastboot Drivers for Galaxy Nexus –
Boot the phone into fastboot aka Bootloader mode – First power off the phone, then turn it on by 'Holding down both volume up + volume down buttons and the power button simultaneously.' While in Fastboot mode, connect the phone to the computer.
Windows 7 will automatically recognize and install the right drivers for fastboot. You should see the below message and the same will appear in the device manager.

Windows 8 – However, you need to manually install the fastboot drivers in Windows 8, for your phone listed as Android 1.0 in device manager. Follow the steps below:
1. Go to device manager, right-click Android 1.0 and click 'Update driver software'.

2. Select the option 'Browse my computer for driver software'.
3. Click on 'Let me pick from a list of device drivers on my computer'.
4. Select device type as 'ADB Interface', click Next.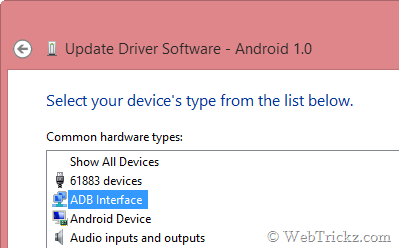 5. Select Manufacturer as 'SAMSUNG Electronics' and model as 'Samsung Android ADB Interface version: 2.9.104.921' as shown below. Then click Next.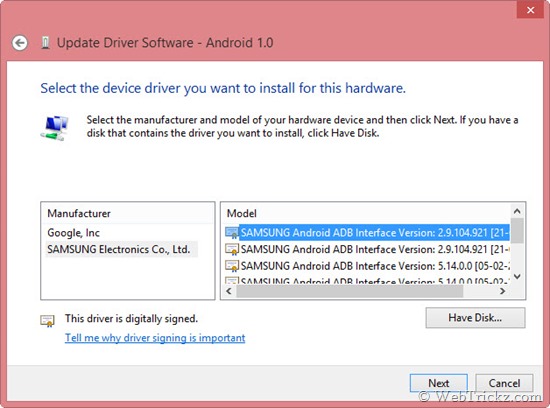 6. 'Update Driver Warning' message will appear. Click Yes to install.
7. That's it. Your Fastboot drivers are now successfully installed on Windows 8.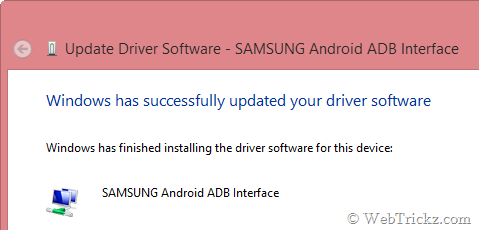 To confirm that Fastboot drivers are installed properly, open the device manager and it should list your device as 'Samsung Android ADB Interface' while in Fastboot mode.
~ We've tried the above procedure on the 32-bit version of Windows 7 and Windows 8.
Don't forget to explore our Galaxy Nexus section for quality guides and tips. 🙂