Motorola has started Android 5.0 Lollipop soak tests for Moto E and Moto Maxx. The Lollipop soak testing for Moto Maxx has begun in Brazil and Mexico, and for Moto E in Brazil and India. With Soak Testing, the company starts by rolling out the upgrade to smaller test groups before releasing it widely, and if the results are strong, they continue the rollout to more phones. The soak test helps in monitoring performance data and user feedback over several days. On basis of soak test users' feedback, the company tweaks software and incorporates new changes to fix any issues. The Lollipop soak test for Moto E is now rolling out in India and some users have got it. In case you're eager to try out the latest Android 5.0 upgrade, then you can get it by installing the Lollipop soak test OTA update manually on your Moto E.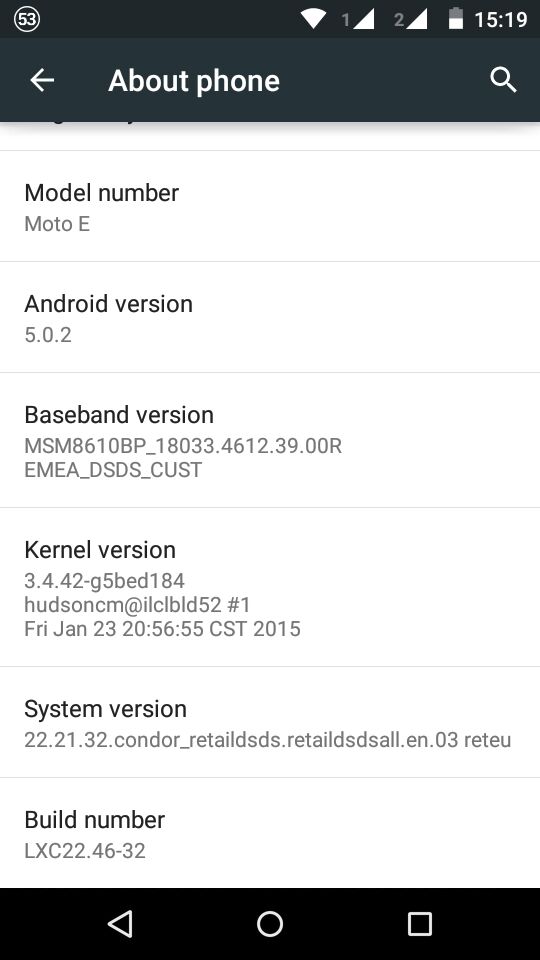 Points to be noted:
The below procedure is tested on Indian Moto E running Android 4.4.4 (locked bootloader, unrooted, fully stock).
This update doesn't wipe your user data.
The update might take a long time.
It's recommended to have 500 MB of free space on your internal storage.
Make sure your phone is charged.
Initial boot takes time, so be patient.
Disclaimer: We're not sure if it works on other models too. Try it at your own risk.
Steps to Install Android Lollipop 5.0.2 Official OTA update on MOTO E (Indian variant) –
Note: This is a soak test update that might have some issues. Those concerned can rather wait for the final update.
Before proceeding, make sure your phone is running stock Android 4.4.4 KitKat.
1. Download the Lollipop OTA update for Moto E. (Size: 342 MB)
2. Place the download file "Blur_Version.21.12.40.condor_retaildsds.retaildsdsall.en.03.zip" in the main directory of the external SD card (might also work with internal storage).
3. Update both these system apps: Motorola Update Services and Motorola Contextual Services.
4. Now go to setting and 'check for update'.
Note: If you receive the 'Your software is up to date' message then boot in stock recovery and wipe cache partition. Then power on your phone and check for updates.
5. When the 'New system software available' message is shown, select 'Yes, I'm in' to proceed.
6. Once the above process is completed, you will get the 'Install now' option.
7. Install the system update and then your phone will reboot.
Stay patient while the phone boots for the first time.
That's it! Now you should have Lollipop running on your Moto E. 🙂
Thanks, Suraj Jain for the tip.