Unlike Windows, I found it pretty uneasy to just view a bunch of images located in a certain folder, using the default Preview app on Apple OS X. Preview seems an effective program for moderate editing purposes but it offers no simple way to scroll through multiple images from a folder or desktop. It was a hectic feeling to open every single image individually to view it, until I found JustLooking App for Mac.
JustLooking is a free and amazing image viewing program for Mac OS X with a cool interface. One can quickly see many pictures in one go using the left/right key and view numerous images automatically using its Slideshow feature. It has various customization options, users can rotate, Zoom In/Out, Resize images, view images in full-size using Command + 1 shortcut and get detailed info of desired images. Set it as the default image viewing application instead of "Preview" for opening most image file formats!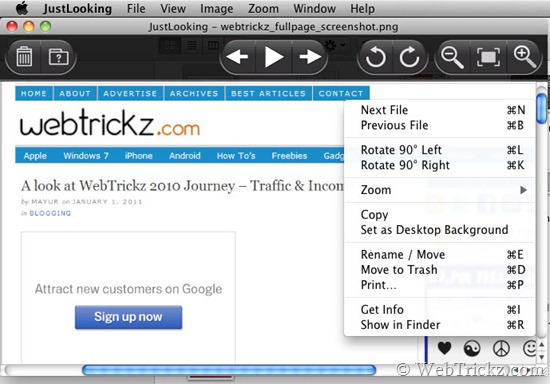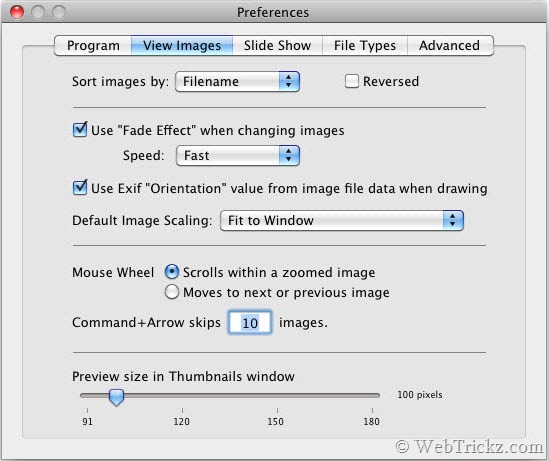 Features:
It focuses on files and directories instead of lists of files. Thus, once you load a file, you can easily navigate through all other files in the same directory.
It displays images at their native resolution instead of interpreting DPI information stored in the image meta-data. While images are printed at the maximum resolution possible, on screen they are displayed pixel-by-pixel.
Being designed more for viewing of Images, it properly shows animated GIF files.
The entire program can easily be manipulated and powered by simple keystrokes for a quick and pleasant viewing experience.
There is support for printing, image resizing, saving to a few key image formats, and displaying of all image info.
Download JustLooking for Mac
Do try out this great app and share your views below. 🙂