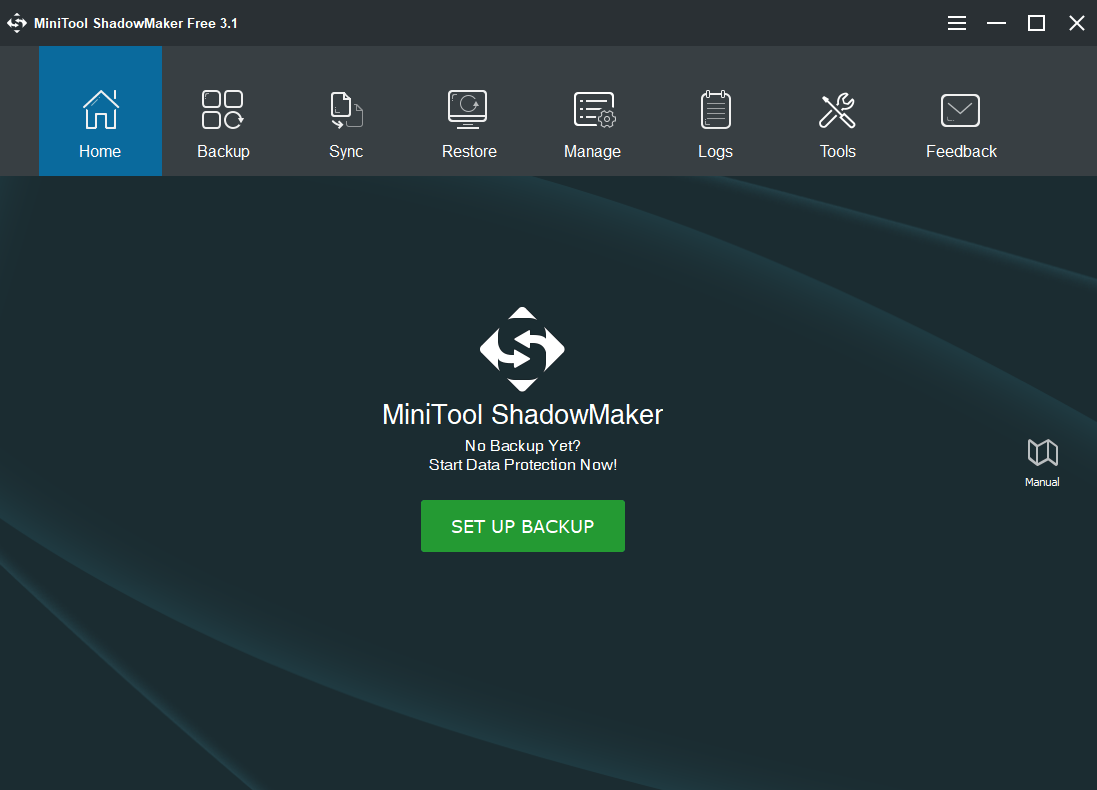 MiniTool ShadowMaker is not the first backup and restore solution of its kind, however, it's very different from other similar products. It provides users with a series of operations to perform speedy data backup and recovery. Those looking for a data protection and recovery program can resort to this software.
Design and Appearance
After using a couple of data backup software, I still prefer MiniTool ShadowMaker. With a blue theme interface, it is simple and elegant in appearance.
Apart from the basic elements, you can find its diverse functions are listed separately and are clear at a glance. Users with the preference for simple style can give a try.
Main Functions
Being a speedy data backup and recovery software, MiniTool ShadowMaker lists a portion of its functions on the main interface: Backup, Sync, Restore and so on.
First comes its Backup function. As for what to backup, MiniTool ShadowMaker offers users four options: files, partitions, disks and Windows OS. Backing up Windows OS is extremely necessary because this helps you protect your computer. When accidents happen, the system image created before can be used to restore your computer to a normal state without reinstalling Windows.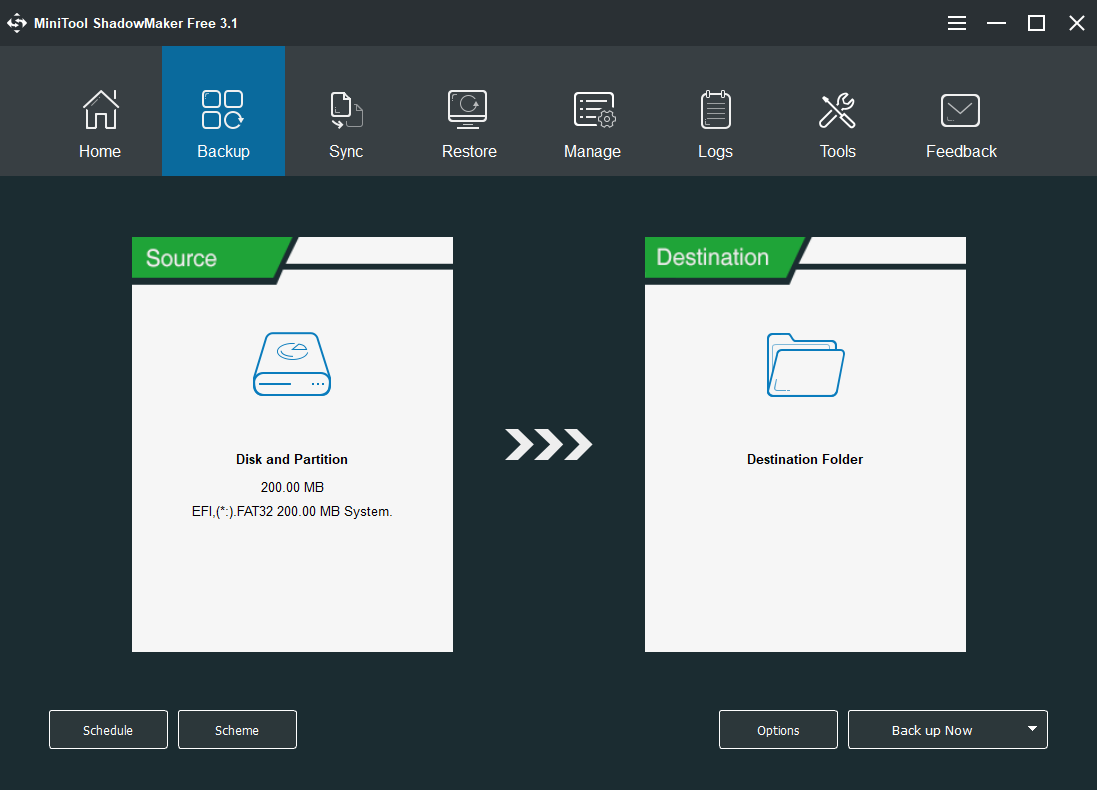 Moreover, you can save these copies to five paths: Administrator, Libraries, Computer, Network and Shared. On the same LAN, you can save their backups to other computers by choosing Network as the destination path. This function is fairly useful considering the importance of a data backup. You can find detailed data backup procedures and tutorials on the official website.
Next comes its Restore function. As Backup function saves what you backed up as image files, you can't open these copies directly. Restore function allows you to restore the files from backups and perform recovery solutions when accidents happen.
System restore is of great eminence in this function. If the computer fails to boot, users can enter MiniTool Recovery Environment with bootable media to use the Restore function to restore the computer to the previous state.
Then comes the Sync function. This function has been added in the MiniTool ShadowMaker 3.0 and only supports file and folder synchronize. You can synchronize files and folders to two or more locations.
Other Functions
Apart from the three main functions mentioned above, MiniTool ShadowMaker boasts many other supporting functions as well.
You can choose to set an automatic backup and sync via its Schedule feature, which not only achieves the purpose of protecting data but also prevents you from repeated operations and saves much time and energy. With the Scheme feature, you can set a full, incremental or differential backup scheme according to your needs. In addition, the Options feature provides users with multiple advanced parameters.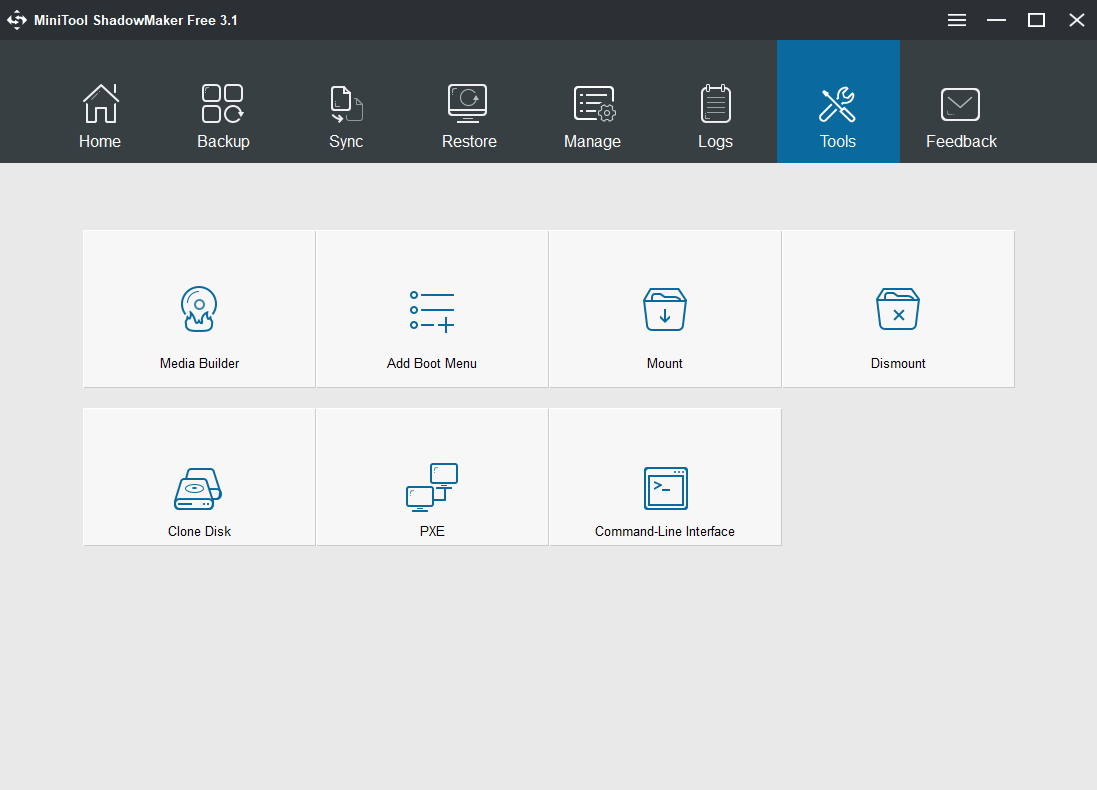 Functions under Tools page also play a vital role in MiniTool ShadowMaker.
Media Builder allows you to create bootable media, which is used to boot the computer when it can't boot from OS. In addition, it is also required while restoring the system image.
Add Boot Menu allows you to enter MiniTool Recovery Environment to perform recovery solutions even without bootable media, but this feature can be used only when the computer can startup.
Mount will load images as virtual drives so that you are able to access them directly. It only supports the disk image or partition image.
Clone Disk feature is essential in upgrading hard drives and it can manage not only basic disks but also dynamic disks with only simple volumes now.
Universal Restore is of vital importance in restoring Windows OS to dissimilar hardware. It helps to solve incompatibility problems so that the computer can boot successfully.
Free Edition VS Pro Edition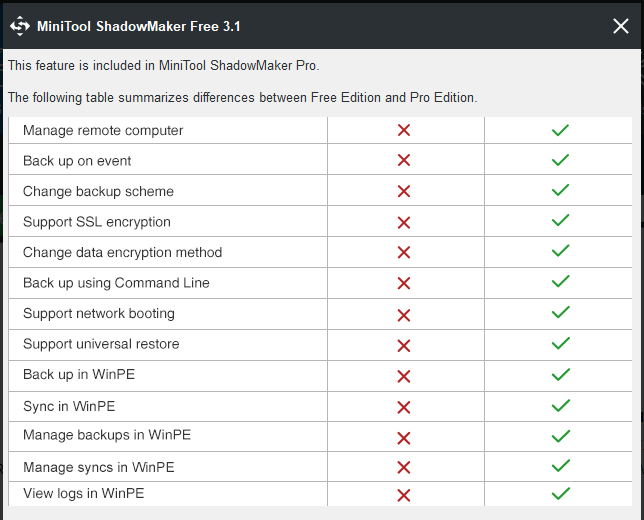 MiniTool ShadowMaker enjoys plenty of functions, but some important ones are only available in its Pro edition and more advanced edition.
For example, for the Schedule feature, you can't choose the last option On Event if you use MiniTool ShadowMaker Free. Universal Restore and network booting are not available in the Free Edition, either.
You can refer to MiniTool ShadowMaker Edition Comparison for detailed information.
That said, MiniTool ShadowMaker has a few drawbacks. As we mentioned above, it can clone both basic disks and dynamic disks. However, it can clone dynamic disks with only simple volumes. Moreover, it doesn't show the remaining time during the backup process.
Conclusion
Regardless of a few shortcomings, MiniTool ShadowMaker is still a piece of professional software with good usage. Its speedy backup, recovery performance and attractive pricing make it a worthy choice for users. To sum up, it is a good choice for backup and data recovery.