E for 'economy' is what Motorola has aimed for with the Moto E that was introduced in 2014 and we need not ring a bell here on how successful it was in terms of changing trends, breaking records in sales, and all the good things. Who would've thought a tiny entry-level phone packing decent specs that can get you thru the day with telephony, housing the elusive vanilla Android OS would come at that price! And within a year of its release, Motorola wants to leverage on the success – in the form of Moto E (2nd Generation). Does it churn the game at the entry-level battlefield? Let's find out.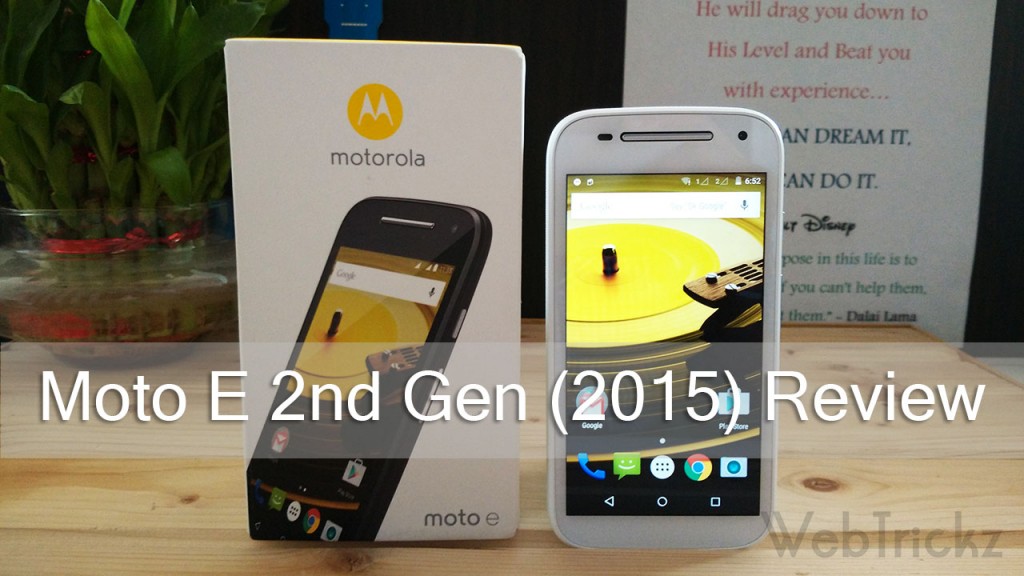 A lot, quite a lot, and the whole lot has changed in the segment where Moto E operates in the last year. The entry of the Lenovo A6000, Xiaomi's Redmi 1s and now Redmi 2, Asus Zenfone 4, and such phones have started bringing in so much of a competition for the price range of 5-7k INR. While in a way it's good for the consumers, it also brings in confusion – which one to buy! Here is our review of the new Moto E after using it for over a week and we will also tell you how it compares against the competition and for whom does it make sense to get one or not!
What's in the box –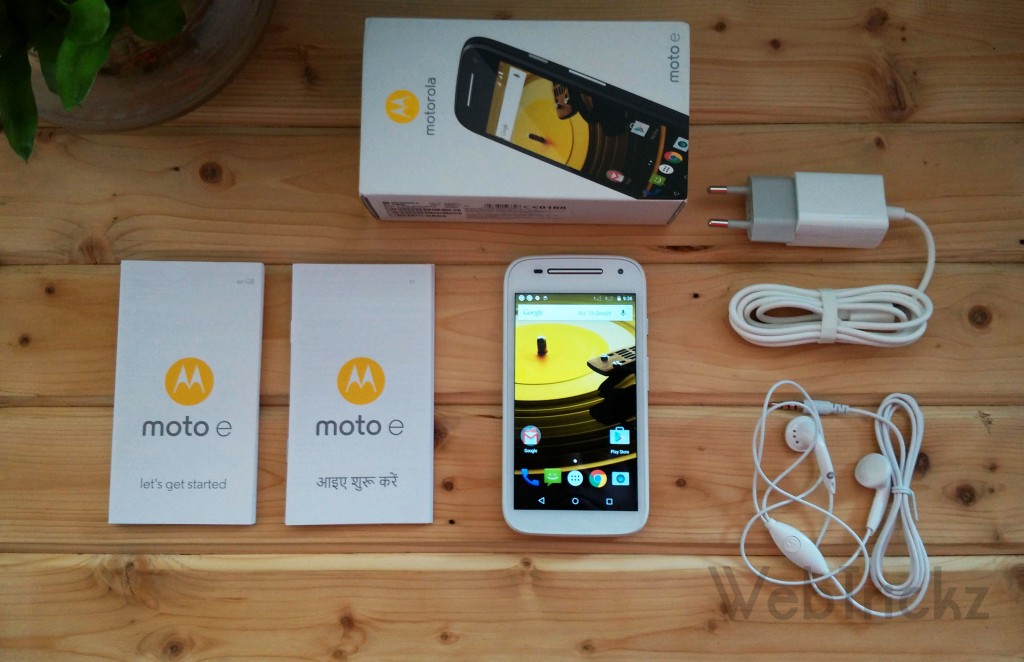 Moto E – White or Black depending on what color you've ordered
3.5 mm jack earphones
550A Charger adapter
Instruction manual
White Moto E 2nd Gen Photo Gallery –
[metaslider id=17509]
Design & Display –
Why try and fix something when it ain't broken! Motorola has retained the overall theme of the design here but has made some changes, much to one's delight. Hold the phone and it instantly gives you the feeling of 'solid' build quality and the handiness of the 4.5 inches screen is what you'd want for one-handed usage. Though it's just a 0.2″ bump in the screen size, the bezels are thicker than before giving the feel of 'bulkiness and the phone ain't lighter either! The 'curved design of the phone is good to hold in the hands and the sweet Moto dimple has become an identity. The option to change the 'bands' with many different colors adds a touch of customization too – we loved this! However, the bands do not come cheap – 999INR for a set of three. Now at this entry-level, will the users be ready to shell out 999INR? Nope, we do not think so – while the notion is good, pricing ain't, more so the price of 899INR for the back cover protection aka grip shell.
The display ain't gonna stun you in any way – it's the 4.5 inch IPS LCD display with a resolution of 540 x 960 pixels. The screen is prone to fingerprints and you may want to bring a screen guard along though it is Gorilla Glass protected. The 245dpi screen leaves us with nothing much to talk about but just that the viewing angles are decent, just decent.
Software –
This is the strongest area of the Moto E, at least for folks like me who yearn for the vanilla Android experience and what more if it's the Android 5.0.2 Lollipop. The adaptive display that literally says 'howdy' when you pick up the phone, and displays notifications and such that need your attention and then goes to sleep when you place it back – nice experience this.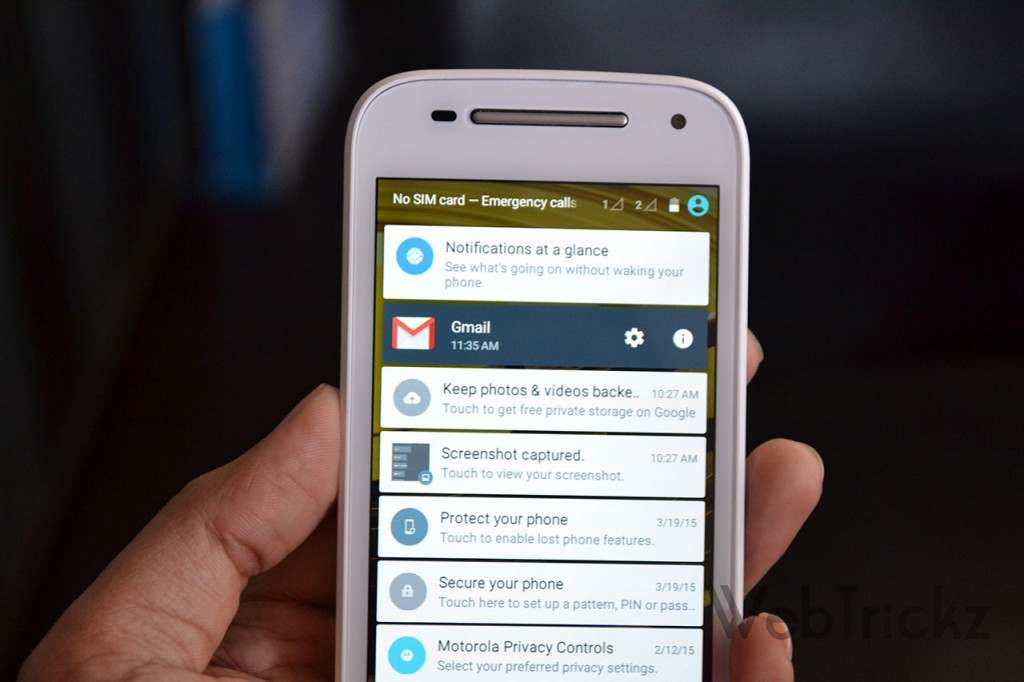 We instantly got a minor update to the software when we booted up the phone for the first time and we do expect constant updates based on Motorola's previous track record, which is a good sign. Though much of the software is kept as close as possible to the stock android, Motorola has added few apps of its own, which demonstrates the fact that they see the entry-level phone too as an important one – the customary Moto Assist that helps you silent the phone while in office or in meetings or when you are sleeping one out! keep your phone quiet during meetings or while asleep, Moto Actions that lets you bring up the camera with the twist of your wrists, Moto Display that brings those notifications to you so softly on the lock screen, though the screen is not active and Moto Migrate will give you company. One option that the users will love is the ability to MOVE the apps to the SD card though you cannot install them directly on the SD card.
Overall, the UI is snappy, responsive, and smooth in transitions, and why not, it's closest to vanilla Android. Out of the box, a little more than 5GB will be available out of the 8GB total memory. Thankfully there is an option to increase the memory via microSD up to 32GB. When you boot up the phone, around 60% of the RAM is free and with around 5 apps open, it drops down to 30-40% free RAM – not bad at all.
Performance –
Powered by a Snapdragon 200 SoC, Moto E is not going to like heavy usage or too much multitasking. It will simply crash the apps or freeze if you do heavy gaming or open 20 apps and start going crazy. A phone at this price range is just not meant to view HD movies or play graphic intensive games or go crazy on multitasking. It did run well with less than 5 apps open at a time and beyond that, signs of stutters and struggles start to show up but then again, it depends on what kinda apps you are running. We had Gmail, Google Play Store, Music, Subway Surfers, and Chrome with 10 windows open and beyond this, it did show signs of sluggishness but not by a huge margin.
Here are the benchmark scores, and nothing impressive and it's not meant to be!
Gaming – er, gaming on the Moto E? hell yes, if it lets me play, I will. We put the Moto E thru some tests with many different games and did not have much of an expectation. But to our surprise, CSR, Sonic Dash, Real Racing, Dead Trigger 2, and even Asphalt 8 ran well! Of course, the Asphalt was in the default 'medium' graphics mode but it did manage to sweetly surprise us by handling it smooth and easy 95% of the time while there were those isolated fraction-of-a-second jerks, stutters. The device did get heated up and went close to 46 degrees C when we pushed the phone to its limits for elongated periods of time but it was bound to heat up. The loudspeaker on the phone is quite a disappointment and will not bring in an enticing gaming experience and we know how important the sound is when one games – we wanna hear the vrooms and screeches of the cars when we race but sadly the Moto E will not meet your expectations there.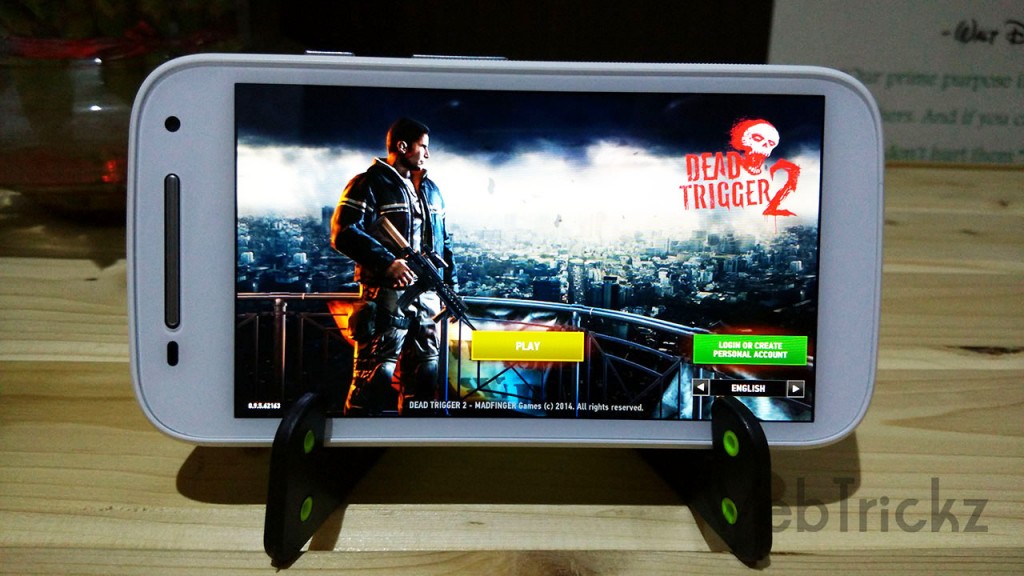 Calling was just OK and nothing great. There were isolated instances of echoes but they were isolated. Given the fact that the network is jammed more often than not, it may not be the Moto E at all but we did observe. Overall there should be no issues with the connectivity and the signal reception was good enough. Wi-Fi, Bluetooth worked fine too.
Music played just fine and the loudspeaker is not too loud. At times bass produced jarring and hissing noises but we did not have many expectations to start off with! Videos too played OK but at times were jerky but just know this ain't the phone for videos and streaming.
Battery, ah! one more strength of the Moto E. With normal usage of a couple of hours of calls, some WhatsApp, browsing, clicking pictures, 30 minutes of music took us thru a little more than a day. And true to the claims of Motorola that the 2nd Gen would be better by 20% in terms of performance when compared to the 1st Gen, battery backup was simply good. Normal usage patterns will get you thru 1.5-2 days with a screen-on time of anywhere between 5-6 hours which is good.
Connectivity its a shame that Motorola did not bring the 4G variant to India. The current model supports Dual micro SIMs but just 3G on the primary SIM and 2G on the other and works in dual-standby mode. Other connectivity options include – Wi-Fi 802.11 b/g/n, hotspot, FM radio with RDS, GPS with A-GPS, GLONASS.
Camera –
The less we speak about the camera, the better, and nothing much changes here from the 1st generation. There is a 5MP autofocus camera at the back and a VGA camera at the front. Though there are minor improvements to the rear camera that make it a tad better than the 1st generation Moto E, the lack of the LED flash is still what Motorola persists in providing you. One can shoot 480p videos at 30fps as well. Whatever you do on this camera it's just OK for social media sharing. Pictures generated are simply not acceptable especially when likes of Redmi 2 produce some stunning pictures for phones in the same price range. But they're not that bad either except for the ones captured with front cam. Photos captured in daylight conditions came out quite good whereas indoor and low-light shots exhibited a high level of noise.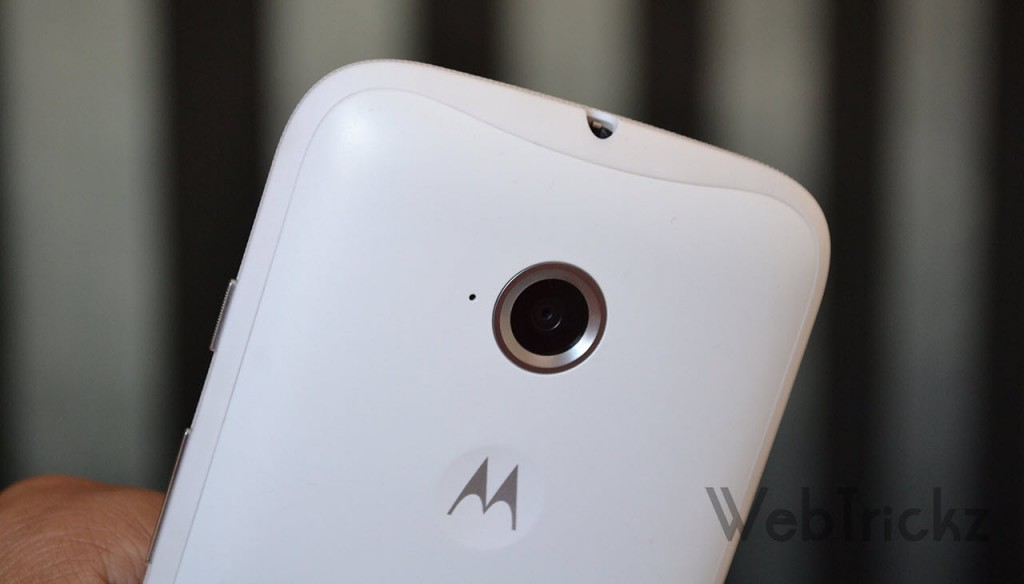 The camera app is pretty simple and the typical one that you'd see on any Motorola phone. Though basic, snappy, and smooth has few options like HDR, Panorama up its sleeve. Twist to click is a new feature that Motorola has introduced on this one but with the kind of camera that we are seeing here, the bells and whistles come off as thrown in arbitrarily. Nevertheless, one can also see these as tricks thrown into a basic entry-level handset that one can play around with and feel happy about.
Check out Moto E 2015 camera samples below to get an idea of its camera –
---
For Moto E

Good build quality
Brilliant Battery performance
Vanilla Android OS with basic additions
Gorilla Glass 3 protection
Color Bands options
Handy size
Price

Against Moto E

Mediocre screen
Below Average Camera
No LED Flash
No OTG support
SD card support for installing apps
Verdict / Conclusion – The competition is seriously hot in here! For 6,999INR one can look at the Lenovo A6000 or the Redmi 2 which offer much better specs and are known to provide better performance across departments. The camera and the lack of 4G were a huge disappointment for the Indian release and overall the compromises that Motorola has made is all very obvious. But if you are looking for a superior build quality when compared to the competition and yearn for that vanilla Android experience on a phone that delivers brilliant battery back up and ready to live with the lack of a good camera and mediocre screen, go for the Moto E (2nd Gen). But think about 1000 times, consider everything and buy IF AND ONLY IF you are ok with what we just said before – Android Vanilla OS, Brilliant Battery back up, and a Handy phone with good build quality (yeah it's a repeat! but we do want to ensure you that carefully when taking the final call) 🙂
Don't forget to share your views with us in the comments section below.