Following a recent update, the Facebook Messenger app has added the option to pin messages. This new feature allows you to pin individual messages within a chat conversation on Messenger. What's great is that you can pin a message in group chat as well as individual chats. There is no option to pin chat messages in a Secret Conversation though.
What is Pinned in Messenger?
When you pin a message in Messenger, a Pinned text along with a red pin icon appears next to the certain message. This implies that a particular chat message is pinned. A notification also shows up at the end of the chat window when you pin or unpin a message in Messenger.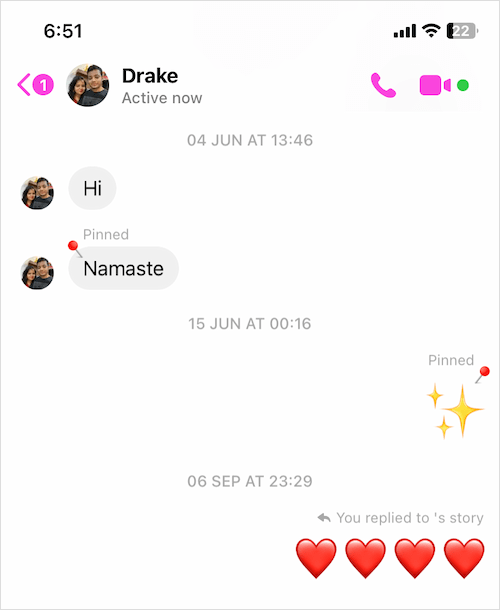 Things to note:
The receiver can see your pinned messages on Messenger and vice-versa.
Both the sender and receiver can unpin any message, irrespective of who pinned them.
Messages pinned by either person (in a chat) appear together in one place.
The pin feature comes in handy as one can pin important messages such as an address, picture, or event invite and find them quickly all in one place. It is also useful to pin or bookmark specific messages during a group conversation so you don't miss them. Similar to the reply feature, you can pin yours as well as the senders' message(s) in a chat conversation.
That said, pinning a message in a chat won't make it appear at the top of the chat window. The pinned messages instead stay at their original position in a chat and you can easily recognize them.
Now let's see how to pin messages in Facebook Messenger on iPhone and Android.
How to pin a message in Facebook Messenger
Make sure to update the Messenger app to the latest version.
Open an individual or group chat.
Long-press the particular message you would like to pin.
Tap the 'Pin' option at the bottom to pin the message.
That's it. 'You pinned a message' text will then appear at the bottom of the chat.
In the same way, you can pin messages in the Messenger group chat.
How to see pinned messages on Messenger
You can quickly find all the messages pinned by you in one place, without having to manually look for them within a chat conversation.
To find a pinned message in Messenger,
Open the particular conversation where you pinned messages.
Tap the profile picture of the person.
Under More actions, select 'Pinned messages' or 'View pinned messages'.
All the pinned messages will show up in reverse chronological order.
Tap a pinned message to view it in its actual position in the chat conversation.
Alternatively, you can scroll down to the end of the chat window and tap the 'See all' option next to 'You pinned a message'.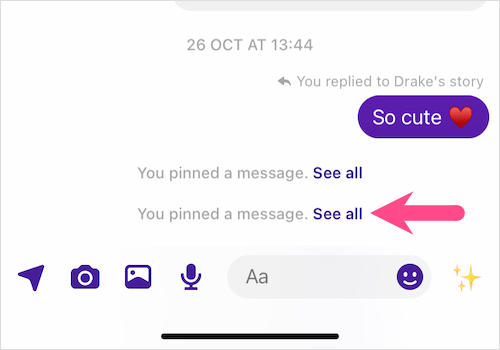 How to unpin a message in Messenger
Follow the steps below to remove a message from your pinned messages list.
Go to the chat conversion having your pinned messages.
Tap the profile photo of the friend or contact at the top left.
Tap on Pinned messages (iPhone) or View pinned messages (Android).
Open the particular pinned message you want to unpin.
Long-press the pinned message in the chat window and tap Unpin.
TIP: In the Pinned messages section, tap and hold a pinned message and select 'Unpin' to quickly remove the pin.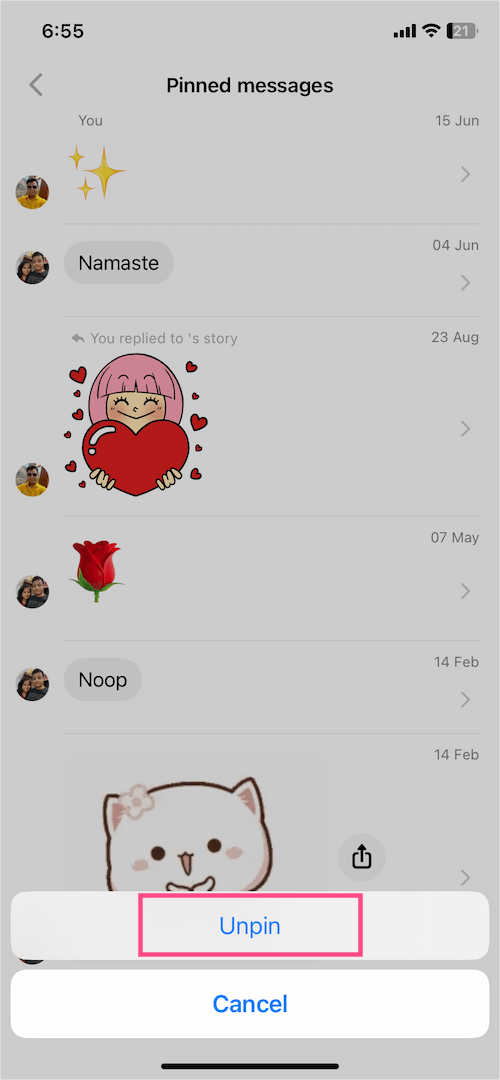 Hope you found this article helpful.