Meta first began testing the Professional Mode with select creators in the US in December 2021. Thanks to its global expansion, Professional Mode for Facebook profiles is now available for everyone. People willing to become a creator can now easily do so by turning on professional mode in their existing Facebook profile.
What is Professional Mode on Facebook?
The Professional Mode is meant for creators and hence it is disabled by default. By enabling professional mode, eligible users can use various monetization tools to earn money by creating new content. A bundle of professional tools further helps to grow your audience, access insights about them, and see how well your content is performing.
When you turn on professional mode for your profile, your follower setting is set to Public, which means anyone can see your publicly shared content in their Feed. However, you can still control who sees your content and also share stuff privately with your friends.
What's great is that you can do all this from one place, i.e. your profile on Facebook. Since the professional mode feature is added to your existing profile, you don't need to create and manage a separate profile or public Page.
That being said, some users might want to turn off professional mode on Facebook. This could be either because they don't want to be a digital creator anymore or prefer to have a separate profile for their content.
Worry not, you can easily turn off Facebook professional mode on both desktop and mobile at any point in time. Before proceeding, review what changes and what remains the same when you opt out of professional mode.
How to turn off Facebook Professional Mode
On iPhone and Android
Make sure you're running the latest version of Facebook.
Go to the Menu tab in the Facebook app and open your profile.
On your profile page, tap the menu button (3-dot icon).
On the Profile settings screen, tap "Turn off professional mode" at the bottom.
Tap the 'Continue' button to proceed. Then tap Turn off to confirm your choice.
That's it. A confirmation screen will now appear stating that Professional mode has been successfully turned off.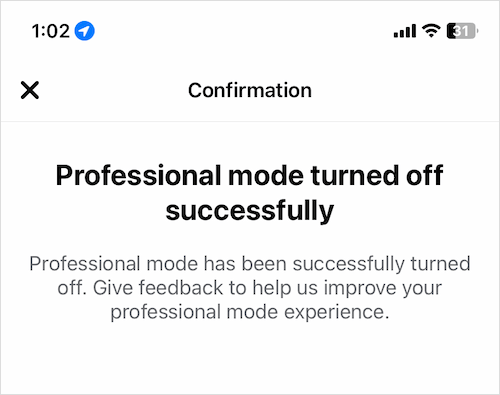 On Computer
Visit facebook.com in a web browser on your computer.
Click your name in the left sidebar to go to your Facebook profile.
Under 'Add to story' on the right side, click the 3-dot menu button.
Click the "Turn off professional mode" option.
Select 'Continue' and then click the 'Turn off' button.
In a similar way, you can turn on professional mode on Facebook anytime.
What happens when I turn off Professional Mode?
See what changes
Any of your existing content or audience insights will no longer be available.
You'll receive pending payments, but you won't earn money on your profile when professional mode is turned off.
You will lose access to enhanced safety features, professional dashboard, or any of its tools.
You won't be eligible for discovery opportunities on Facebook anymore.
Here's what stays the same
Your current friends, followers, and profile content won't change.
Your 'Who can follow me' setting is set to Public. You can change this anytime in Settings.
Your privacy settings won't change.
If you change your mind, you can enable professional mode anytime.
ALSO READ: