Back in July last year, Instagram rolled out pinned comments to everyone. This feature allows Instagram users to pin their favorite comments to the top of their posts.
When you pin someone's comment, it appears at the start of the comments section. This is indeed a great way to highlight the best and most engaging comments made by people on your Instagram post.
Just like Instagram, you can pin specific comments on your YouTube videos. Similarly, you can pin a conversation on Snapchat and pin messages on Facebook-owned WhatsApp.
Can you pin your own comment on Instagram?
While pinned comments on Instagram come in handy, there is a catch. Unlike YouTube, you cannot pin your own comment on an Instagram post made by you.
Instagram only allows you to pin other people's comments so that they always stay at the top of the comment thread on your posts. That said, it is possible to pin your own comment on Instagram Live.
If you try to pin your own comment, reply and delete are the only two options available.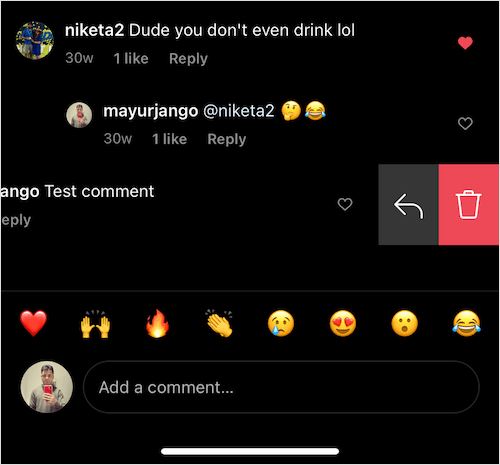 I can't think of a reason why Instagram hasn't implemented this basic yet important functionality yet. There are a lot of Instagram users and influencers who like to follow up on a post with a comment.
Though one can always edit their post anytime, your own comment pinned at the top of a conversation can make a difference.
Unfortunately, there is nothing you can do about the inability to pin your own Instagram comment. There is no workaround as well to get this working.
How to pin a comment on an Instagram post
If you want to pin someone else's comment on your post then that can be done easily. Here's how you can do it on iPhone or Android.
Note that you cannot pin comments on someone else's Instagram post.
Before going ahead, note that Instagram notifies the relevant person when you pin their comment.
Make sure you are running the latest version of the Instagram app.
Open one of your Instagram posts and view all the comments.
Find a comment you'd like to pin. Then swipe left on the particular comment and tap the thumb pin icon. (Note: Do not swipe all the way to the left as that will delete the comment altogether.)
The pinned comment will now show up at the top will a Pinned label next to it.
It's worth mentioning that you can pin up to 3 comments at a time on your post. If you wish to pin some other person's comment then you first need to unpin one of the pinned comments.
To unpin a comment, just swipe to the left and tap the pin button again. Tap "Unpin" to confirm.
ALSO READ: How to see posts you've liked on Instagram on Computer
How to pin your own comment on Instagram Live
Users can pin their own comments when they go live on Instagram.
To do so, type and post a comment in your live video on Instagram. Then tap your comment and select "Pin Comment". The comment will now appear with a pinned tag in your Instagram live stream.
To unpin the comment, tap the pinned comment again and select "Unpin Comment".