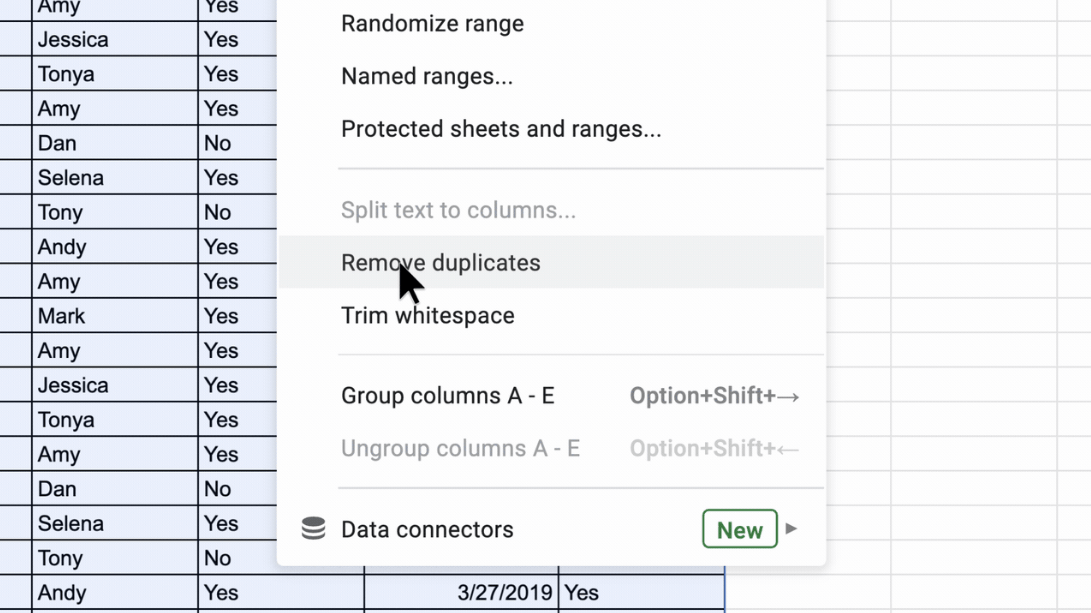 Google Sheets is undoubtedly the best and most powerful alternative to Microsoft Excel. Unlike MS Excel, Google Sheets lacks the crucial functionality to natively remove duplicate or repeated entries. Fortunately, Google has now added a new feature that lets you easily remove duplicate values from your sheet. This was a highly requested feature that Sheets users have been waiting since forever. Until now, users have to resort to using an add-on, Google Apps Script, or UNIQUE function just to remove duplicate data.
With the help of built-in "Remove Duplicates" option, you can now filter unique values in a few clicks and without using any cumbersome workaround. This new function will significantly ease your work and will save you a lot of time. Basic users, on the other hand now won't find the need to move back to Excel just to remove duplicate entries from their sheet.

How to Remove Duplicates in Google Sheets
Select a range of data in your sheet, generally rows and columns.
Click Data > Remove duplicates from the toolbar.
A dialogue box will show the range of data selected by you.
Select Remove duplicates to confirm.
A new dialogue box will now appear listing details about the number of duplicate values removed from your dataset.
The said feature will be available for G Suite customers as well as the general public. It will be supported in Apps Script, macro recording, and one platform APIs in early June 2019.
Availability & Rollout Details –

Rapid Release domains: Gradual rollout (up to 15 days for feature visibility) starting on May 8, 2019
Scheduled Release domains: Full rollout (1-3 days for feature visibility) starting on May 22, 2019
Talking of duplicate data, it is nearly impossible to avoid duplicate entries or records when you are dealing with lots of data in a spreadsheet. Duplicate values usually occur due to human error and sorting duplicate data entries manually may not be practical if you're into serious work.