A few months back, Samsung launched its Galaxy S10 lineup that includes the S10e, S10, and S10 Plus. All these smartphones come with Samsung's new One UI out of the box. The company has also rolled out One UI skin to its existing high-end devices such as Galaxy S9, S9 Plus, Galaxy S8, S8 Plus, Galaxy Note 9, and Note 8.
A prominent feature offered by One UI is the system-wide dark theme that Samsung calls Night mode. The night mode reduces eye strain during the night and helps in improving the battery life.
However, there is a certain limitation for users who like to personalize the appearance of their phone by using themes. Unfortunately, One UI doesn't allow users to enable the night mode while they are using a third-party theme from the Galaxy Themes store.
In case you try to switch on night mode, you will see a "Can't use Night mode while using a theme" error. Hence, if you want to turn on night mode on your supported Galaxy phone then you first need to switch back to the default theme. Optionally, you can choose to delete or remove the installed theme from your device.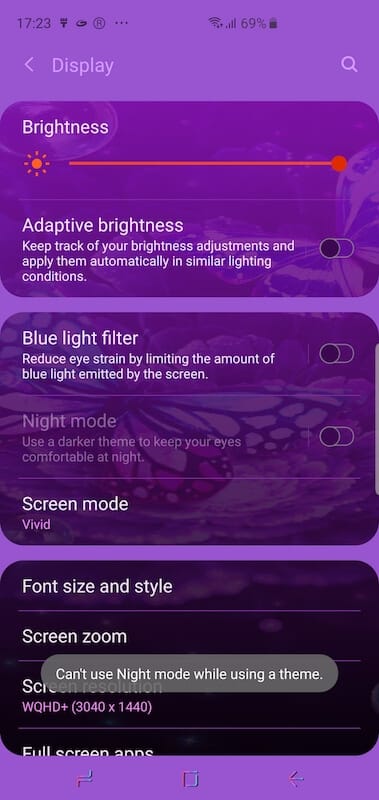 RELATED: How to Add Samsung Themes shortcut to your home screen or app drawer
That said, the procedure to remove a theme has been entirely changed in the Samsung One UI. Though it is still possible to delete themes from Galaxy S9, S10, S10+, and so on. Just follow the steps below.
Note: You cannot delete the default Samsung theme because it is a system app.
How to delete a theme on Samsung Galaxy phones
Touch and hold an empty area on your phone's home screen.
Tap "Themes".
Tap "View all" to see all of your themes.
From the My themes section, tap the Default theme and hit Apply.
Now open the particular theme that you want to remove.
Select "Delete" to remove it. 
That's it! The selected theme will be removed and you will now be able to switch to night mode without any problem. As you can notice (in the below screenshot), the delete option is not visible for a particular theme while it is applied. In short, you can only remove a theme when it is not in use.
We have tried the above-stated procedure on Galaxy S10 Plus running Android 9.0 Pie with One UI v1.1. However, it will also work with other Galaxy phones that officially support One UI. These include the Galaxy S8, S8+, S9, S9+, S10e, S10, S10+, Note 8, and Note 9.