Just like Facebook, Twitter, YouTube, and other web services, Instagram keeps a track of your search history. While recent searches allow you to see the accounts, hashtags, and keywords that you searched on Instagram. At the same time, your Instagram search history could be a privacy concern.
The list can reveal what sort of people, content, and locations you are interested in. Besides, we sometimes make searches that we find embarrassing later on. The best bet is to simply clear your search history and bid goodbye to your old searches.
Though Instagram users can easily clear their search history from within the app itself. However, the option to clear search history has been repositioned in the new version of Instagram for iPhone and Android.
In Instagram 2021, the option was available right under Settings > Security > Clear search history.
In Instagram 2022, the option to clear search history is located in the new Your activity section. Now let's see how you can delete recent searches on Instagram 2022.
How to clear your search history on Instagram 2022
Go to your profile tab and tap the Menu button at the top-right.
Select "Your activity".
On the Your activity screen, go to "Recent searches". Here you can review things you've searched for on Instagram and delete your search history.
To remove your entire Instagram search history at once, tap the 'Clear All' option at the upper-right corner.
Select 'Clear All' to confirm.
That's it. All your searches related to accounts, tags, and places will be deleted instantly.
TIP: You can also remove specific searches instead of clearing your entire search history.
To do so, go to the 'Recent searches' page and tap the cross button next to the particular search term, account, hashtag, or location. Doing so will immediately remove that search from your history.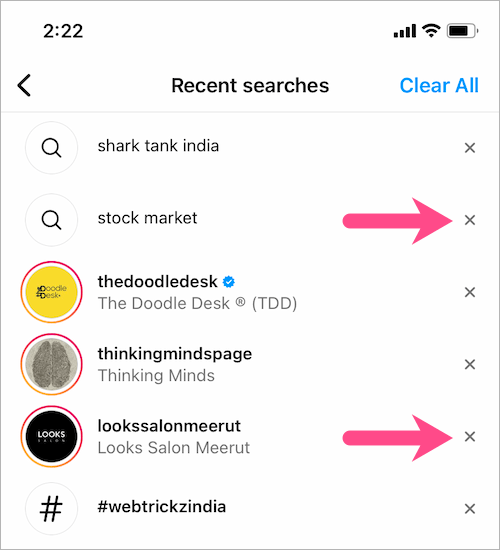 It's worth noting that you may still see accounts that you've searched for as suggested results.
ALSO READ: How to Unblock Someone on Instagram