Certainly, it's not possible to stop scraper sites as the web is a huge place but if you're a webmaster or blogger then you must be aware of sites who copy-paste aka scraps your hard written content. Spam blogs are usually a scrapper site which automatically pulls the entire post via sites RSS feed and publishes it on their site without the consent of original author. This can be generally referred as stealing of content.
Unfortunately, the recent Google Search algorithm (PANDA update) seems to give more importance to these splogs rather than the original site. I've seen many instances where our site was being outranked by the content scrappers in Google search, this makes me sad and is pretty bothersome. A small example of this can be seen below: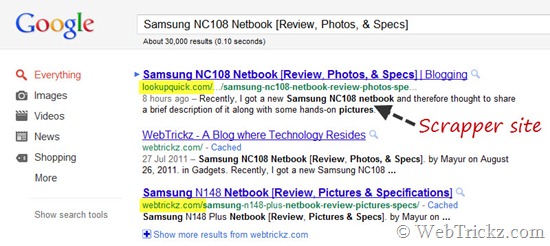 As you can see in above screenshot, the scrapper site is ranking at 1st position whereas the original site is at 3rd position. This definitely drops down our organic traffic and the sploggers who just steal our work enjoy the benefit of it.
To combat against this, Google seems to have finally started working to improve their search algorithm and they need data points for testing. Matt Cutts (head of the Google webspam team) just tweeted a link, using which site owners can report about blog scrapers to Google. This is a specialised webpage to Report scraper pages, it says:
Google is testing algorithmic changes for scraper sites (especially blog scrapers). We are asking for examples, and may use data you submit to test and improve our algorithms.
From now onwards, if you ever find any spam site or blog who is lifting your articles and is ranking above your site in Google, then do report about them and help Google in improving their algorithm. For me, Panda is a sort of nightmare that has turned into reality, resulting in 50% drop in both traffic and revenue since last few months. 🙁
To Report a Scraper site, just visit here. Input the search query, then URL of original site page and the scrapper site page. You can share some details too. Click Submit!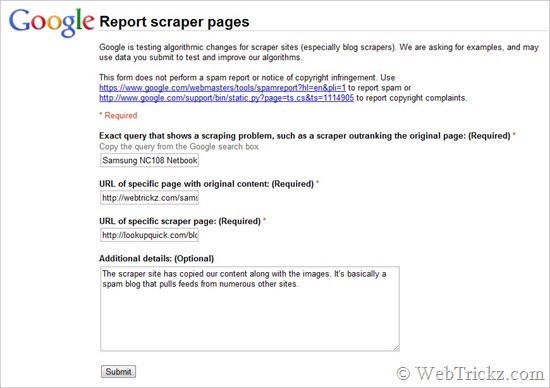 Note: This form does not perform a spam report or notice of copyright infringement.