Live Photos on iOS adds life to a traditional photo by capturing a 3-second short video instead of a still image. Live Photo is a native feature of the iPhone camera that captures both movement and sound to revive the moment.
One can add effects to a Live Photo and even share Live Photos on Messenger after converting them into a video.
Why convert a Live Video to video?
Since Live Photos are exclusive to iPhone and iPad, non-iOS users cannot view them. The reason is, a Live Photo is sent as a still image when you share it over email or on social media platforms (excluding WhatsApp).
Hence, if you want to post them on Instagram, Twitter, or Facebook or add a Live Photo to a video during editing then you first need to convert it to a video.
Save as Video option missing in iOS 16
Although, the Photos app (in iOS 13 or later) includes a one-click option to convert a Live Photo to a video. At the same time, the "Save as Video" option in Photos seems to be missing on iOS 16. Therefore, one can't save Live Photos as video on an iPhone running iOS 16.
Worry not, you can still turn a Live Photo into a video without using a third-party app. The fact is iOS 16 changes the way how you save a Live Photo as a video.
Unlike in iOS 15 and earlier, the 'Save as Video' option no more appears in the Share menu of the Photos app. Similarly, the way to hide photos in iOS 16 has also changed.
Now let's see how you can save Live Photo as video in iOS 16 on iPhone.
How to save a Live Photo as a video on iOS 16
Find and open a Live Photo in the Photos app. Tip: Go to Albums > Live Photos (under Media Types) to quickly see all of them.
Tap the More button (3 dots) at the top-right corner and select 'Save as Video'.
Go to the Recents or Videos album to see the saved video.
That's it. The saved video is exported in either HEVC or H.264 and includes the audio (which can be turned off).
TIP: To quickly find the converted video, long-press the particular Live Photo while it appears in a grid view in Photos. Then select 'Show in All Photos'. You can now see the exported video alongside the Live Photo in its original location.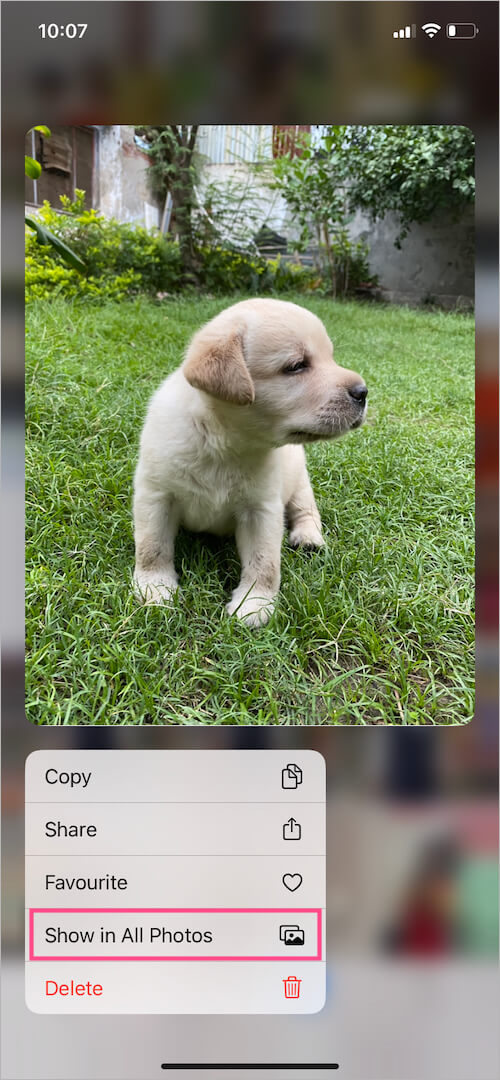 Fix: Save to Video still not appearing?
Is the 'Save as Video' option still not showing up for you in iOS 16?
Well, the option to save Live Photos as videos isn't visible when you apply Live Photo effects (Loop, Bounce, or Long Exposure) to a certain Live Photo.
To get back the 'Save as Video' option, just re-enable the Live effect or check the below workaround.
To save a Live Photo with Loop or Bounce effect as video,
Go to Photos and open the Live Photo you want to export as a video.
Select the Bounce or Loop effect.
Tap the "Share" button at the bottom left.
Scroll down the share sheet and select "Save to Files". Then save the video file in your preferred folder or directory.
BONUS TIP: To save the video from the Files to Photos app, open the Files app and find the particular video. Then tap the Share button and select 'Save Video'.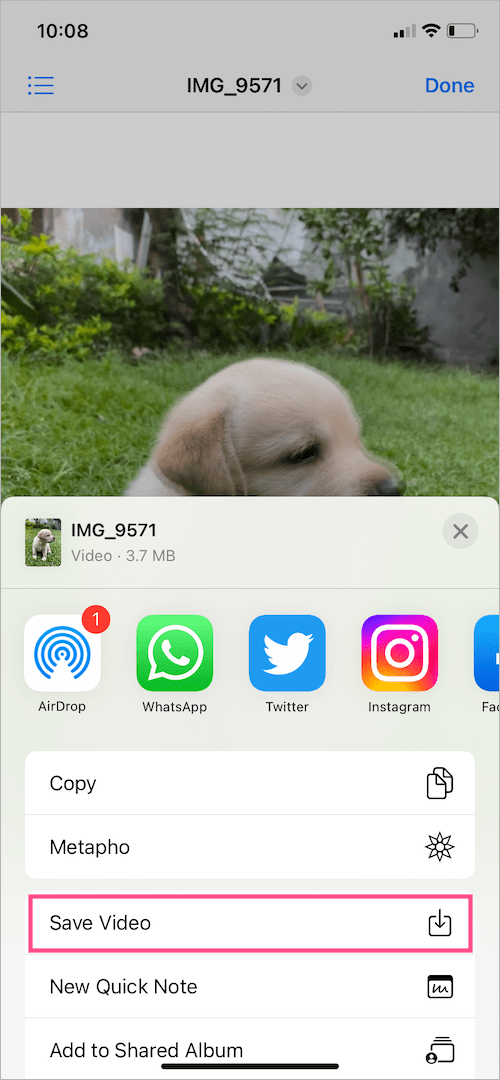 Go ahead and find your video in the Recents album.