There is no problem if you are logged into multiple Google accounts on your computer as long as you don't want to sign out of one of them. That's because Google doesn't allow users to sign out of just one Google account.
The only option you now get is to "Sign out of all accounts" while using Gmail, Google Drive, Google Photos, or YouTube. This happens in every browser on a computer, irrespective of whether it's Chrome, Firefox, or Microsoft Edge.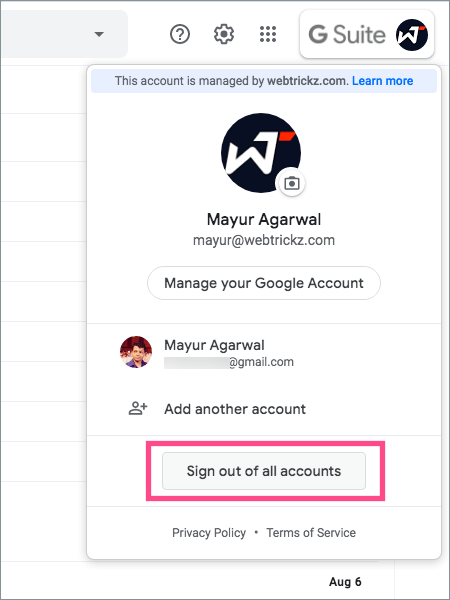 Google forces to sign out of all accounts?
While this shouldn't be a concern for users who manage a single Google account. However, things can be really annoying and inconvenient for people who are simultaneously logged into several accounts.
Let's say you have five or six Gmail accounts, they can be personal, related to a brand, business, kids, and even guests. Now if you want to log out of one or two of the accounts then you won't be able to do so. Google instead forces you to log out of all Gmail accounts just to log out of a single Google account.
As a result, one has to re-login into all of the other accounts they wish to remain signed in to, every time they want to sign out of an individual Google account. The situation can get messier when passwords aren't saved for accounts that you don't wish to log out from.
Needless to say, this is a bad UX decision by Google that makes a simple thing cumbersome and time-consuming for end users.
Unfortunately, there is nothing much you can do to get rid of this stupid limitation.
However, there is a workaround that one can use to sign out of just one Google account when using multiple account sign-in. This way you can sign out of a particular Gmail account on your PC without affecting the rest of the active accounts. To do so, follow the steps below.
How to sign out of one Gmail account on a computer
For this, you need a smartphone with a Google app installed such as Gmail, Google, or Drive.
NOTE: Make sure you are logged in to the Google account on your iPhone or Android device that you want to log out of.
Open the Gmail app.
Tap your profile picture from the top right corner. A list of all logged-in accounts will appear.
Select the Google account you want to sign out of on your computer.
Tap your profile picture again. Then tap "Manage your Google Account" (iPhone) or "Google Account" (Android).
Here you can manage your Google settings. Swipe left and go to the Security tab.
In the Security tab, scroll down to "Your devices" and tap Manage all devices.
Find and select the particular device you want to log out from (Mac or Windows).
Then tap Sign out. Tap 'Sign out' again to confirm.
That's it. Google will now log you out of the Gmail account on the particular device. This procedure is generally used to remotely sign out of a Google account on a certain device.
Though this isn't an efficient and quick way, it does get the job done.
Hope you found this article helpful. 🙂
ALSO READ: How to sign out of the Google Classroom app on your iPad