LeEco (pronounced La-eco) did a big bash for the Indian launch of their 2016 top-of-the-line and budget offering, Le Max 2 and Le 2 respectively. While the Le Max 2 will have lesser buyers as compared to the masses that will hunt for Le 2, the competition is not less for the Le 2 itself. The pricing too is pitched right there with Xiaomi's Redmi Note 3's 32GB variant at Rs. 11,999. We went on to use the Le 2 for over two weeks now in various conditions and here are our findings with the phone.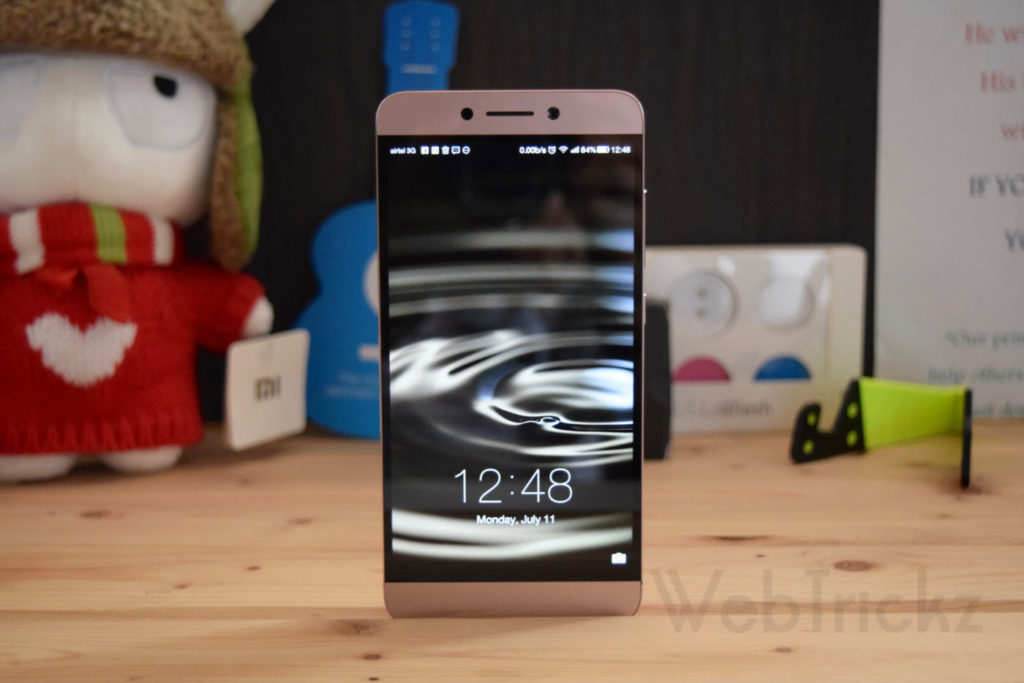 Specifications:
Metal unibody built with sealed battery
5.5-inch Full HD display @ 401 PPI. Protected with Gorilla Glass 3
Qualcomm's Snapdragon 652 Octa-core processor with 4 ARM Cortex A72 cores and Adreno 510 GPU
32GB non-expandable memory
3GB LPDDR3 RAM
16MP primary camera with f/2.0 aperture, PDAF and dual-tone LED flash
8MP Secondary camera with wide-angle lens
3000mAh non-removable battery with fast charging support, USB Type-C
Dual 4G LTE Nano-Sim Tray (No hybrid)
EUI 5.6 off the box built on Android Marshmallow
CDLA technology for Audio, IR Blaster, and rear fingerprint sensor
7.5mm thickness and 153gms in weight
In the box: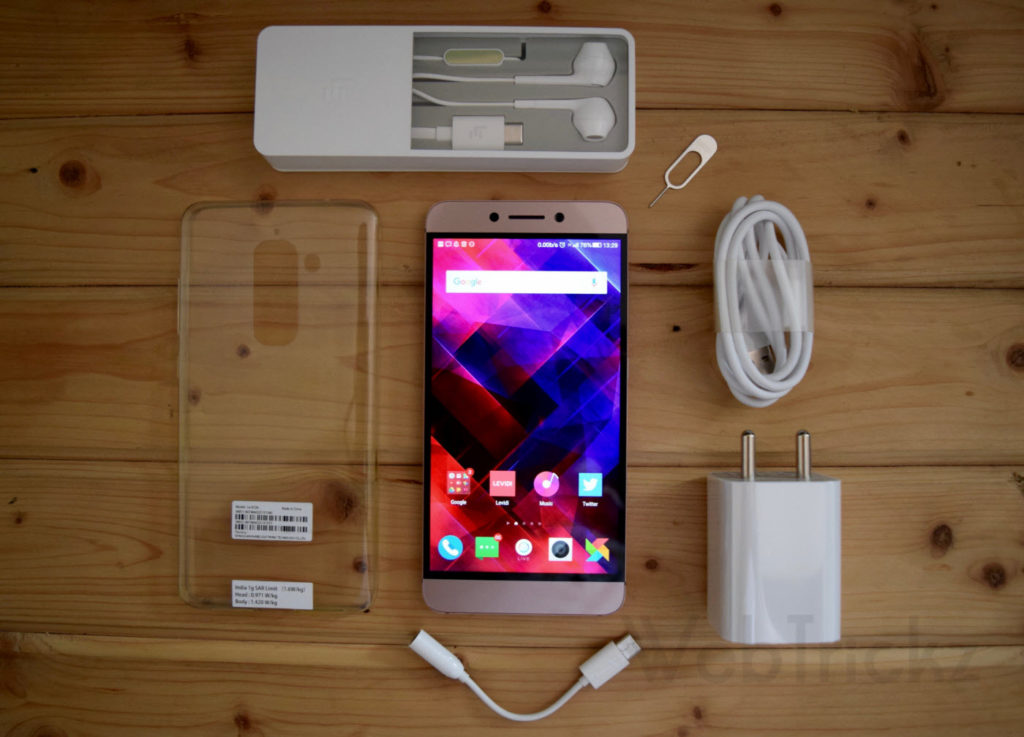 Le 2 Phone
CDLA to 3.5mm audio converter
USB Type-C cable
LeTv fast-charging brick
User manual and warranty card
Sim ejector pin
Transparent back case
Free CDLA earphones (as a part of launch offer)
Build and Design: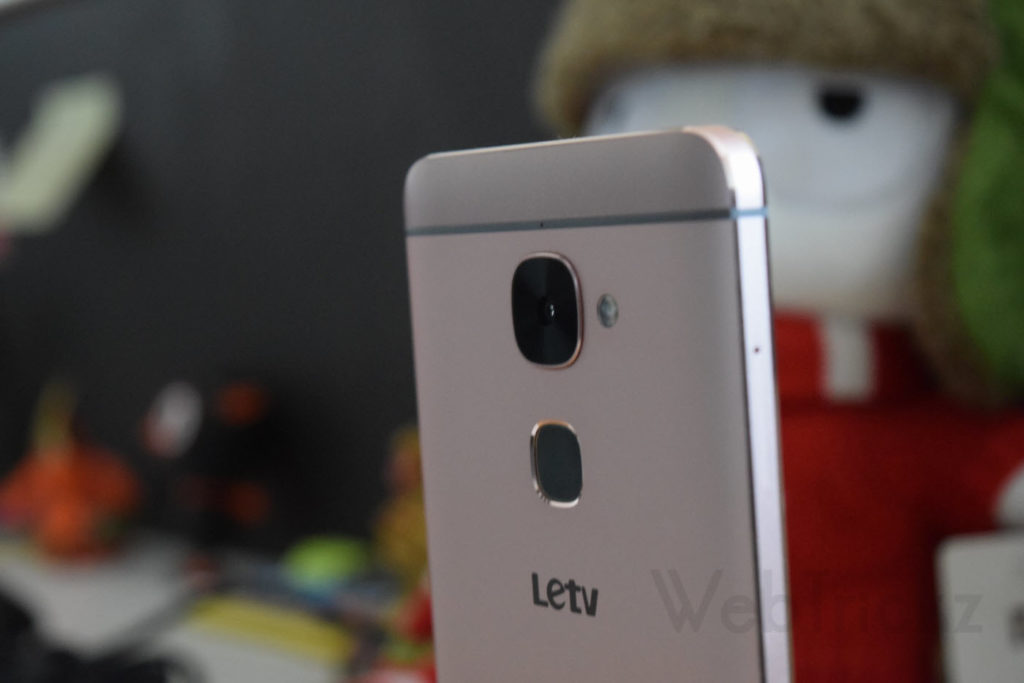 Le 2 is an all-metal unibody phone and the one we have is the rose gold variant. It also comes in silver-ish gray color. Here, there is nothing fancy but the plain old boxy design with curved corners that is typical of any Chinese phone you will get to see out there. But at that price, there is nothing much to complain about as it's a solid metal build with chamfered edges. Power and volume rockers are on one side and a Dual SIM tray on the other, the top has an IR blaster while the bottom has the duo of mono speaker and microphone with symmetrical design language. Also present is the USB Type-C port that will be used for charging the phone as well as plugging in earphones.
On the front is a 5.5″ FHD display that has decent viewing angles but is highly reflective. There are a few display modes you can use but still, this cannot beat the Redmi Note 3's sunlight display. The touch sensitivity of the phone is also good and we have no complaints on that front. The back of the phone is quite slippery just like the back of the Redmi Note 3. The camera bump does poke your hand as it has sharp edges and we feel it is not well finished. There is also a rounded edges square fingerprint scanner, and it shines like a mirror similar to the one we saw on the Le 1s.
Overall, for the price you pay you are getting the best in the class build and a pretty common design that has nothing wrong with it.
Display: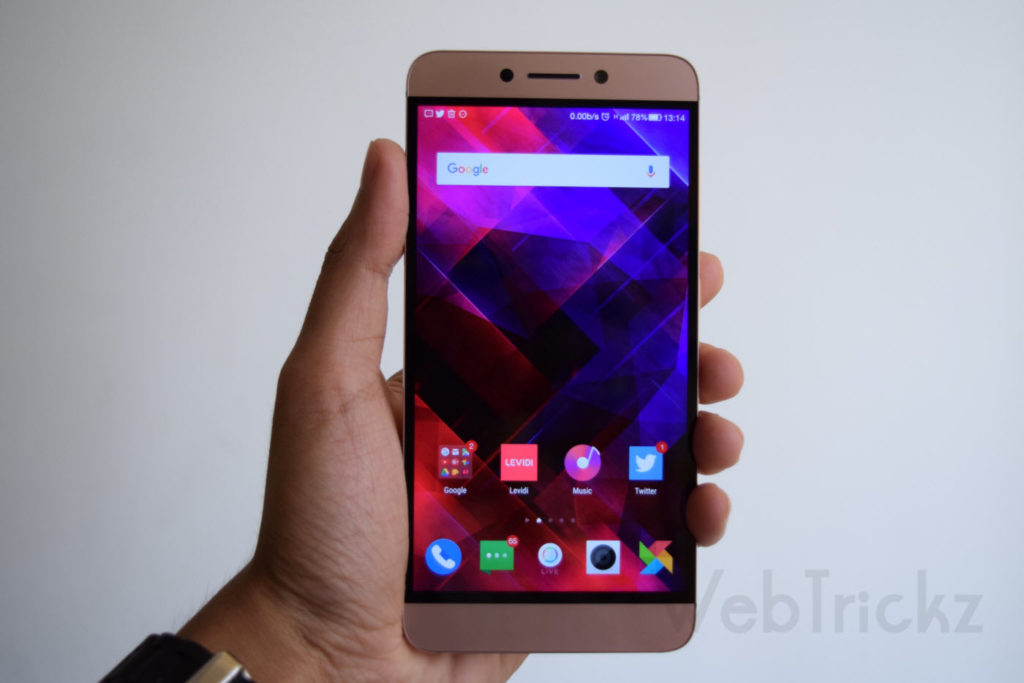 With a 5.5″ FHD screen, one would want to use it for multimedia and gaming. Though it doesn't match up to flagship displays it doesn't disappoint you either. Colors are more natural and pleasing to the eyes. The phone does have a considerable amount of bezel and has a thick black border around the frame. This is irritating to some but after a while, you will stop noticing it. As indicated before, the display is highly reflective and reading gets hard to even at the highest brightness under direct sunlight. There are some contrast modes in settings but still, we miss something like the sunlight display on the Redmi Note 3.
There are 3 capacitive buttons that light up when touched and they are well lit as well when compared to the very dim ones to be found on the Redmi Note 3. They are also bigger in size but it's impossible to spot them when they aren't lit. The buttons are not customizable and there is no option to turn them off and have on-screen buttons.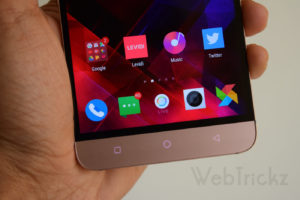 There have been reports and complaints about the display making some noise when pressed in some areas. We did try it out and yes it creaks when the middle portion of the screen is pressed hard but we believe no one will press it that hard as it is never needed. In a day to day usage, there was no touch issue found.
Software: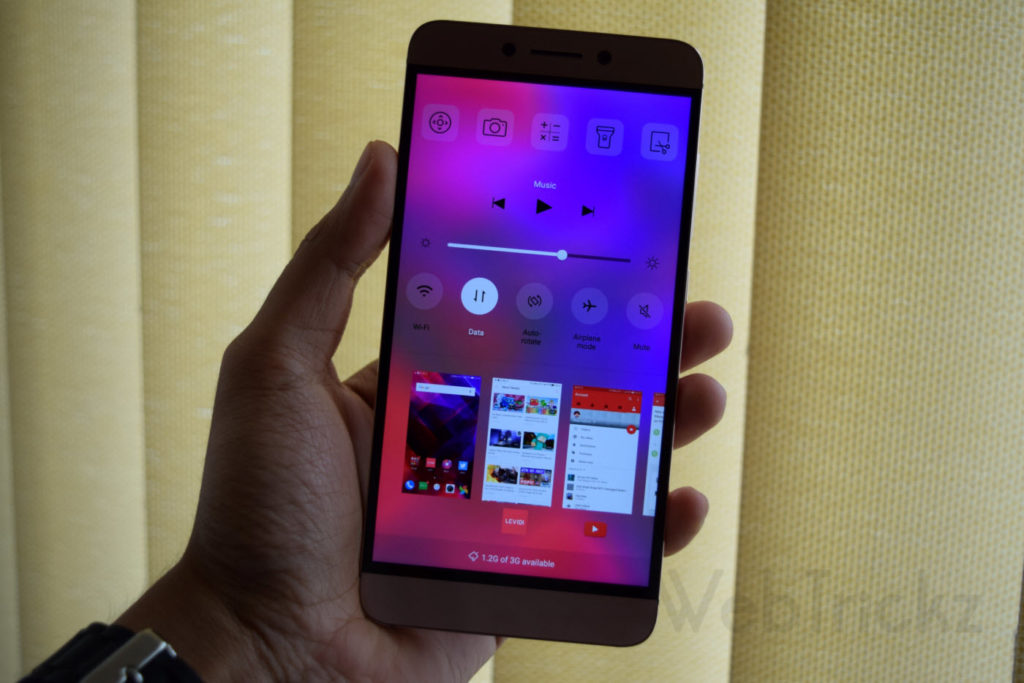 EUI 5.6 is what is found on the Le2 and is built off Android Marshmallow. The latest update to the 5.8 version has also arrived that brings in a native Fingerprint lock for Apps and various fixes. This is a heavily customized version of Android that resembles iOS all around the place. Similar to many Chinese phones you won't find an app drawer here. There is no toggle menu available on swipe down but a mix of options with audio player and task manager available via the recent apps button. Overall the OS is very smooth, thanks to the Snapdragon 652 processor and 3GB of RAM. At any point, if you clear all the apps, 1.6GB of free RAM is available. Out of 32GB storage, 29.1GB of space is available for the user.
Following are the key features of the software inside EUI:
Colorful – the EUI is colorful all over and we like the choice of images, transitions, and translucent backgrounds used. Of course, it resembles iOS but we never felt it was very heavy like MIUI
Themes – there are 3 standard themes and close to 9 themes that can be downloaded. Most of these themes resemble what is found in the MIUI store but all work well
Online Media Content / Ecosystem: This has to be the one differentiator that will stand out from the competitors Le 2 has. With Le 2 one will get a year's worth of subscription for free and here are the services that one stands to gain and we believe that this will be the trump card as it can get users very used to the online content as they are really very convenient:

LeView: This is the left-most home screen view and is similar to the ones we find on OnePlus's Oxygen or HTC's Blinkfeed that has many options and widgets that have been selected and put in place. Here, LeEco gives you a list of interests of your choice and with that, they pick content from the internet and display videos, news, and such things. We found it to be a little slower in terms of performance as it is scanning the "www" maybe. Also, some Chinese content too showed up and hopefully, LeEco will improve this over a period of time
Live: This is LeEco's Live TV and in India, they've tied up with Yupp TV to bring in all the regional channels which include several popular news channels too. Most popular North Indian and South Indian channels are found here in many languages such as Hindi, English, Telugu, Tamil, Kannada, Punjabi, Marathi, Bengali, and a few others. The live broadcast works really well without any hiccups provided you have a decent Internet connection. The access to this is the place where you'd usually find the app drawer icon and you cannot move it around.
Levidi: This is where one can find lots of movie content and LeEco has tied up with EROS Bros to bring in this content. There are tons of regional options as well and we found many popular selections in the list from categories like music, trailers, comedy, entertainment, education, gaming, etc. The playback is pretty smooth and the overall content is good in quality.

Settings Menu: Like most of the Chinese custom UI, the EUI's settings menu is also colorful and has tons of options that are neatly laid out. One of the things we loved is the battery stats that displays more details as compared to other phones. The menu also has a dedicated 'App Settings' tab that lets you customize specific settings for system apps.
Performance:
The overall performance of the phone was good and satisfactory. To make it easy for you, let's divide the results across various aspects about the phone's usage and how it performed:
RAM Management: With all the apps closed, 1.6GB of RAM is free and as we loaded more and more apps such as 20 apps the RAM came down to 300-400MB. But these are just numbers and the Le 2 never struggled in its performance. Most of the apps were still in the memory but there were high-end games that were removed from the memory when other high-end games were loaded and this is expected if there is no more space left. Compared to the Redmi Note 3, Le 2 is much better as Xiaomi has always struggled in this department
Fingerprint Scanner: EUI allows up to 5 fingerprints to be added and this works very well almost all the time, including different angles. The latest 5.8 OTA update adds the ability to password-protect specific apps and unlocks them using fingerprint and you can now take photos by tapping the fingerprint module. We noticed that the time taken to unlock the screen is a little slower than other phones but the accuracy is really high.
Audio: Audio output via the loudspeaker is much higher than most of the phones in this segment but at the highest levels it does have some noise. When it comes to the output thru the CDLA technology-driven earphones we do notice some quality improvement in bass levels. We will bring in more details on this when we get a chance to try it via some high-end earphones that will allow us to identify the exact difference. But at the moment, though there is an improvement much of the crowd may not notice it if they do not care much for the finer details.
Signal Strength and Call Clarity: Call quality was very good but certainly cannot compare with phones like Moto G4 Plus which always have good quality. Signal reception was better than most of the phones in the segment and even when 2 SIMs are used, one should not have an issue. There were cases when 4G SIM was used for VoLTE and the phone got a little warm but not too much
Gaming: The Snapdragon 652 with Adreno 510 GPU and 3GB of RAM will play all kinds of games that you want to play on the Le 2 without many hassles. We played Nova 3, Asphalt 8, Mortal Combat, and Dead Trigger and had no issues at all. The best part is that the phone never overheated as LeEco is keeping things in check. Long duration playing also caused no issues to occur. But the loudspeaker can get blocked when you are holding the device which is the only issue.
Other Connectivity: IR blaster, Wi-Fi, Bluetooth – all these worked very well and there were no issues. IR blaster worked with OGeneral AC and Samsung, Sony, LG televisions and should work with most of the compatible devices out there.
Battery Life:
Le 2 has a 3000mAh battery and we are coming to this phone after being used to phones with bigger batteries such as Redmi Note 3, Zenfone Max that have long battery life. But nothing to worry about here as the Le 2 delivered a good and satisfactory battery life.
In our 1st test, the battery lasted for 11.5hrs with a screen-on time of 5.5hrs whereas, in the 2nd test, it lasted for 13hrs with a screen-on time of 6hrs. Both these battery tests don't include standby time during the overnight. In the 3rd test, the phone stayed powered on for over 30hrs with a SOT of 6.5hrs. These tests were performed under moderate usage whereas during heavy and intensive usage it managed to give 4 hours of SOT.
On the basis of the above tests, we strongly believe that most of the users should be able to get a day's worth of battery life out of this phone. There are some power-saving options such as Ultra-long standby during sleep and Battery assistant to extend the battery life. Le 2 also supports Quick charging and takes around 90 minutes to fully charge. The phone and charger also get a little hot but that's just normal.
Camera: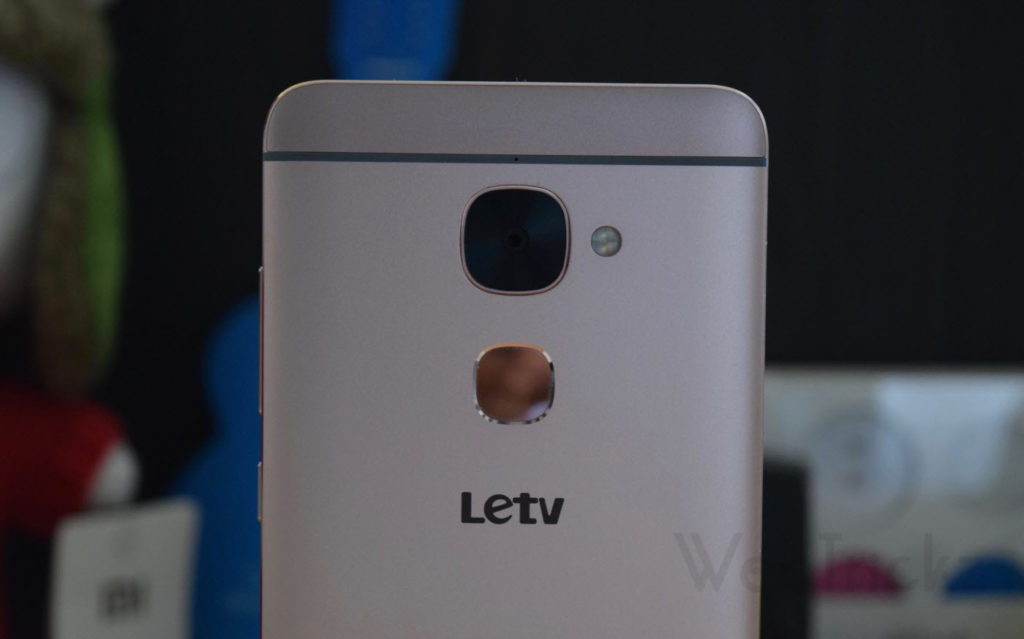 The front camera is a 16MP lens with f/2.0 aperture, PDAF, and dual led flash. The camera app is a typical EUI one with standard options and shooting modes. Easy to use and the overall image processing is very fast. To make it easy for you we have divided the camera performance into various aspects:
Daylight: Pictures captured in daylight come good. Color reproduction is mostly accurate and there are no saturation gimmicks done like in Xiaomi Redmi Note 3. The dynamic range needs to be improved but overall the photos taken were of good quality with an ample amount of details. However, the camera struggles when it comes to focusing while taking close-up shots and on windy days it's almost impossible for the phone to lock focus. Images are sharper too.
Indoor: Picture quality is a little inconsistent at times and we had to use the HDR mode to make some adjustments. But it is better than most of the phones in the segment with the Moto G4 Plus being the exception
Low Light / Night: Noise can be seen in the pictures but they are still better than Redmi Note 3. If there are lights then the images are washed out as the phone does a shabby job at handling exposure in low light
Video: The phone supports 4K video but it is very shabby output. It is as if someone took separate clips and put them together. Hopefully, a software update should be able to fix this issue. Otherwise, the videos are decent with a good amount of audio also recorded.
Front camera: Wide-angle does a good job here and we were impressed with the selfies taken. The selfies were good in quality with the right color saturation and decent details even when taken in indoor and low-light situations.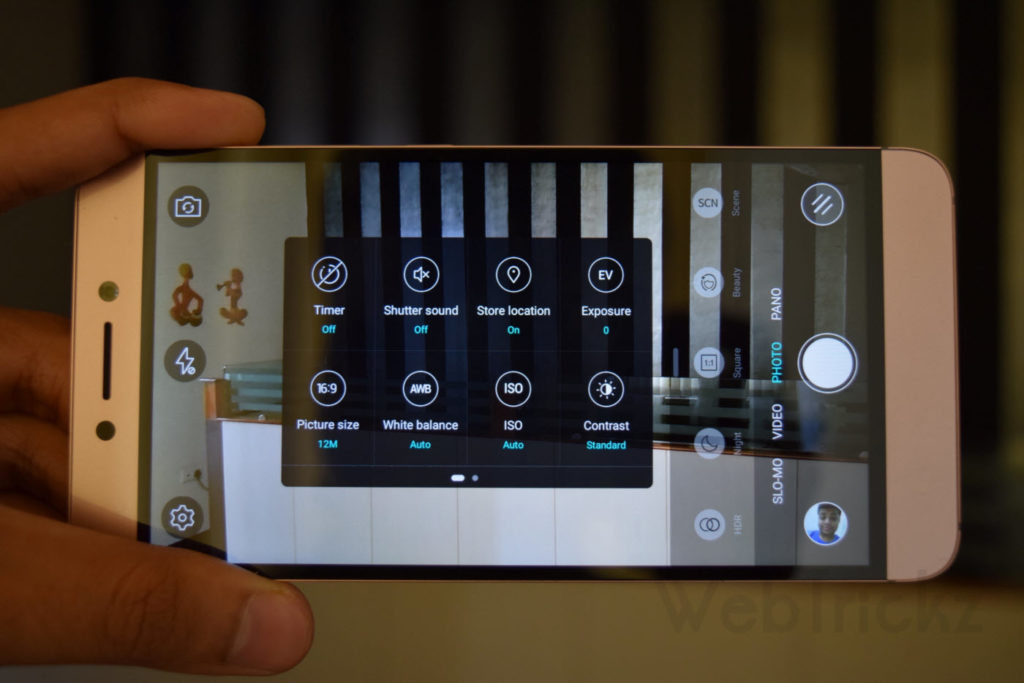 Le 2 Camera Samples –
Verdict:
| | |
| --- | --- |
| Pros | Cons |
| Price | No 3.5mm audio jack |
| Build Quality | Thick UI |
| Decent camera in the segment | Highly reflective display |
| Battery life | No memory expansion |
| Entertainment Ecosystem |  Flash sales at the moment |
| IR Blaster | |
The Le 2 packs a punch when it comes to the specifications and build quality. It is also a very good all-around performer. When compared to the other phones in the segment, the camera performance with the exception of Moto G4 Plus is better in many departments. The LeEco ecosystem offering a free 1-year subscription is a real deal that will attract many and this feature really stands out. At 11,999 INR, Le 2 is a very good choice and as long as you are not too much behind crazy duration of battery life like Redmi Note 3 and Zenfone Max. Considering LeEco flash sales are better than others, it is a very good choice and you will get more for the money you pay. We highly recommend the Le 2 but it does not come without shortcomings. There is no expandable memory, no 3.5mm audio jack and you're stuck with a single port for charging as well as earphones. The display under sunlight is rather tricky at times but all of these issues can be lived with and they are not show stoppers. The phone does have LED notification, USB OTG support and the IR blaster too is a nice addition.
Do share your feedback in the comments section below!