Back in December, Micromax announced "YU Yureka", the first smartphone from Micromax's new brand YU that went on sale in the second week of January. This new brand "YU" (pronounced as You or U) is a subsidiary of Micromax, the second-largest handset maker in India. With the launch of YU, Micromax has deployed a completely different approach that seems to be working well for the company. The YU devices such as Yureka are meant to be only sold online and runs Cyanogen OS, a widely popular custom ROM based on Android.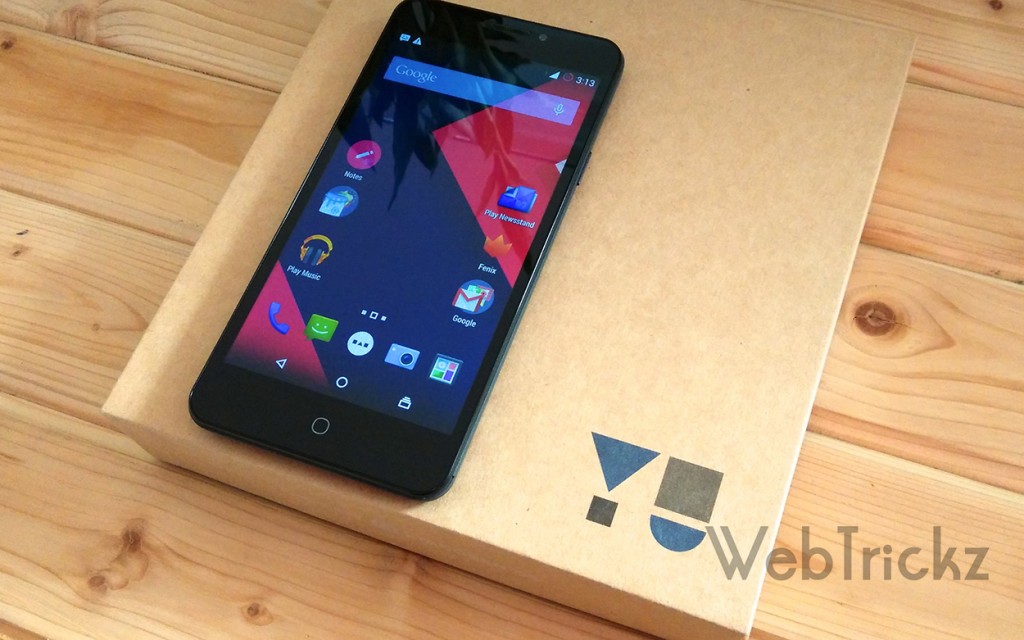 Apparently, Yureka is a re-branded version of the Chinese phone Coolpad F2 4G running Cyanogen OS and with a different back cover. The YU brand phones don't carry Micromax branding anywhere, be it the handset or the box. What's interesting is that the company provides a warranty even if your phone is rooted. Yureka looks a promising 4G enabled smartphone in terms of design, hardware and software, available at an affordable price of Rs. 8,999. It is a strong competitor to the Xiaomi Redmi Note 4G, sold online through Amazon via a similar flash sales model. Let's find out in our detailed review below if the device packs a punch or is just another mediocre phone.
Box Contents –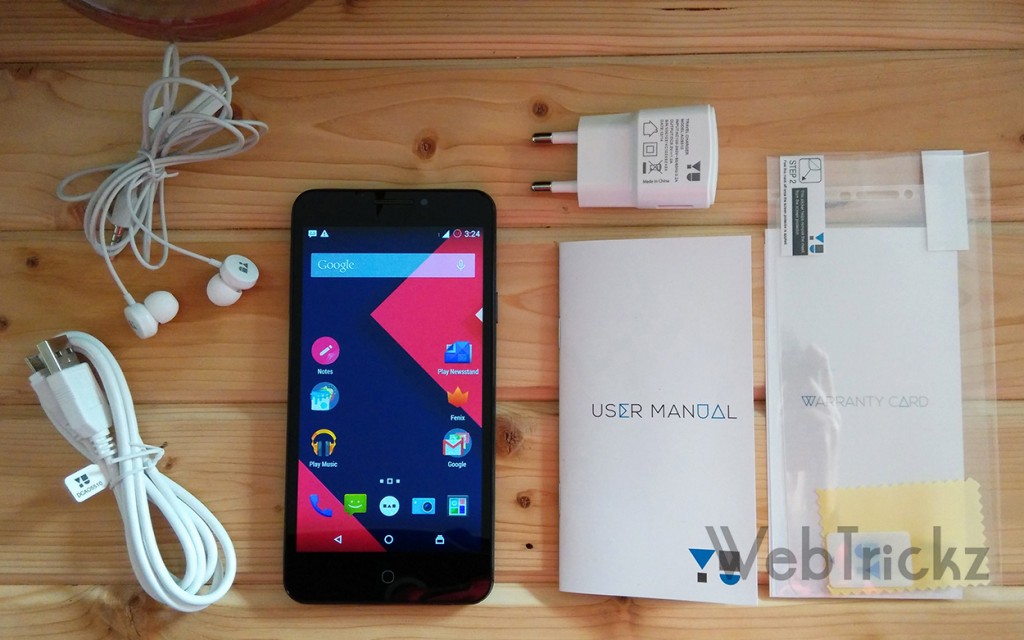 Yureka comes in a recycled brown cardboard box that looks exactly the same as the Xiaomi packaging. Inside the box, you will find the Yureka (AO5510) 4G LTE handset, a 2500mAh battery, USB wall charger, micro-USB cable, earphones, screen protector and user manual.
Yureka Photo Gallery – (Click on the images to view them in full size.)
Build and Design –
Unlike most Micromax phones, the Yureka doesn't feel cheap and is rather impressive for its price. It's, of course, a rebranded Chinese phone without any innovation, except for the cover that features a moonstone finish which is quite similar to the sandstone finish on OnePlus One. The Yureka is entirely made out of good quality plastic and comes with Corning Gorilla Glass 3. Despite sporting a 5.5″ display, the phone feels lightweight and comfortable to hold than Redmi Note 4G that feels bulky with 185g of weight and 9.45mm thickness, as compared to Yureka that weighs 155g and is 8.5mm thick. The power and volume buttons are made of metal with a textured pattern that looks good and offers nice tactile feedback. The removable back cover comes with a polished moonstone finish that feels premium. The matte cover with a YU logo imprinted has a rubbery finish that offers a good grip and isn't prone to fingerprints. Beneath the cover is the removable battery compartment, slots for two micro-SIM cards and a microSD card.
The front top is equipped with proximity and ambient light sensors, earpiece, front camera and a LED notification light. It has 3 capacitive buttons with backlight. The volume rocker is awkwardly placed on the left side, perhaps uneasy to access when using the device right-handed. The secondary noise-cancelling microphone is located at the rear top, 3.5mm audio jack at the top, while the micro USB port and primary mic are placed at the bottom. The back cover doesn't creak and fits perfectly around the sides. However, the uneven junction between back cover and display, plus the lifted edges around the screen creates a sort of obstruction. The loudspeaker is positioned at the back which is barely audible when kept on a flat surface. Comes in Moon-dust grey colour.
Overall, the design and build quality of Yureka is pretty good.
Display –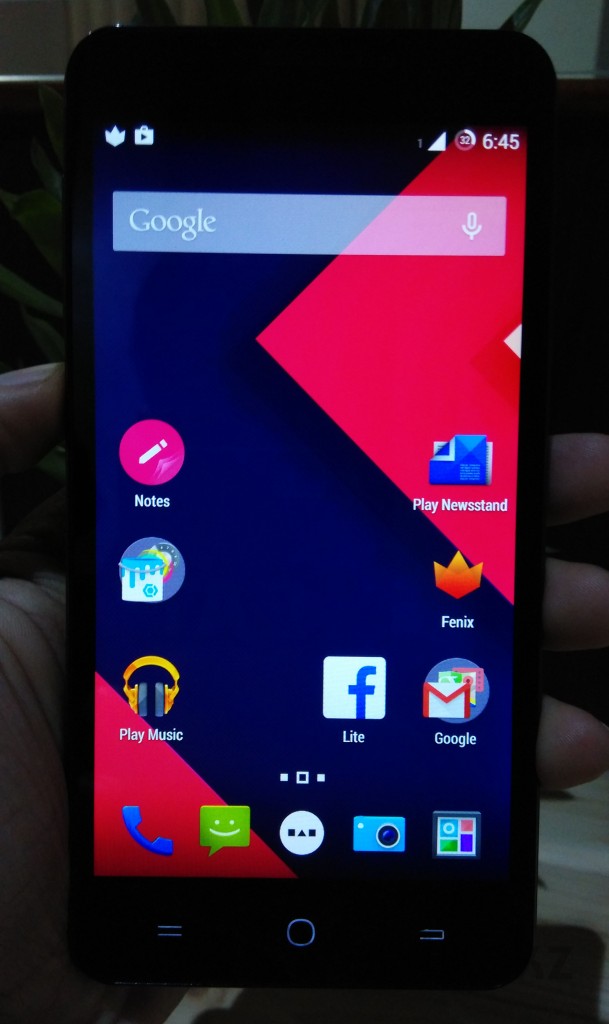 Yureka packs a 5.5-inch HD IPS display with a screen resolution of 1280×720 at 267ppi. The display is protected by Corning Gorilla Glass 3 and the touchscreen is pretty responsive. The display is sharp, bright and vibrant with a decent level of colour saturation. It shows brightest whites without a tone of yellow shade that looks better. The viewing angles are good and the display is clearly visible in direct sunlight. There are 3 capacitive touch buttons with backlight and optionally one can switch to on-screen navigation keys. CM 11 offers advanced settings like 'Adaptive backlight' that dynamically adjusts the brightness to save power and 'Color enhancement' that dynamically enhances the colour of the display. For quicker accessibility, you can enable some useful functions like 'Double-tap to wake' and 'Double-tap to sleep'. Overall, the 720p HD display of Yureka is great for its price.
Hardware & Performance –
Yureka is powered by Qualcomm Snapdragon 615 64-bit processor (MSM8939) clocked at 1.5GHz and Adreno 405 GPU. It runs on Cyanogen OS 11, comes with 2GB DDR3 RAM and 16GB of internal storage. In terms of performance, Yureka is certainly a winner. The device performance is smooth without any noticeable lags when moving across home screens, launching and switching between apps. The RAM management is pretty good as 2GB RAM delivers smooth operation. Even with various applications installed, the free RAM amounted to 1.1GB after reboot and around 890MB on closing recent apps. Major credit for this impressive performance goes to the device software, i.e. Cyanogen OS 11 based on Android 4.4.4 KitKat.
The Adreno 405 GPU is capable of delivering good graphics and smooth gaming performance. We tested a few graphic intensive games like Asphalt 8 and Dead Trigger 2, that ran perfectly fine. Though, the device got a bit hot while playing Dead Trigger 2 but that's acceptable. In terms of Benchmark tests, Yureka doesn't fail to impress. The device clocked a score of 31617 in Antutu and 18348 in the Quadrant benchmark. Vellamo benchmark results weren't disappointing too. We noticed a few bugs like the proximity sensor doesn't work accurately during calls and phone shows charging when a USB OTG is plugged in.
The overall performance of Yureka is satisfactory.
Software & UI –
The Yureka comes with the popular Cyanogen 11 OS, based on Android 4.4.4 KitKat that appears very similar to stock Android. The software is the crucial factor of this phone as it runs a customized version of Cyanogen OS 11, that's specially tailored for YU Yureka. Cyanogen OS offers users a lot of advanced customization options, themes and features that aren't present in stock Android. Besides Google apps, the phone comes with the least apps installed that can be uninstalled as well. The software optimization on Yureka is pretty good that also helps in delivering a smooth performance. Users can easily personalize the look of their device by using YU Themes. At this time, there are 12 beautiful themes available on YU by Cyanogen store. One can also download and customize specific components of a theme like icons, status bar, fonts, boot animations, etc.
Some useful software features include the option to use on-screen navigation keys, Double tap to wake and sleep, customizable quick settings, Privacy guard (to deny/allow specific permissions to an app), password-protect apps, ability to record calls, set custom profiles, audio equalizer, and many more. Cyanogen has also added a 'Screencast' app that records videos in 720p.
We've created a detailed video showcasing the features and various interesting customization options offered by Cyanogen 11 OS on YU Yureka. Do check it out!
Cyanogen OS performs great on Yureka with an unbloated and fresh UI. The phone is said to receive software updates for the next 2 years by Cyanogen. Moreover, unlocking the bootloader or rooting doesn't void the device warranty.
Camera –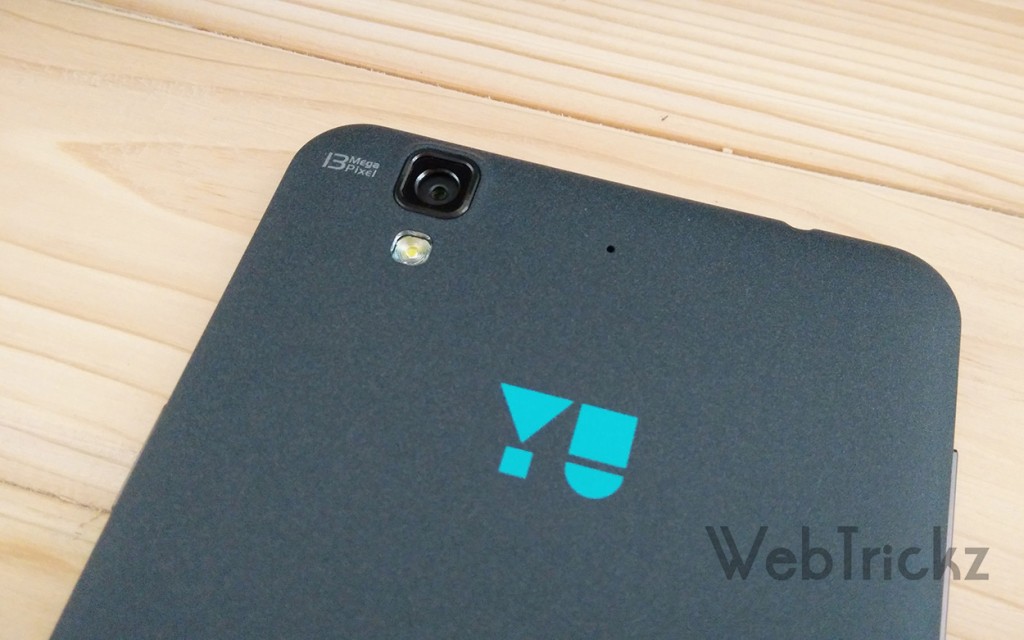 Yureka sports a 13MP camera with Sony IMX135 CMOS sensor, f/2.2 aperture, autofocus and LED flash. The main camera is a big disappointment as the 13-megapixel shooter is nowhere close to what one would expect. The rear camera is capable of taking decent shots in daylight conditions but don't expect good quality photos. The photos lack details, produce a lot of noise and appear grainy. The colour reproduction isn't very good and one can easily notice the fuzziness on zooming in. Photos captured in low-light conditions look substandard with a high level of noise. In low-light with flash on, you can expect some decent shots but don't have high hopes. The main camera supports 1080p video recording at 30fps, 720p slow-mo video at 60fps and time-lapse mode. Just like stills, the video quality is below average even at 1080p and slo-mo video at 720p generated dark videos that look horrible.
The phone comes with a 5MP front-facing camera which is pretty impressive, unlike the primary camera. The selfies came out of very good quality with significantly reduced noise and depicting natural colours. Even in low-light, the photos taken with the front camera were bright and clear. It also supports HD video recording in 720p that works well and is good enough for video-calling.
Overall, it fails badly as the primary 13MP camera is average. You might need to look elsewhere if you prefer a smartphone with a quality camera performance.
Yureka Camera Samples –
Battery Life, Storage and Connectivity –
Battery –
The Yureka comes with a 2500mAh removable battery and a 1A wall charger. Generally, one would assume that a 5.5-inch with a 2500mAh battery isn't a good combo. Well, it'd have been great if the device had come with a 3000mAh battery but that's not a big concern. The device has an HD display and is powered by Cyanogen OS that seems optimized for Yureka to consume less power. The battery lasts for around 20 hours on normal usage. Tip – Wait for a few days to see better results as the battery gets calibrated.
In the 1st test, the battery lasted for 16h38m with a screen-on time of 5h34m at 50% brightness. This included moderate to heavy usage like Wi-Fi usage for most apps, running a couple of benchmark tests, few voice calls, gaming, standby mode, etc. with 10% charge still remaining. In rest 30 minutes, the battery drained by 8% while using Yureka. In the 2nd test, the battery lasted 19h13m at 9% with a screen-on time of 4h43m under moderate usage.
The battery backup is pretty good and satisfactory.
~ The phone should support Quick Charge 2.0 Technology as it's supported by the Snapdragon 615 SoC but we're not sure if Yureka's kernel supports it as they haven't officially confirmed about it.
Storage –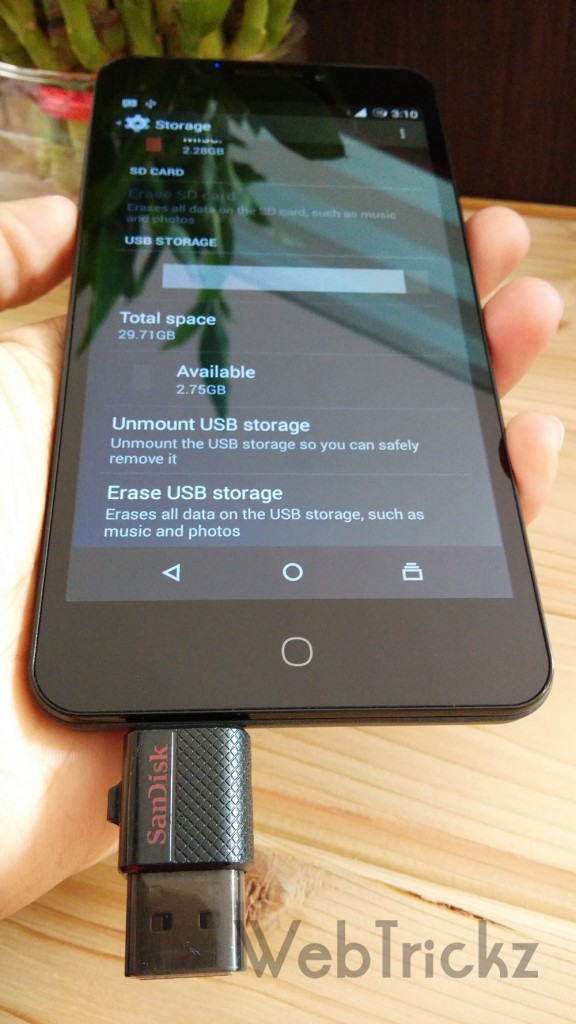 The handset comes with 16GB of internal storage out of which user available storage is 12.50GB. There is an option for expandable storage via microSD card up to 32GB. The phone comes with USB OTG support, so you can connect a micro USB pen drive to watch media content on the go. A file manager app is included, to let users explore the internal or USB storage easily. However, there is no option to move apps from internal storage to SD card.
Connectivity –
Yureka is a Dual-SIM smartphone with 4G LTE support. The phone accepts micro-SIM cards, with support for 4G/3G on one SIM and 2G on second SIM. It supports both LTE TDD and FDD bands in India. Other Connectivity options include: 3G, 4G/LTE, Wi-Fi 802.11b/g/n, Bluetooth 4.0, GPS and FM Radio. There is no NFC.
The voice call quality is good and users have the ability to record calls.
Verdict – 
The Yureka priced at Rs. 8,999 is a great value for money smartphone with 4G LTE support. At an affordable price point, it offers good hardware, excellent display, a decent design that doesn't look cheap, great performance, and a rich software powered by Cyanogen. The battery life is pretty good for a device with 5.5″ display but the main camera performance is a big let down. There are a few bugs currently but those should be fixed in future updates.
The new branding 'YU' certainly looks impressive as YU devices won't be termed as a low-cost phone, unlike Micromax devices. The only gripe is that Micromax chose the weekly flash sales model to sell Yureka online at Amazon.in without an adequate number of units, make it really difficult to buy. YU has promised good customer support and free doorstep repair or replacement of the handset that looks promising. The on-site warranty service is currently available in 115 cities in India.
Overall, Yureka is one of the best 4G Android smartphones in the sub-10k price segment with several capabilities. Do share your views with us!