How to Instantly Enable WhatsApp Payments Feature on iOS & Android
As you may know, WhatsApp has been testing its UPI-based payments service in India to facilitate digital payments and match with the likes of Paytm and Google Tez. This feature promotes Indian government's  UPI (Unified Payments Interface) program and will allow users to send and receive money through WhatsApp in a secure and seamless manner. As of now, WhatsApp hasn't officially announced the payments feature but a set of WhatsApp Beta users have started noticing the Payments option. The option is found in the attachment menu between the Document and Gallery. Perhaps, even if you're running a beta version of WhatsApp, then you might not see the Payment feature because it's a server-side rollout.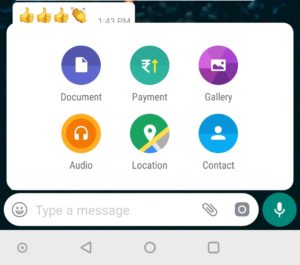 Fortunately, you can activate WhatsApp Payment option on iOS and Android right now by following a simple trick stated below. This is similar to the invite system that allowed users to activate WhatsApp Voice Calling feature in the past. We've tried the process with few contacts and it worked like a charm.
Trick to Activate Payments Feature on WhatsApp for iPhone & Android –
1. Make sure your WhatsApp is updated to the latest stable version. You can simply check that on Google Play or App Store. We've tried this method on WhatsApp stable version 2.18.46.
2. Once WhatsApp is updated, you need the help of someone who already has WhatsApp Payment feature activated on their phone. That's because Payments feature will be enabled only when a certain WhatsApp user who has Payments activated tries to send you a payment on your WhatsApp number. (Note: The sender doesn't need to send any money to enable it for others).
## If you can't find someone with WhatsApp Payment enabled, kindly ping us on WhatsApp and we will try to make a payment request. Please do not post your contact number in the comments section.
3. Once the payment request is made, the feature will be automatically enabled for you. In WhatsApp, you will then notice the new Payment option in attachment menu and a new Payments option in app Settings.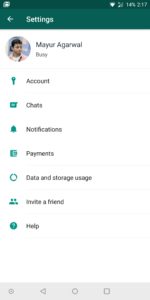 Now go to Payments under Settings to set up payments. In the process, you need to verify your phone number > select your bank > select a bank account to add. Under Bank accounts, you can easily add new accounts and set up your UPI PIN (if not set up earlier) by verifying the debit card linked to that bank account. The WhatsApp Payments Settings page also shows the payment history, lets you set a primary account and remove a bank account. As you might have noticed, the UPI payments are processed by ICICI Bank.
Video demonstration –
Inviting users to WhatsApp Payments –
Those who have Payment feature enabled should follow the steps below to enable Payments for other users without sending any money.
To do so, make sure you've Payments activated. Then open the particular WhatsApp contact for whom you want to enable the Payments feature.
Click on the attach icon and select the Payment option.
WhatsApp will now say that XYZ person needs to set up payments to receive a payment.
Ask the recipient to close WhatsApp app and re-open it. They should instantly see the Payments feature activated.
It's worth noting that both the sender and receiver need to have payments set up in order to send and receive money. Moreover, as of now one can only send payments but can't make a payment request in WhatsApp.
To try out, we tried sending a small payment and the process worked seamlessly. The recipient instantly got the money via UPI payment. Do try it and let us know! 🙂
Thanks @amit_meena