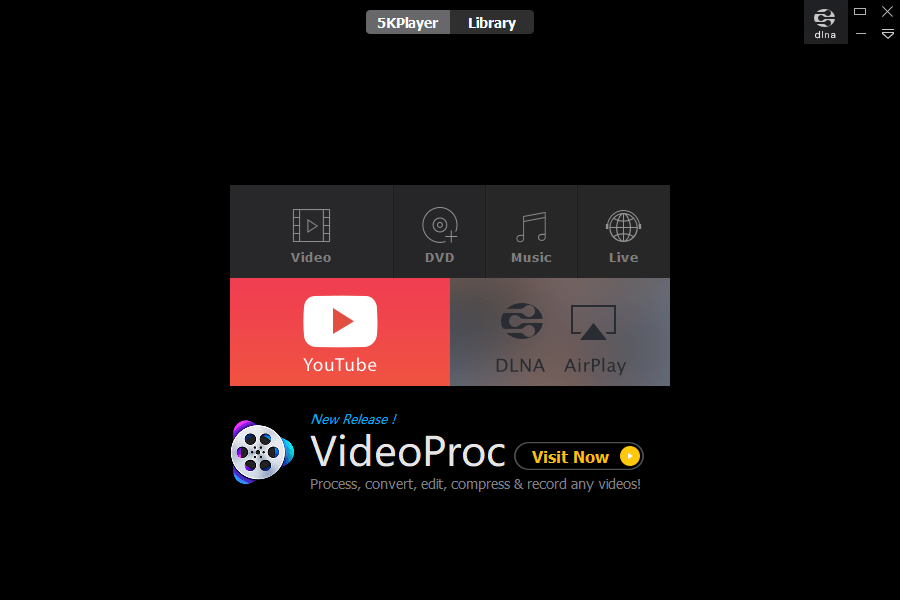 Be it a Windows PC or Mac, the stock media player usually doesn't offer native support for popular file formats such as MKV and WebM. Users instead look for a third-party media player and VLC Player tends to remain the most common and preferred choice. While VLC is one of the best, feature-packed, and open-source programs, it still lacks a modern look and design.
In case you don't like VLC or facing issues with it, you can try 5KPlayer, an equivalent, and free VLC alternative. Available for both Windows and Mac, 5KPlayer is more than just a standard media player. Let's talk about it in detail in our review.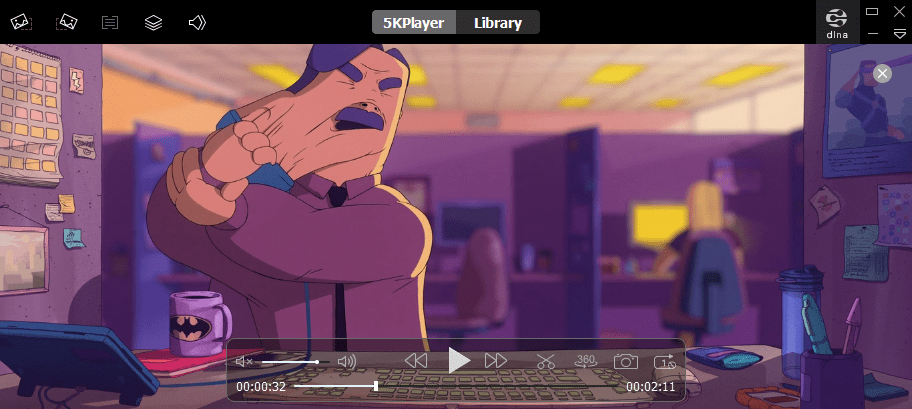 Best Features of 5KPlayer
Modern UI – Unlike VLC, 5KPlayer features a slick yet appealing design that largely resembles Windows 10 UI. The application uses a dark colour scheme and embraces a minimalistic UI. The fact that the player turns borderless while playing media makes it stand out. This certainly avoids any distractions and keeps you intrigued to the content. The UI, however, isn't very user-friendly as at times you can have a hard time locating certain settings or controls.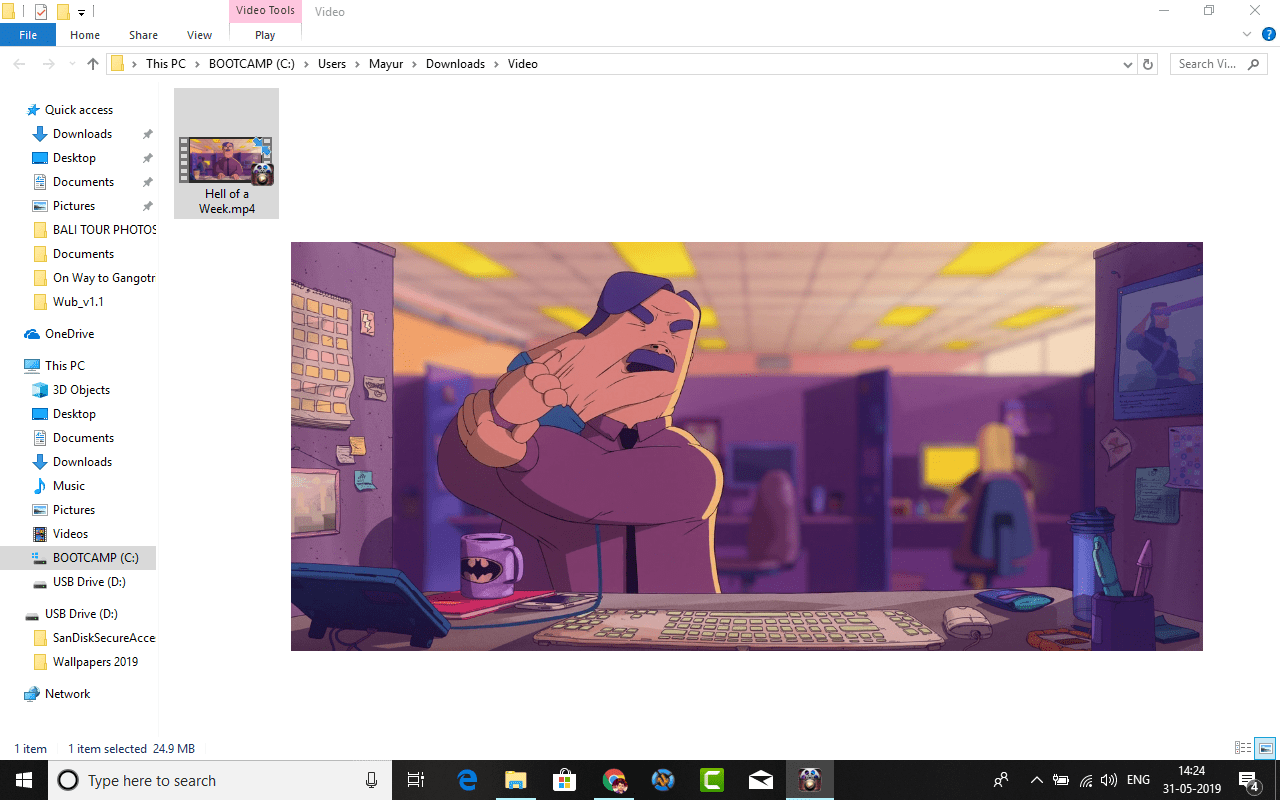 Supports 4K videos – It is capable of playing 4K UHD as well as HDR videos smoothly without frequent stutter and frame drops. The program supports popular video formats and codecs including MP4, H.265 (HEVC), H.264, VP8, VP9, MTS, MKV, MPEG, and WebM. In addition, there is a one-click option to switch to 360-degree video playback. 5KPlayer can reportedly handle 8K videos too but we couldn't test that due to hardware limitations.
GPU-accelerated decoding – The Windows version of 5KPlayer allows hardware acceleration for smooth high-res video playback without exploiting system resources. It does so by using GPU for heavy decoding while keeping the CPU load-free to handle other tasks. When enabled, the computer graphics are automatically used for decoding large files and high-res videos including HDR, 4K, and 8K. The player supports QSV, NVIDIA CUDA, and DXVA GPU acceleration and detects them automatically.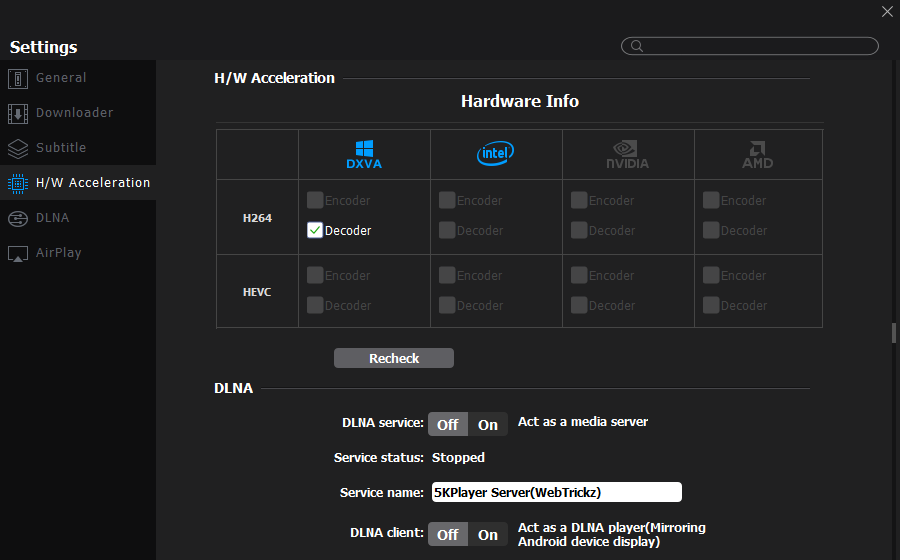 DLNA and AirPlay support – Thanks to support for DLNA, you can wirelessly stream media from your smartphone to computer or from computer to TV, connected over the same network. However, you need to have a DLNA certified device to get it working. Meanwhile, Android users can install BubbleUPnP on their phones to stream media content across various devices.
Rotate – There are instances when the recorded videos end up in the wrong orientation. The rotate function in 5KPlayer offers a quick fix for this annoyance. You can use controls at the top to easily rotate the video by 90, 180, and 270 degrees. Besides, you can flip a video vertically or horizontally.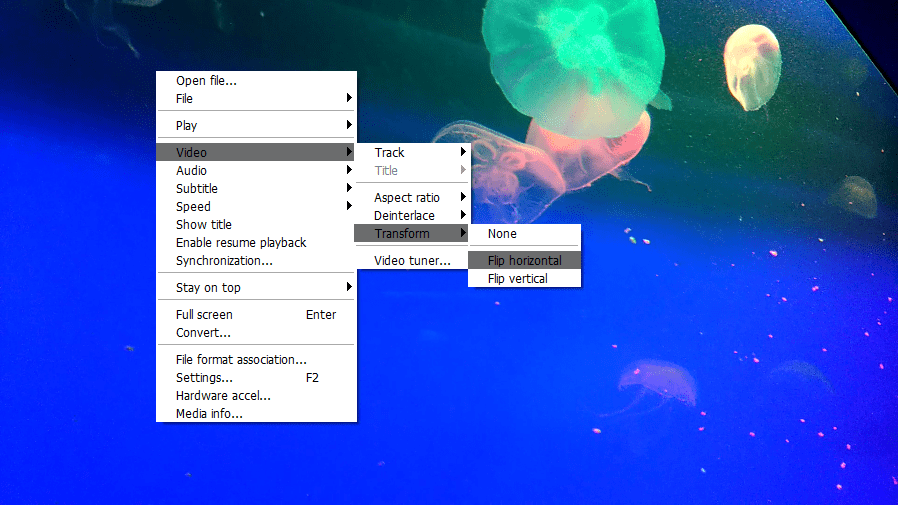 Integrated video editor – 5KPlayer offers video editing functionality, perhaps a rare feature to find in a media player including paid ones. Now you don't need to look elsewhere to do some quick editing in a video. Using the built-in editor, you can trim a specific portion of the video, rotate or flip it in any direction, set color balance, change playback speed, and switch to greyscale effect.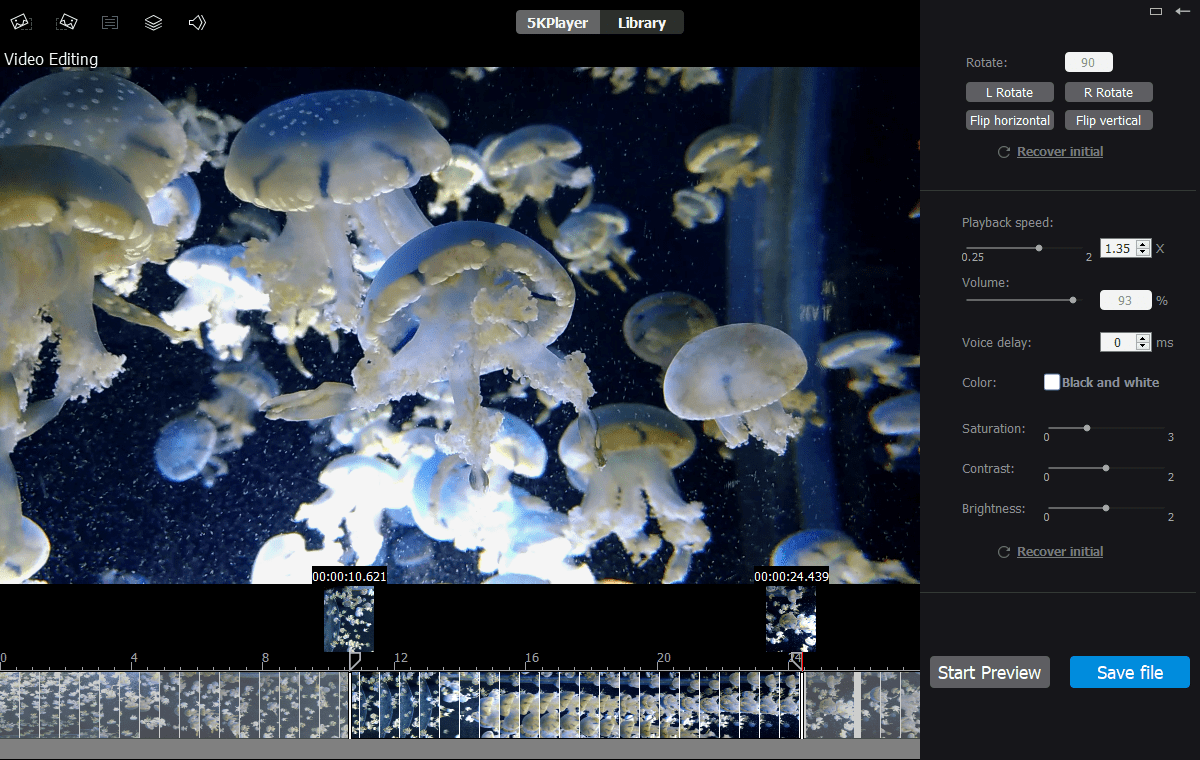 Built-in Online Video Downloader – It lets you download videos with ease from various video-sharing sites including YouTube, Vimeo, Dailymotion, Facebook, and Vevo. The videos can be downloaded in MP4, WebM, FLV, and 3GP format and in up to 1080p resolution. Moreover, the downloaded videos can be converted later to MP4 (H.264), MP3, or AAC format. The only drawback is that you cannot choose the desired video format and resolution in real-time.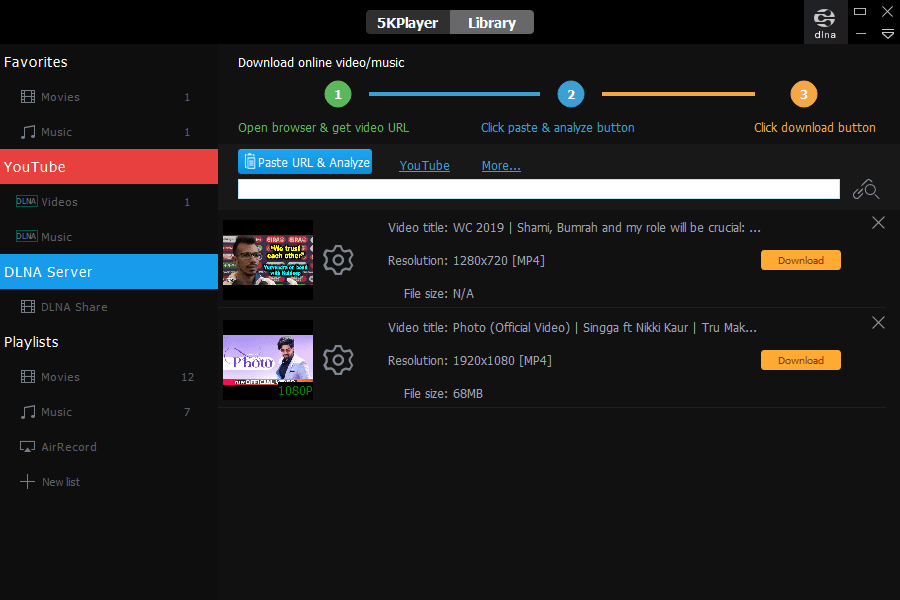 Enables DVD Playback – A lot of you might not be aware that Windows 10 doesn't support DVD playback. 5KPlayer overcomes this annoying hindrance and lets you watch your favorite DVDs without requiring any additional plugins. You can load a DVD from an optical drive or select a DVD image file stored locally. The player may not play Blu-ray discs though.
In addition to the above-listed features, you can batch add files to the library and play them in a queue. There is also a one-click button to take snapshots.
Still Needs Improvement
Just like any other application, 5KPlayer isn't perfect and has a couple of shortcomings. It's quite surprising and concerning to see the program forcing Windows to set itself as the default media player without the user's consent. Digiarty products ads also pop up quite often which I personally don't like and there seems no way to opt-out.
During our test, the built-in downloader went awry and failed to download videos from Dailymotion and Vimeo. Furthermore, finding the downloader option itself could be tricky initially. Despite having a modern layout, the + and – icons to add the media to Library are pretty subtle and can easily go unnoticed.
Verdict – Having said that, 5KPlayer is a quality player that's definitely worth a try. It's also a great alternative to VLC, if not the best. We do believe that the program can be inconsistent at times and still needs work. However, future updates shall fix these issues.
New 5KPlayer Giveaway Campaign
With the release of 5KPlayer v5.8, the company is running a promotional campaign for its users. By entering the giveaway, you can stand a chance to win a Panasonic HC-VX1 and YouTube Premium subscription. Enter the sweepstakes now and mark your entry in the giveaway.