Social networks such as Facebook relieve us from the hassle of remembering the birthdays of our friends, colleagues, and family. Facebook notifies you about today's birthdays as well as the upcoming birthdays. Hence, it's nearly impossible for you to forget a friend's birthday (added on Facebook) unless you miss the birthday notification. Having said that, if some friends have hidden their birth information then Facebook may not notify you about their birthday.
While you can view birthdays on the Facebook website, the same is also possible through the Facebook app. By manually scrolling through the birthday directory, you can easily see today's birthdays, recent birthdays, and upcoming birthdays.
UPDATE (15 March 2020) – The Facebook app is going through a major revamp and hence certain settings and features are redesigned. One such thing is the ability to find friends' birthdays. Ever since the launch of a new Menu tab, the Calendar doesn't list birthdays altogether. The Calendar page now shows information related to event invites, hosting, past events, and your upcoming events.
Thankfully, it is still possible to view birthdays from within the Facebook app. Without waiting further, let's see how to find birthdays on Facebook app for Android and iPhone.
How to Find Friends Birthdays on Facebook App
Open Facebook and tap the search button at the top right.
Enter "birthdays" and tap the "Upcoming Birthdays" Facebook shortcut.
You can now view the upcoming and recent birthdays. Additionally, the Birthdays page shows the forthcoming birthdays of all your Facebook friends from the entire year.
Now you can tap a particular profile and wish your friends on Messenger or write on their timeline.
On PC or Mac – To find birthdays on your computer or desktop, visit facebook.com. Click the Events option in the left sidebar. (Tap See More if you can't see Events). Then click "Birthdays" to see the upcoming birthdays and birthdays of your friends from the following months.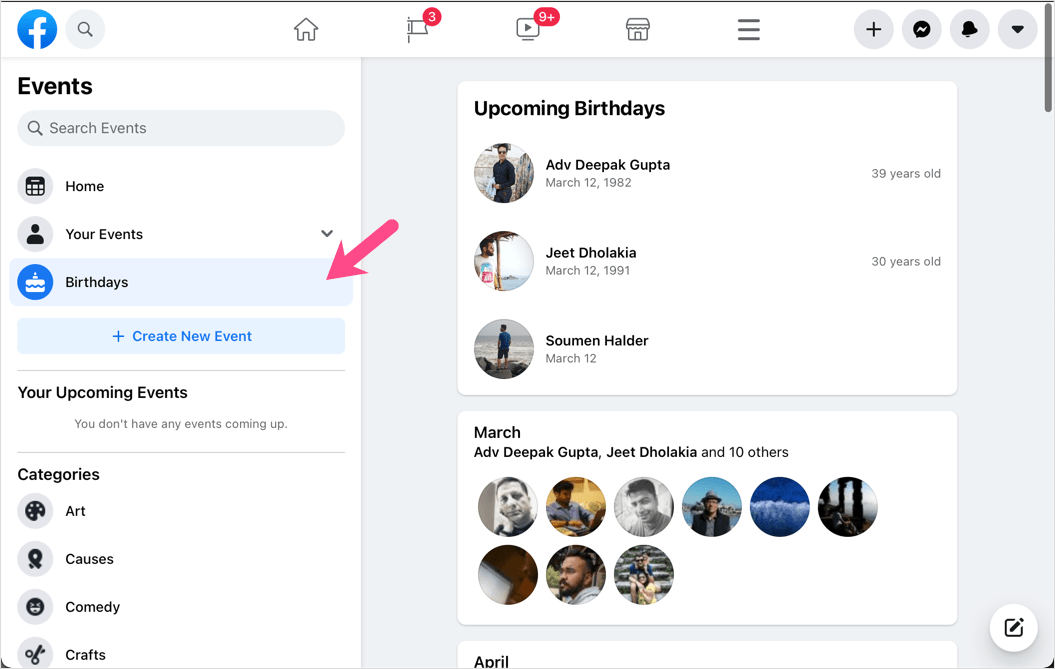 ALSO READ: How to make Facebook friends list private on iPhone
How to get birthday notifications on Facebook
The birthday notifications are enabled by default on Facebook. However, there are instances when you might not be getting them. As these particular notifications are important, you must ensure they are enabled and working properly. To do so,
Go to the Menu tab in the Facebook app.
Scroll down and navigate to Settings & Privacy > Settings.
Under Preferences, tap "Notifications".
Select "Birthdays" and turn on the toggle button next to "Allow Notifications on Facebook".
To receive push notifications on your device, simply enable the "Push" toggle.
Optionally, you can opt to receive notifications for upcoming birthdays and belated birthdays.
---
See Birthdays on Facebook for Android (For older version)
Open the Facebook app and tap the menu tab at the top right.
Go to Events and select Calendar.
Here you can see all your Facebook friend's birthdays in chronological order.
The Calendar page will also list all the previous birthdays as well as the upcoming birthdays. You can tap a certain friend profile and wish them a belated happy birthday in case you missed their big day.
One can also check upcoming birthdays on Facebook directly from the "Hosting" tab. Here you can choose to create an event and invite other friends for the occasion.
ALSO READ: How to Find Drafts on Facebook for Android