It's going to be about a month since Apple's latest-generation iPhone 5C and 5S debuted officially in India and I still keep seeing people confused about which iPhone would be the best for them and whether it's worth an upgrade from their existing iPhone, especially if it's an iPhone 5. Since cosmetically there's not much difference between the iPhone 5 and iPhone 5S lets dive into the nitty-gritty of both the devices and check out what's the difference between the duo and conclude whether it's worth an upgrade or not.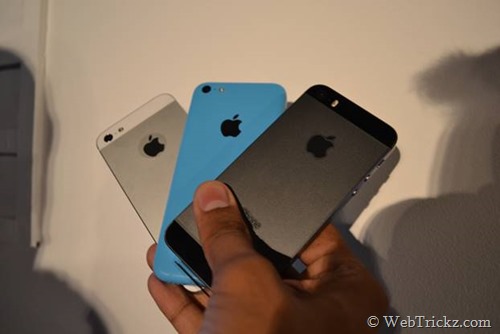 Before we discuss in detail the difference between iPhone 5 and 5S, here's a bird's eye view of the specifications of both the devices.
Features
Apple iPhone 5S
Apple iPhone 5

Announcement

September 2013

September 2012

Display type & size
4″ LED Backlight IPS LCD Display
4″ LED Backlight IPS LCD Display
Screen resolution & pixel density
640×1136 pixels, 326 PPI pixel density
640×1136 pixels, 326 PPI pixel density
Dimensions & Weight
123.8 x 58.6 x 7.6 mm 112 Grams
123.8 x 58.6 x 7.6 mm 112 Grams
Operating System
iOS 7
iOS 6 (upgradable to iOS7)
Primary camera
8 MP auto-focus true tone dual-LED flash, FULL HD video @ 30 FPS
1/3″ sensor size

8 MP auto-focus with (single) LED flash full HD video @ 30 FPS
1/3.2″ sensor size

Secondary camera
1.2 MP, video shooting – 720p @ 30 FPS
1.2 MP, video shooting – 720p @ 30 FPS
Processor
Apple A7, Dual-Core 1.3 GHz & Power VR Quad-core graphics
Apple A6, Dual-Core 1.3 GHz & Power VR SGX Triple-core graphics
RAM
1 GB DDR 3
1 GB DDR2
Memory options
16/32/64 GB
16/32/64 GB
Color options
Space Gray, White/Silver, Gold
Black/Slate, White/Silver
Connectivity Options
GPRS, EDGE, 3G, 4G LTE, Wi-Fi a/b/g/n, Bluetooth v4.0, USB v2.0
GPRS, EDGE, 3G, 4G LTE, Wi-Fi a/b/g/n, Bluetooth v4.0, USB v2.0
Battery
Non-removable 1560 mAh
Non-removable 1440 mAh
Additional features
Finger-print sensor
Price (16 GB)
Rs. 53,500
Rs. 44,500
(32 GB)
Rs. 62,500
Rs. 48,500
(64 GB)
Rs. 71,900
Rs. 53,500
From the above table, you might have already realized that there's barely any difference between both the devices, obviously apart from their pricing and a couple of jargons used such as 64-bit processor, fingerprint scanner, different processor models, etc. So going ahead with this post, we will help you understand these Jargons and conclude whether it is worth spending 53 grands on the latest generation iPhone.
Screen, Design & Display –
The iPhone 5S is pretty much identical to its older sibling – the iPhone 5 and may disappoint you if you have already used or been using an iPhone 5 and expect the next generation phone to have a different look out of the box. But thanks to the new fingerprint scanner embedded on the device, there's a silver lining around the home button, that makes the iPhone 5S look slightly different, at least when seen carefully and from close proximity. When you flip both the devices, there's yet another minor difference between the two, i.e. the LED flash. While the older iPhone 5 has a single LED flash, the newer iPhone 5S has dual-LED flash. Apart from that, all other specs remain the same – an aluminum body with a dimension of 123.8 x 58.6 x 7.6 mm that weighs 112 Grams. Not just that, even the screen size and a screen resolution of both the devices remains the same which is a 4" IPS LCD Display with LED Backlight and capacitive touch screen and a screen resolution of 640 x 1136 pixels that gives an effective pixel density of about 326 PPI. However, yet another minor cosmetic addition given to the iPhone 5S is its availability in a new colour option – 'Gold'.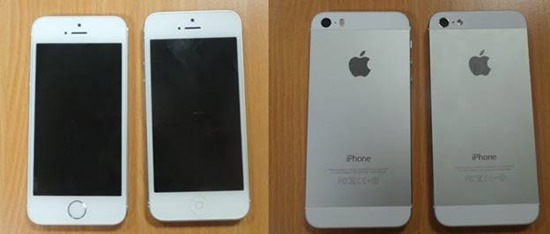 (Front & rear view of iPhone 5S & 5. Image credits – V3.co.uk)
As such, there's hardly any difference between both the devices. Let's head over to the next part and check out what's under the hood of both the devices.
Hardware specifications, Storage & Battery –
The iPhone 5S is powered with the latest generation Apple A7 chipset that has a 1.3 GHz Dual-core processor and a Power VR Quad-Core graphics processing unit on the contrary to an older A6 processor on the iPhone 5 that is powered with a 1.3 GHz Dual-core central processor and triple-core graphics processor. Clearly, if you're a power user and can leverage higher processing power only then you can notice the difference between the two.
However, an additional advantage of the A7 chip on iPhone 5S is, it's also built on 64-bit architecture making it the world's first 64-bit powered smartphone. Yet another substantial hardware feature on the iPhone 5S is that it comes with a fingerprint reader embedded on the home button that smartly scans your fingerprint and lets you authorise iTunes payment by simply tapping on the home button which will eventually bypass the need to enter a long alphanumeric string using your keyboard.
Storage –
Coming to the storage, both the devices are available in 3 storage options – 16/32/64 GB and even the iPhone 5S continues the trend of not supporting expandable memory option.
Battery –
The battery on iPhone 5S is slightly better at 1560 mAh as compared to 1440 mAh on the iPhone 5 as a result of which you get about 25 hours of additional standby time or 2 hours of talktime on the iPhone 5S.
Software, Apps & Features –
When it comes to the software and operating system of these devices, the iPhone 5S runs on the latest mobile Operating System by Apple – iOS 7 whereas its counterpart – iPhone 5 comes with iOS 6 preloaded. However, even the iPhone 5 can be upgraded to iOS 7 over the air simply with a single tap.
Camera and Multimedia features –
Apart from the graphics and central processor, it's the camera where iPhone 5S differentiates with the iPhone 5. The sensor size on the rear camera of 5S is 1/3″ contrary to 1/3.2″ on the iPhone 5 as a result of which the 5S captures better photos when compared with the iPhone 5. As mentioned earlier, the primary camera on 5S also has dual-LED flash whereas the '5' has a single-LED flash which snaps better low-light photography. However, it's disappointing to acknowledge the fact that, both of them has an 8 MP camera which shoots photos in 3264×2448 pixels and records videos in full HD format (1080×1920 pixels resolution). If you're interested to see the actual difference in camera output of both the devices, head over to Austin Matt's camera comparison wherein he has posted his comprehensive comparison of both the devices' camera results. Other camera features of both the devices remain the same which includes – simultaneous image and video recording, touch focus, geo-tagging, face/smile detection, HDR panorama and pics. But having been said that,
Both the devices also have a 1.2 MP HD (720p) secondary camera on their face that could be used for face-time and making video calls.
Coming to the multimedia capabilities of these devices, since both the phone runs on the same Operating System, both of them has the same multimedia capabilities.
Pricing –
Apple has yet again proved that it will continue to keep its product pricing premium and from the above table you might have already noticed the bizarre Apple iPhone 5S price in India. While the 16 GB version of 5S costs Rs. 53,500, the 32 GB and 64 GB versions are priced at Rs. 62,500 and Rs. 71,900. We call the pricing of these devices bizarre since there's no difference between the 3 versions of iPhone 5S apart from their storage options and you end up paying Rs. 9,000 and Rs. 18,000 for an additional memory capacity of 16 GB and 48 GB respectively. Don't you think these devices are priced very unfairly by Apple?
Our Verdict –
As you might have already realised, there is no substantial difference between the iPhone 5S and iPhone 5 if you keep aside the upgraded processor and fingerprint scanning features. Paying the premium just for an upgraded processor makes no sense if you are not a power user or gaming freak who cannot even leverage the powerful processor and speed on an iPhone 5. When it comes to the fingerprint scanning technology, it is surely an industry first and tempting feature to give a try but has been said that, let us tell you that the technology is in a very immature stage and you can make use of the feature only while paying for your iTunes purchases. Hopefully, some third party developers come up with some innovative feature to make the technology more interesting and usable. Personally speaking, Apple has really left me disappointed with the iPhone 5S and it would be very difficult on my part to suggest an iPhone 5S to anyone.
Do let us know what's your take on the new devices? Are you going to upgrade to an iPhone 5S?