macOS offers limited support for Microsoft NTFS, making NTFS drives read-only on Mac. Thus, you can only read NTFS files on macOS but have no direct write permission on an NTFS drive because you are forbidden from doing any write operation on the files stored on the NTFS drive, including editing, deleting, renaming, and moving, to name a few.
In this instance, if you want to write to the NTFS drive, you need to have third-party software like iBoysoft NTFS for Mac in your system to mount the drive in read-write mode so that you can do everything with the files and folders it contains effectively.
Disclosure: This article has been published in partnership with iBoysoft.
The Overview of iBoysoft NTFS for Mac
If you plug in an NTFS disk and open it to access the stored data, everything is fine to the point of viewing. The moment you want to make any changes to the data or want to share them, you would find that you are restricted from doing so. This is because the NTFS drive you are using is presented as read-only on Mac.
To make it more straightforward, NTFS is a default file system that Microsoft Windows has used for the past couple of decades. Unfortunately, macOS does not fully support the NTFS file system. Given this, many tools that act as NTFS for Mac solutions come into the market. Among these programs, we prefer Microsoft NTFS for Mac by iBoysoft for its premium features, strong reliability, and high security.
iBoysoft NTFS for Mac is a simple-to-use tool that allows users to access the NTFS formatted drives with full read-write permission on macOS easily and securely. It is not only able to read/write to NTFS formatted disks but also helps you to access Boot Camp partitions with Windows installed. In addition to that, this software also comes with a basic disk management function to enhance your disk management capabilities.
Key Features of iBoysoft NTFS for Mac
iBoysoft NTFS for Mac lets you initiate read and write action on the NTFS formatted drive on Mac. Here are a few of its features that make it different from the other rival software in the market.
1. Fast File Transfer Speed
With the advanced technology embedded under its hood, iBoysoft NTFS for Mac can transfer data with a speed up to six times faster than its competitors. The speed is so smooth that you will never doubt the fact that you are accessing and transferring data from an NTFS formatted drive on macOS just like transferring data from native APFS or HFS+ drives.
2. Simple User Interface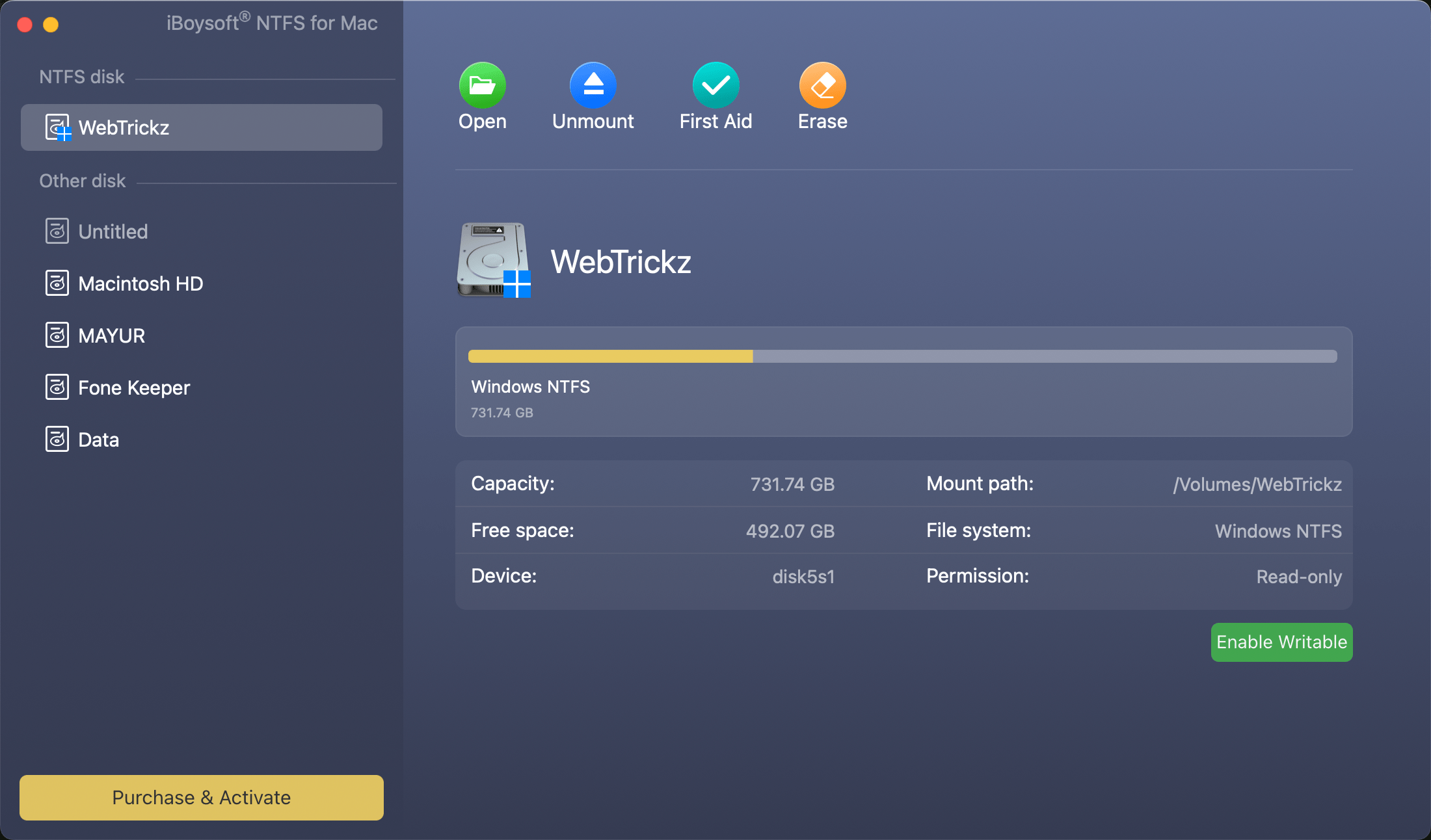 Most software has complex UI which makes it hard for the new user to navigate. In comparison, iBoysoft NTFS for Mac comes with an easy-to-use software interface. It ensures that every user can switch without any prior user experience with ease. Apart from that, you do not have to do anything more than mounting it on your system; the software itself handles the rest after launching.
3. Effective Disk Manager
iBoysoft NTFS for Mac is not only an NTFS for Mac driver but also an effective disk management tool. It allows users to manage NTFS drives and non-NTFS drives with simple clicks.
View disk details, including disk capacity, free space, file system, mount path, and more.
Mount, unmount, open, eject, and erase NTFS drives.
Check and repair errors on NTFS drives.
Open and erase other disks to NTFS.
4. Customer Services
Most software lacks the necessary customer support system. This is the reason why iBoysoft NTFS for Mac was able to make its name in the industry. Although there are far better tools than iBoysoft NTFS for Mac in the market, the lack of customer support has always restricted them from gaining the trust of their audiences.
Microsoft NTFS for Mac by iBoysoft comes with a customer-oriented support system, which enables you to get assistance from its online help center or have a one-to-one interactive conversation with the customer support team via email.
Despite being one of the best NTFS for Mac software with rich functions, iBoysoft NTFS for Mac may not please every user. Hence, you also need to be prepared to have an alternative if this utility is not available to you. For your convenience, please refer to the 7 best free NTFS for Mac software – roundup review 2022 to select an ideal one.
Price
Apart from a trial version, iBoysoft NTFS for Mac is available in two different pricing plans, namely, a 1-year subscription at $19.95 and a perpetual license at $49.95. There are no differences in function between the two pricing plans except for the time limit on software usage. You can choose a suitable plan to best meet your needs.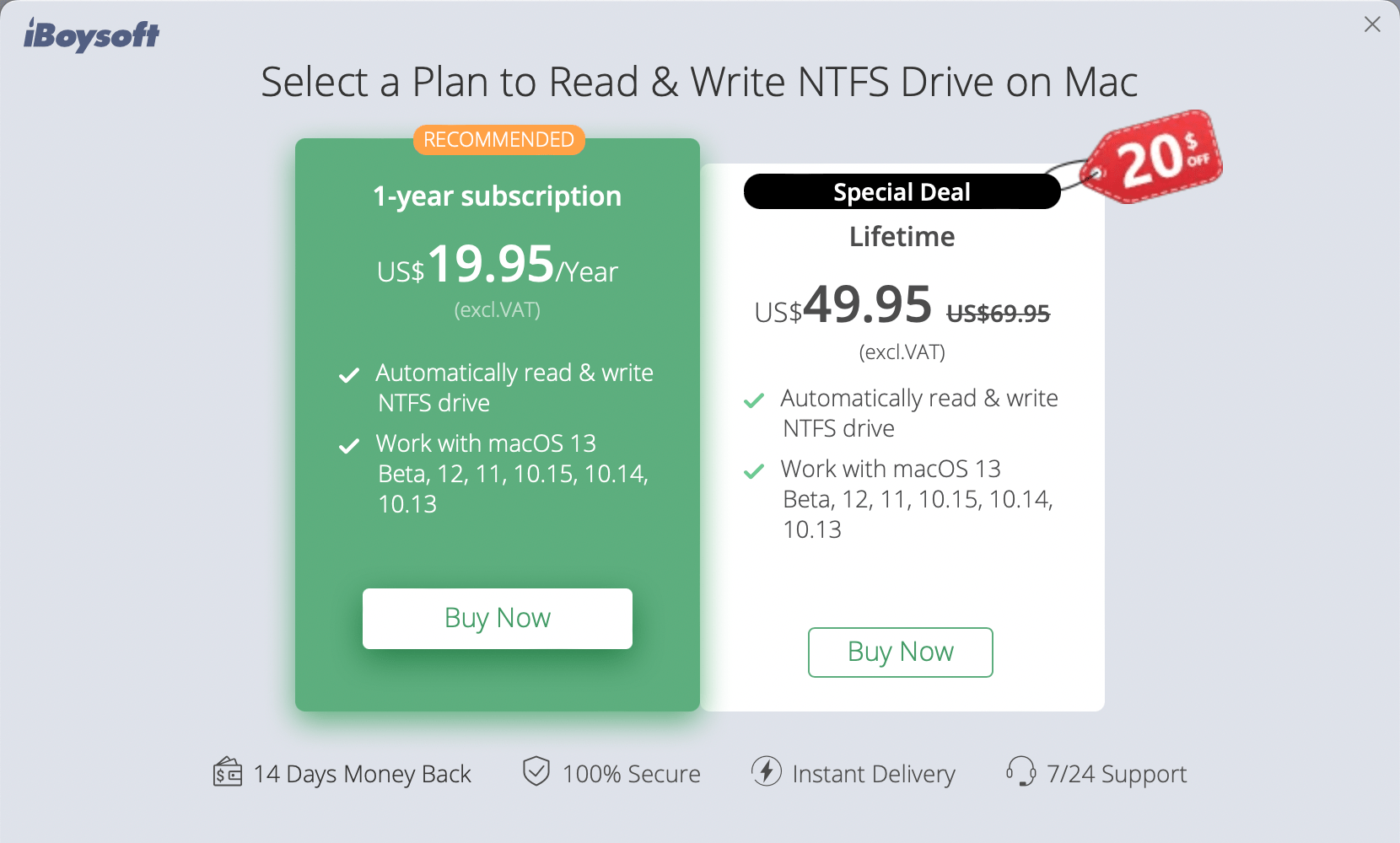 How to Gain Full Read and Write Access to NTFS Drives on Mac using iBoysoft NTFS for Mac
The user-friendly and intuitive software interface makes it easy for users to read and write to NTFS drives. To take a full read and write control of your NTFS drives, here is what you should do:
Step 1 – Download iBoysoft NTFS for Mac from its official website and then click the .dmg file to install it on your Mac running macOS 10.13 or higher.
Step 2 – Connect the read-only NTFS drive to your Mac properly.
Step 3 – Launch iBoysoft NTFS for Mac to directly read and write to your NTFS drive. There is no need for you to mount the drive manually because this software will automatically mount it in read-write mode after a successful detection.
Final Verdict
If you are looking for an easy way to mount NTFS formatted drives on your macOS, no doubt, iBoysoft NTFS for Mac is one of the best ways to do so. Equipped with an advanced algorithm, this versatile program supports different types of Mac models, such as Intel-based Macs, Intel and T2 Macs, M1, M1 Pro, and M1 Max, etc. Besides, this utility offers premium features, faster transfer speed as well as high reliability. Take iBoysoft NTFS for Mac into consideration if you want to enable NTFS read and write support on your Mac.