Like iPhone 13 and iPhone 12, the iPhone 14 lineup comes with Face ID but lacks the Home button. On newer iPhones, the Side button on the right side replaces the power button. And Siri activates by default when you press and hold the Side button on your iPhone but you can disable this behavior in settings. Due to this change, the procedure to turn off or restart an iPhone X or later is completely different. Whereas on iPhone 8 or earlier, one could simply press and hold the power key to switch off the device.
Nevertheless, if you've just got your first iPhone or are upgrading from iPhone 8 or older then you might find it tricky to turn off iPhone 14. Don't worry! The below guide shows multiple ways to switch off or power off your iPhone 14, 14 Plus, 14 Pro, or 14 Pro Max. Surprisingly, on iOS 16 you can even ask Siri to restart or power off your iPhone. In addition, there is a hidden way to shut down and restart iPhone 14 without the power button when it's broken or not working.
How to power off your iPhone 14, 14 Plus, 14 Pro, or 14 Pro Max
Using buttons
This is the traditional way to switch off an iPhone that requires using both the physical buttons and screen. However, it won't work in case you want to turn off your iPhone without sliding or touching the screen.
Press and hold the Side button and Volume Up or Down button until the power off slider appears.
Drag the slider that says "slide to power off" to the right.
The iPhone will now turn off.
TIP: You can access Emergency SOS mode from the power-off screen and turn off the Find My network temporarily so that your iPhone remains untraceable after it has been powered off.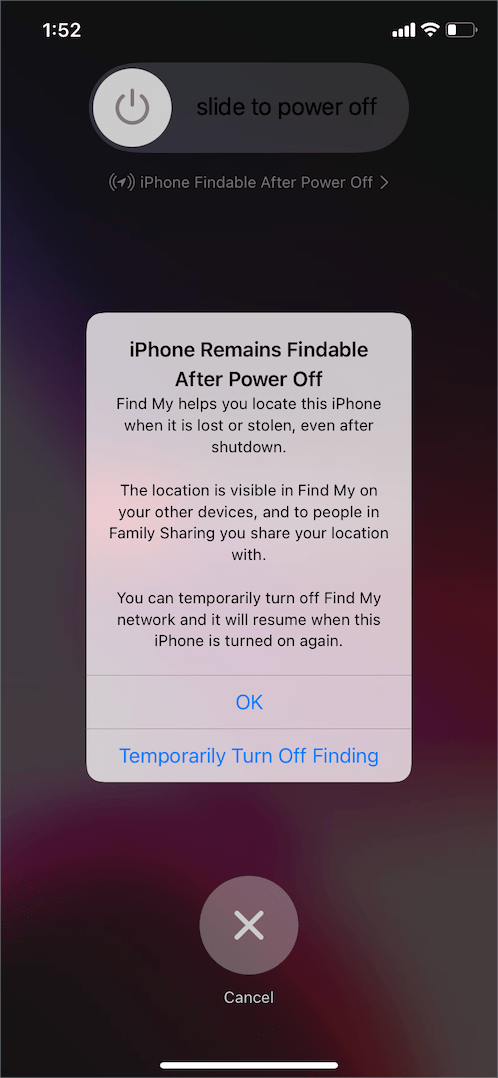 To turn on the iPhone 14, simply press and hold the Side button for a few seconds. The device will switch back on and you'll see the Apple logo on the screen.
Without power button
iOS has a virtual setting to shut down an iPhone or iPad without using the hardware buttons. It allows you to easily shut down your iPhone without using the combo of Side and Volume buttons. This comes in handy when the Side button isn't working or when you're using the device single-handedly.
To turn off your iPhone 14 without the power button,
Go to Settings > General.
Under General, scroll down to the bottom and tap "Shut Down".
Slide to power off the device.
With Siri
Looking to turn off iPhone 14 using Siri?
Starting with iOS 16, Apple users can finally turn off their iPhones using Siri. This indirectly lets you turn off your iPhone without using the screen as long as your iPhone is unlocked. It's indeed a useful method to shut down iPhone 14 without power off slider or swiping the screen. It comes in handy when your iPhone has a broken screen or when the screen is not working.
To switch off an iPhone 14 without the screen,
Launch Siri either by saying "Hey Siri" or long-pressing the Side button on your iPhone. Then use one of the below voice commands to proceed.
Turn off my iPhone
Switch off the iPhone
Shut down my iPhone

Next, Siri will read and show the "Just to confirm, you want to power off this device?" message. Simply say "Confirm" or tap the confirm button to proceed. The device will now power off.
Similarly, use the below commands to restart your iPhone 14 using Siri.
Restart iPhone
Reboot my iPhone
How to force restart iPhone 14 or 14 Pro
There are times when you've no other option than to force restart an iPhone. This happens in case your iPhone 14 screen is frozen or when the device is stuck on the Apple logo or loading screen. Perhaps, when your iPhone is unresponsive to touch or not responding to anything, a normal restart won't help.
To force reboot iPhone 14, press and quickly release the volume up button. Then press the volume down button and quickly release it. Now press and hold the Side button and release it when the Apple logo appears on the screen. Let the device boot up.
How to restart iPhone 14
Unlike Android devices, the iPhone and iPad don't have a restart or reboot option. Hence, users only have the option to power off and then turn on the device manually. Thankfully, iOS 12 and later feature a hidden restart button that most users aren't aware of. Moreover, one can now use Siri to restart an iPhone running iOS 16.
To reboot your iPhone 14 without buttons,
Go to Settings > Accessibility > Touch.
Tap on "AssistiveTouch" at the top and turn on the toggle next to AssistiveTouch.
The AssistiveTouch virtual button will now appear on your screen.
Tap the button and go to Device > More (3-dots).

Tap on "Restart" and select 'Restart' to confirm.
Voila! Your iPhone will now restart automatically.
TIP: You can customize the AssistiveTouch menu and move the Restart option to the main menu of the virtual home button for quicker access.
More iPhone 14 Tips: