YU Yuphoria is one of the best entry-level phones powered by Cyanogen OS 12 based on Android 5.0.2 Lollipop. Recently, the YU team started rolling out the latest software update for Yuphoria, which updates Yuphoria running Cyanogen OS version 12.0-YNG1TBS1O3 to YNG1TBS2P2. The latest YNG1TBS2P2 incremental update sized 38MB includes fixes and improvements for bugs pointed out by users in the current Yuphoria software. The update is available as an OTA update rolling out gradually and a full rollout will happen over the next 2-3 weeks. This is an important update that should significantly improve the performance of Yuphoria.
If you can't wait anymore, then you can choose to install the official OTA update manually on Yuphoria following the simple steps below. In order to flash the OTA, your device must be running Stock kernel and Stock recovery. This process should not affect the data on your device.
What's new – (Changelog)
The CM12.0-YNG1TBS2P2 OTA update for Yuphoria comes with a host of features and enhancements. The update reportedly fixes issues with the proximity sensor by including patches that will auto-calibrate it every time the phone reboots. The entire camera stack has been rebuilt that greatly improves the camera performance to provide sharper images and capture more details even in low light conditions. The touch panel has been made more responsive. A new firmware has been developed for faster typing and better gesture control, to give you a more fluid and seamless experience.
Other auxiliary enhancements include improvements in device thermal management, dialer experience, and a host of enhancements for the audio chipset resulting in richer bass, sharper highs, and an overall crystal clear audio experience.
Requirements – Yuphoria with stock recovery and completely non-rooted stock ROM
Note: Applicable only when updating from YNG1TBS1O3 to YNG1TBS2P2.
Guide to Manually Update Yuphoria to Cyanogen OS v12.0-YNG1TBS2P2 –
1. Download the official OTA update here: http://builds.cyngn.com/fota/incremental/lettuce/cm-lettuce-405aaf9dc6-to-79f9ccdc85-signed.zip (Size: 35.5MB zipped)
2. Place the downloaded zip file in the phone's internal storage.
3. Boot Yuphoria into Stock Cyanogen recovery – To do so, power off the phone. Then press the Volume Up + Volume Down and Power button simultaneously.
4. Select 'Apply Update' > 'choose from internal storage' > /0 > and select "cm-lettuce-405aaf9dc6-to-79f9ccdc85-signed.zip" file. The ROM will be flashed and you should be seeing the Android Bot (Flashing will take some time, be patient!)
5. Once installation is over, go to the main page and 'wipe cache partition' (Optional and it takes some time)
6. Then select 'Reboot system now'.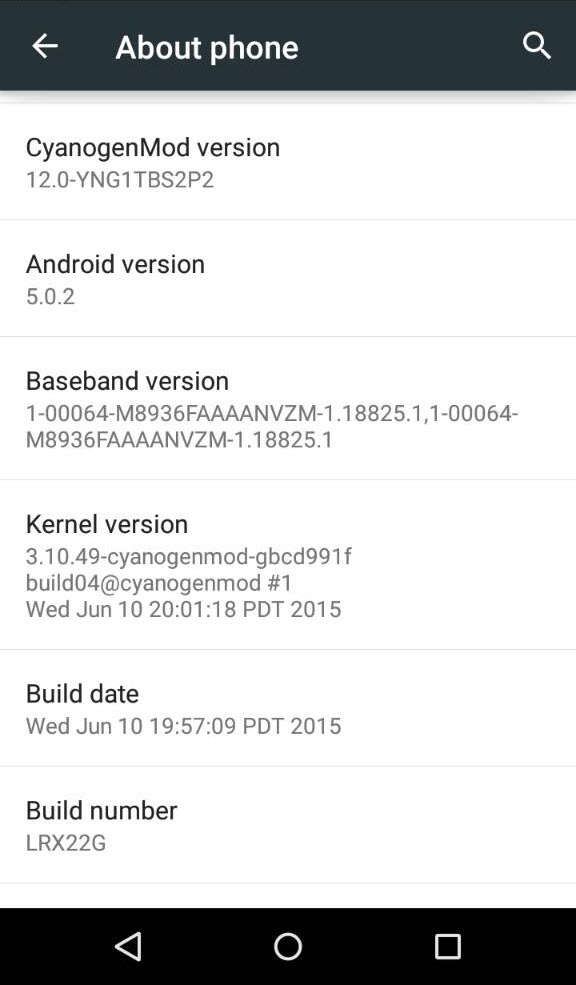 Confirm the update installation by checking the 'OS version' and 'Build date' from About phone. The build date of this update is June 10, 2015.
Source: YU Forums