Google just announced that Google+ is now available for users of Google Apps. Google+ will automatically become available in next few days to all customers who use Google Apps for Business or the free version of Google Apps and have chosen to automatically enable new services. But the impatient ones can simply enable it manually now!
Google Apps users will have access to the same set of features that are available to every Google+ user, and more. In addition to sharing publicly or with your circles, you'll also have the option to share with everyone in your organization, even if you haven't added all of those people to a circle.
Starting today, you can manually enable Google Plus service for your organization hosted on Google Apps. You can enable Google+ for all or just specific users at any time, if it is not enabled automatically. To Turn on Google+ for your Google Apps account –
1. Log in to your Google Apps administrator control panel.
The URL is primary-domain-name, where primary-domain-name is the domain name you used to sign up for Google Apps.
2. Click Organization & users.
3. From the left pane, choose the organization (select any specific user if you want) for which you want to enable Google+. Then click Services.
4. Make sure that the following services Google Talk and Picasa Web Albums, are turned on for the selected organizational unit.
5. Under Additional Services, scroll down until you see the Google+ service. Turn on Google+ by tapping the ON option button.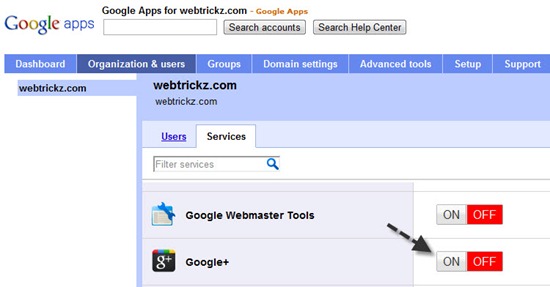 6. A pop-up box will open up as shown, just select the 'Turn Google+ on' option.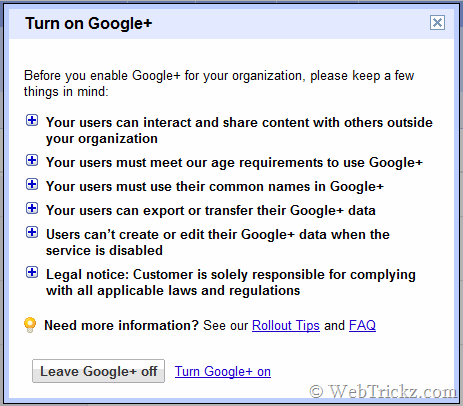 7. Then click 'Save changes' option shown at the bottom left side.
Now visit plus.google.com and sign up using your Google Apps account logins. You need to join the service before you can use it.
For those of you who've already started using Google+ with a personal Google Account and would prefer to use your Google Apps account, we're building a migration tool to help you move over.
Source: Google Enterprise Blog