Google just rolled out two new Google+ features that integrate with most popular Google products – YouTube and Chrome. On opening Google+, you will notice a YouTube option at the top right which lets you instantly search and play your favorite videos by selecting them from a list of related videos, shown in a new pop-up window. You can also +1 any video or share it with your circles on Google+ in a few clicks.
Google has also released a new Google+ extension "Google+ Notifications" for Chrome that is just a clone of the popular G+ extension Surplus, but is an official one. When signed in, it lets you view notifications of Google+ activity from anywhere on the web on Chrome. The extension icons turns red whenever there is a new unread notification which can be simply viewed by clicking on its button.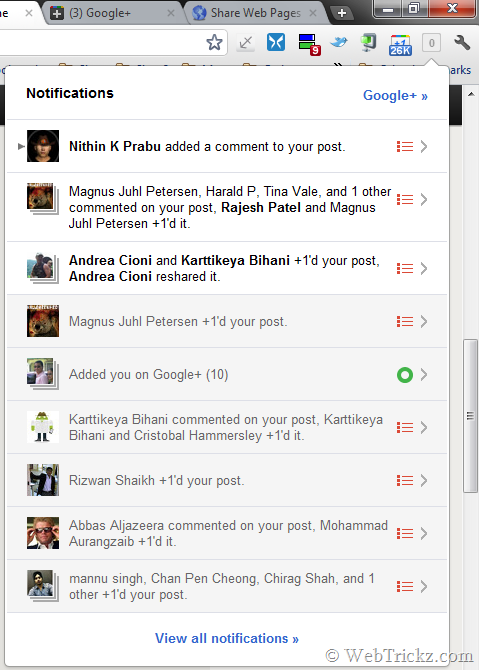 You can reply to a comment, +1 a post or comment from within the Google+ Notifications drop-down menu but you cant share a post using it unlike Surplus. Now you can quickly check notifications while browsing the web and without opening Google+.
– Google+ Notifications Chrome Extension
>> If you're an IE user, then just install the new version of Google Toolbar for Internet Explorer which includes these same sharing and notification features.
Google +1 Button: +1 any page on the web, then share it with your circles.
Alongside, they have improved the official Google +1 Button chrome extension by adding the Share feature to it. Now you can +1 any webpage or share it on Google+ in Chrome directly from any webpage. It also shows the +1 counts for a particular webpage and one can also Undo +1 using the same button.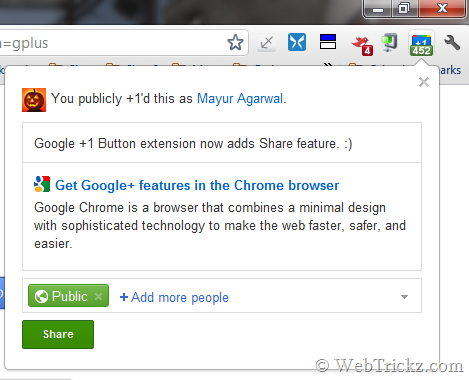 – Google +1 Button Chrome Extension
via [Google Blog]