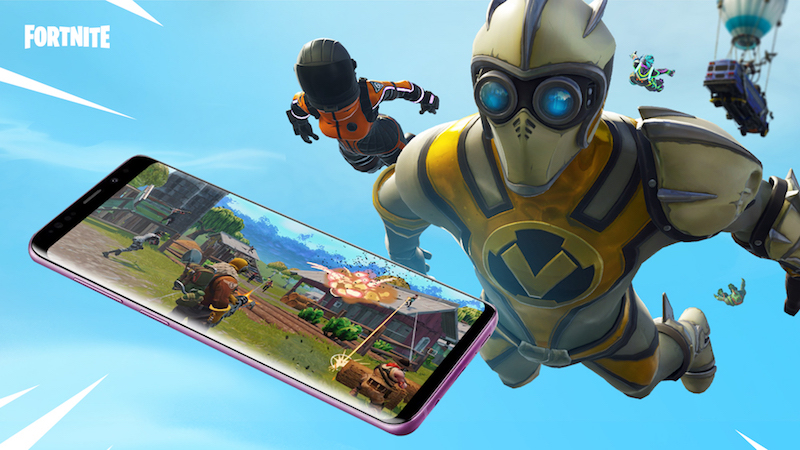 With the launch of Samsung's flagship Galaxy Note 9 yesterday, the much-awaited gaming title "Fortnite" for Android has also made its debut. Epic Games, the developer of Fortnite has initially made the game available for several high-end Galaxy smartphones in an exclusive partnership with Samsung. Though, the immensely popular free-to-play battle royale game will be available in beta form for selected Android devices sometime later. After the end of exclusive availability for Samsung devices, users with compatible Android devices can signup for an invite through the Fortnite website.
As of now, Fortnite is supported on the following Samsung Galaxy devices: S7 / S7 Edge, S8 / S8+, S9 / S9+, Note 8, Note 9, Tab S3, and Tab S4. In case, you don't own any of these Samsung devices, then you can visit this link to check if your Android device is compatible with Fortnite or not. For those unaware, Fortnite for Android won't be available on Google Play because Epic Games has rather chose to distribute the game outside the Play Store via APK. For Samsung phones, however, the game has been integrated with Samsung Galaxy Apps.
Coming to the point, if you're thinking of getting Fortnite by simply installing its APK on a compatible device then it isn't that easy. That's because the game checks your device and compares it with the list of whitelisted devices. Hence, if you try to get the game by installing the APK then you won't be able to download it due to failed verification.
How to install Fortnite on Android phones without an invite
Kudos to folks over at the XDA Developers forum, who have managed to port the game for non-Samsung devices without requiring an invite. Quinny899, the recognized developer has actually modified the game's APK with only the device check disabled. This perhaps tricks Fortnite for Android into thinking that the app is being accessed on a Samsung Galaxy Note 9. That said, you still need to have a compatible ARM64 device (arm64-v8a). You also need to adjust the settings of the game accordingly for your device, else you may experience optimization issues.
Without further ado, let's find out how to play Fortnite for Android right now without the need for an official invite. Follow the steps below:
Make sure your device is listed in the list of compatible devices.
If your device is supported, download "Fortnite_com.epicgames.fortnite-5.2.0.apk". (Size: 90.4MB)
Before installing the APK, you need to uninstall the official APK first. (Important)
Now install the APK downloaded in step #2 by sideloading it.
Run the Fortnite app and it should start downloading the data instantly. Note: The download size of the entire game is around 1.9GB.
That's it! After the data has finished downloading, you're all set to play the game once you've signed into an account. You can create a new account if you don't have one already. We tried running Fortnite on our OnePlus 5T, the game was installed without any issues and ran perfectly.
Source: XDA Forums