Windows 8 RTM is out and those using it must have noticed that Windows 8 Final build 9200 (Core, Pro, Enterprise) contains a watermark. The watermark appears on non-activated Windows 8 on the lower right corner of the classic desktop. Windows 8 even shows an activation notification frequently if your Windows activation is pending. This can become intrusive for users running a 90-day evaluation copy or those using Rearm trick to use Windows 8 without activating. Luckily, a super easy and GUI based 'Watermark and Activation Notification Remover for Windows 8 RTM' is now available!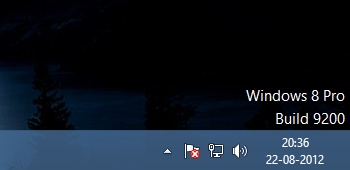 The tool named '-Removed-' offers the ability to remove the desktop watermark and activation notification from all versions of Windows 8. Supported system: Windows 8 RTM (Pro, Pro WMC, Core, Enterprise), both x86 (32-bit) and x64 (64-bit) version.
To use it, simply download the file and extract it using an archive program like WinRAR. Right-click the ———- file and Run it as Administrator. Click on the Install button and let the installation complete.
-Removed-
When installed, hit the 'Restart Windows Now' option to reboot Windows.
After rebooting, watermark and activation pop-ups should disappear. Enjoy! 🙂
-Link Removed due to violation-
Note: Those having older version 2.0 installed can update to latest version directly without uninstalling first.
Update: This tool even removes the 'Activate Windows – Go to PC settings to activate Windows' watermark that for us appeared after resetting Windows 8 Pro.
New v2.6 supports Windows 8 with language packs installed.

P.S. This tool is NOT something meant to crack or activate Windows 8 illegally.
Source: XDA-Developers