Like Windows 7, Windows 8 also shows important messages in the system tray displayed by Action Center. Windows checks for problems in the background and sends you a message when there is any problem related to Security or Maintenance features, including Windows Error Reporting, Windows Defender, and User Account Control.

To seek user attention, the Action Center pops up a notification in the taskbar and suggests fixes for listed issues. Perhaps, if your Windows is not activated then you'll be reminded to 'Activate Windows now' at frequent intervals. This can turn annoying if you're using a 90-day trial version of Windows 8 or rearm trick for an extended trial.
To turn off or disable the 'Activate Windows now' message, go to Action Center (Win + X > Control Panel). Under Security, simply click the option 'Turn off messages about Windows Activation'.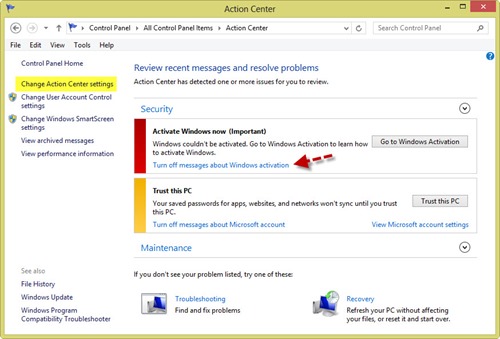 Alternatively, you can open 'Change Action Center settings' from the left-side pane and uncheck the Windows activation option. There you can turn messages on or off for various other services as well.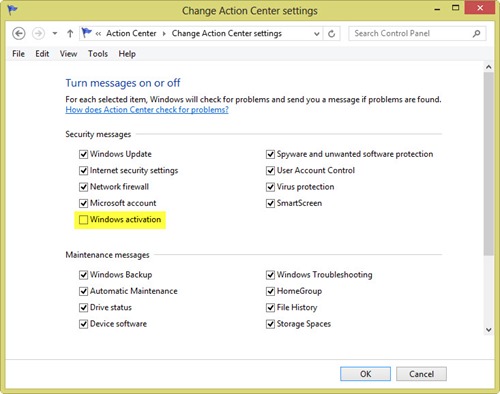 Tip: To disable Action center messages on the taskbar, open Control Panel > Notification Area Icons. Change the behaviour of 'Action Center' to 'Hide icon and notifications.' Click Ok and then you won't be notified about changes or updates.