We've previously shared User Guide for iPhone & iPod Touch. Apple has now introduced latest iPhone user guide for iOS 4 software. The manual comes handy to iPhone 4 users and helps those who are new to iOS4, which comes with 100 new features.
The 244 page guide is a 17 MB PDF file which is divided into 28 chapters, listing tutorials and information on iOS4 features for iPhone 4, 3GS and 3G. Tips are covered about the Phone, Mail, Safari, iPod, Messages (SMS/MMS), Calendar, Photos, Camera, YouTube, Stocks, Maps, Weather, Voice Memos, Notes, Clock, Calculator, Settings, the iTunes Store, Compass, Contacts, Nike + iPod, iBooks, and Accessibility.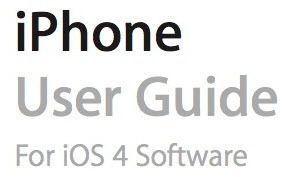 Download iPhone User Guide (For iOS 4 Software)
To access the guide from iPhone/iPod touch, open the iPhone User Guide bookmark in Safari or go to help.apple.com/iphone.
The guide is also available in many other languages which you can download here.