Many countries across the world including India are facing a strict lockdown due to the Coronavirus outbreak. People are social distancing, working from home and looking for ways to entertain themselves. If the boredom is killing you then playing games with your friends online can help. Instant Games on Facebook is perhaps the best way to play games on Messenger without any hassle.
Ludo is one such popular and classic board game for two to four players. Both children and adults can instantly play it on Facebook while staying indoors. It is a fun game that will revive your childhood memories. Though there are various Ludo games available on Facebook, Ludo Club and Ludo King are the best ones with most players.
Why you can't play Instant Games on Messenger?
Those looking to play Ludo on Messenger won't be able to do so anymore. That's because Facebook has removed Instant Games from its Messenger app back in July last year. The games are now integrated into the Gaming tab on the Facebook app. Hence, you cannot play Instant Games directly in the new version of Messenger for iOS and Android.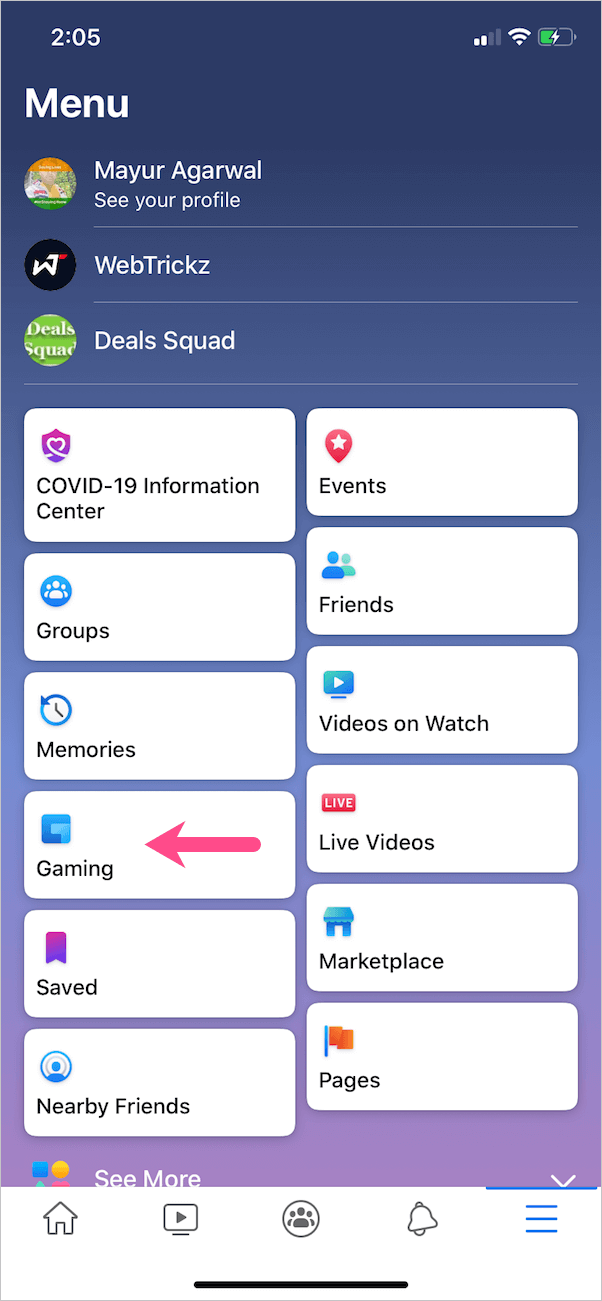 Thankfully, you can still play Instant Games on Facebook. Also, if you get an invitation to play games in Messenger, the gameplay will automatically switch to the Facebook app. Without further ado, let's see how you can play Ludo Club on Facebook on iPhone and Android.
How to Play Ludo Game on Facebook
Make sure you have the latest version of Facebook installed.
Open Facebook. Tap the Menu tab and select "Gaming".
Tap the Search button at the top-right corner and enter ludo. You will see a big list of Ludo games. Select 'Ludo Club'.

Now either select 'Play now' to play the game online with anyone across the globe. Or select 'Friends' if you want to play Ludo with your Facebook friends.
In the Play now mode, choose either 2 or 4 players and hit Start.
In the Friends mode, select the Classic or Rush mode.
Enjoy. Similarly, you can search for "Ludo King' in the Facebook Gaming tab and play it.
TIP: To find a game on Facebook for Android, tap the search button at the top and enter ludo club. Now select Ludo Club, listed under Instant Games. Opening any other links may take you to the official Facebook page and other groups of ludo club.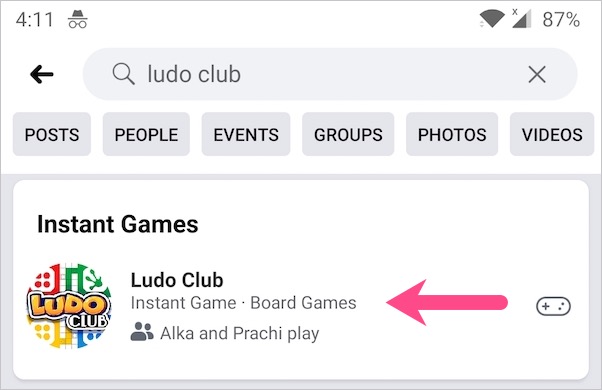 Invite friends to play ludo on Messenger
After selecting your desired mode in Friends section, tap the Play button next to the friends who play ludo or share a post on your timeline.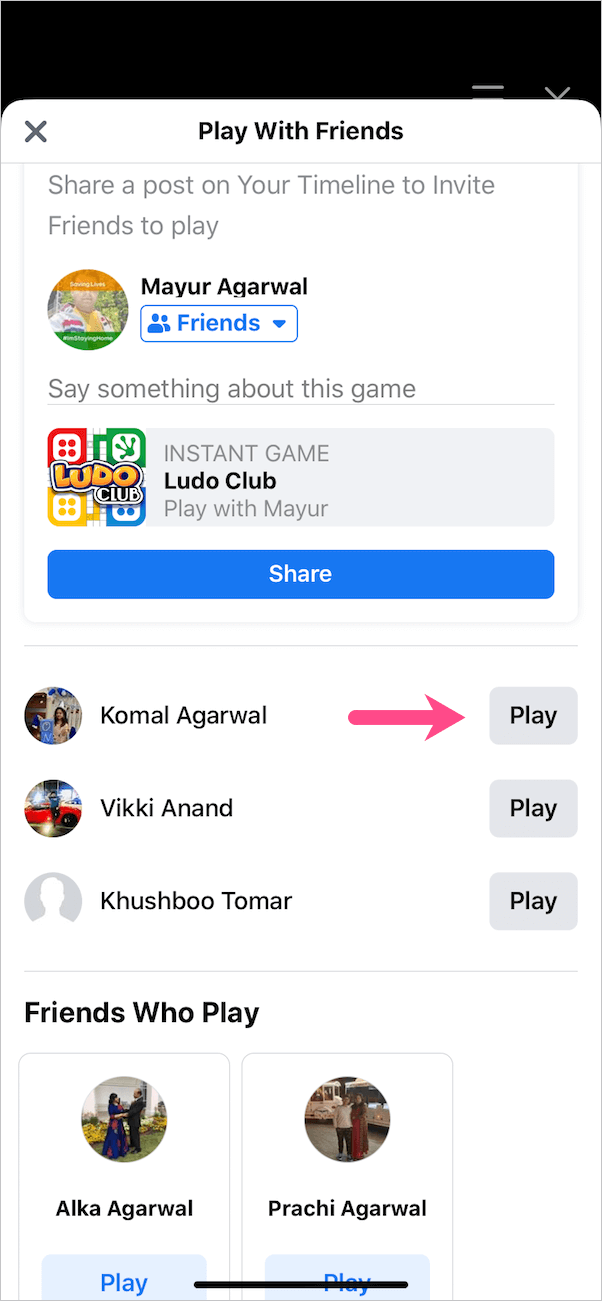 Your friend will now get a notification saying that "XYZ has invited you to play ludo with them'. The invitation appears both on the Facebook and Messenger app.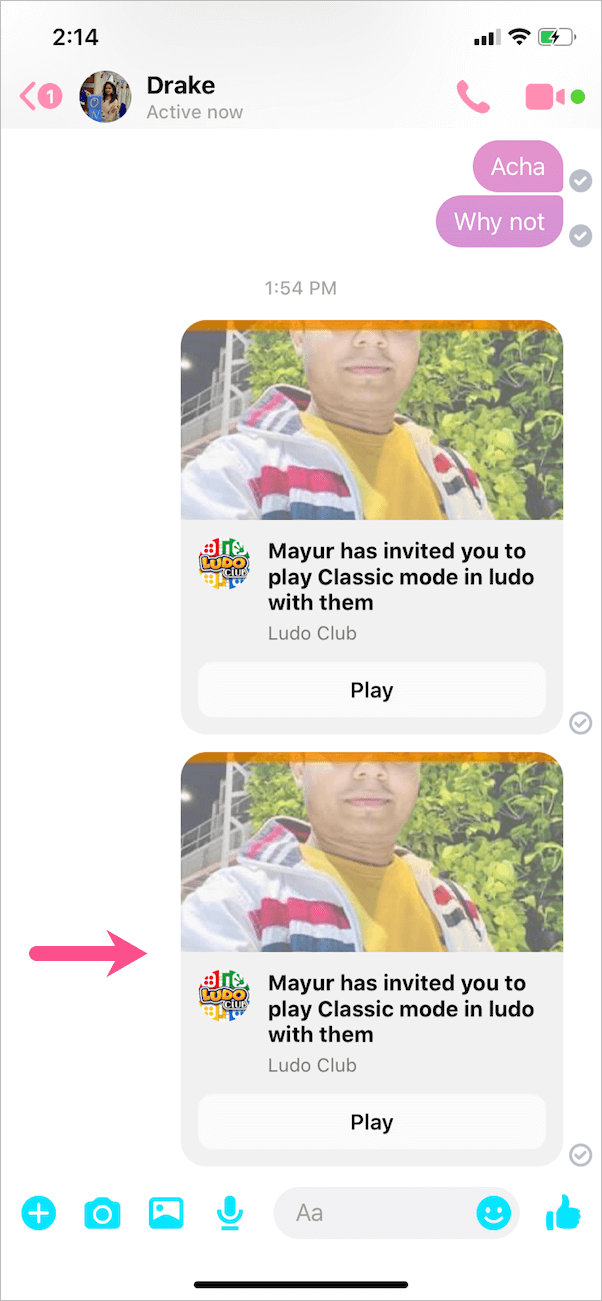 A "Waiting for friends' screen will now pop-up and your friend will have 120 seconds to join the game. As soon as your friend accepts the invitation to play the game, their profile picture will appear on the screen and the 'Start game' button will turn green. You can now start the game or invite more friends.
Bonus: You can also have a quick chat with your buddies while rolling the dice. Moreover, a bot plays on your behalf in case the time runs out and you miss your chance.