Quickly Share Any Webpage to your Google+ Stream [Chrome Extension & Bookmarklet]
A while ago, Google released an official Google +1 Button extension for Chrome that allows users to +1 any page they visit on the web. Until then, the extension has not been updated and it is missing the much needed Share on Google Plus feature. Recently, Google made available the API for Google+ and developers have started their work. Now you can Share any web page on Google Plus quickly using a bookmarklet or an extension. It comes handy to share webpages that don't have a +1 button integrated.
Share on Google Plus is a useful Chrome extension which seems using the code from Simple Google+ Bookmarklet, made by AJ Batac. The only difference in this extension is that it doesn't displays the Share web page and just lets you easily and quickly share a webpage to Google+ stream, directly from Chrome's main bar. Hence, you can now share anything without the need to manually post it on Google+.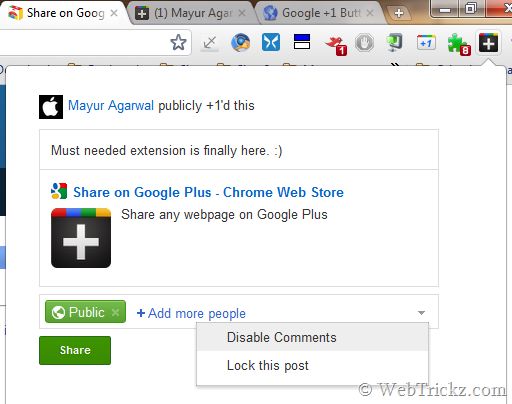 – Share on Google Plus [Chrome Extension]
– Simple Google+ Bookmarklet (Update: Bookmarklet with a pop-up window) [via]
Seems I'm the first person to discover this Chrome extension. So, don't forget to share about it on G+. 🙂