The New '2012 version' of TuneUp Utilities has now been officially released and we're really pleased to hold its giveaway just after few hours of its launch. Just to recall, we had conducted a giveaway of TuneUp Utilities 2010 back in 2009 and the readers appreciated it. Thanks to TuneUp Corporation for cooperating once again and being kind enough to sponsor Free Licenses of the latest and advanced TuneUp Utilities 2012.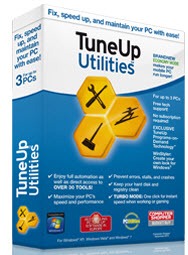 TuneUp Utilities is an award-winning, most effective, and powerful PC optimization software for Windows that offers several tools and functions to solve PC performance issues and troubleshoot Windows issues. The program has a nice graphical and easy to use interface, allowing novice users to easily make tweaks & customization to their PC.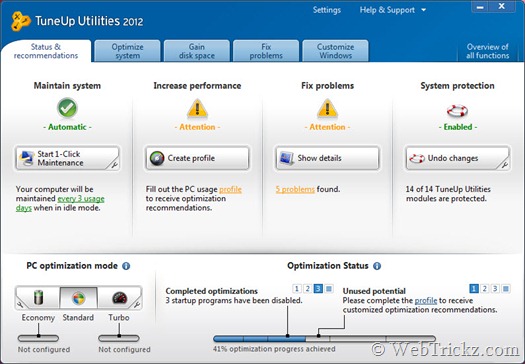 Its 1-Click Maintenance offers the ability to quickly cleanup your system, make it run faster, fix registry issues, remove broken shortcuts, delete temporary files, defragment hard disk and registry. Live Optimization works silently in the background and improves the startup and performance of all running applications. Other functionalities include the option to detect and fix common problems, disable startup programs, uninstall programs, securely delete data, see detailed system information, manage processes, check hard drive for errors, etc. Customize Windows is one of the best feature of TuneUp Utilities. In just a few clicks, one can simply personalize the entire appearance of Windows.
TuneUp provides a great and simple way to configure the settings as desired by the user. Most settings can be accessed directly from the corner of the tool buttons itself whereas there is dedicated Settings window to deeply customize TuneUp settings.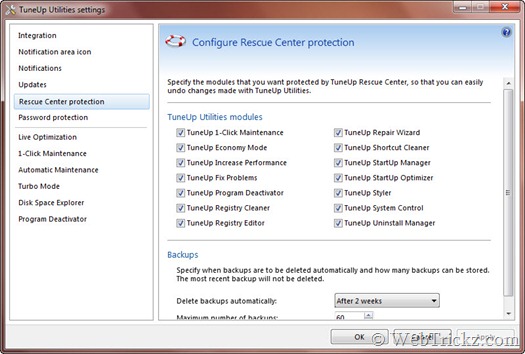 The New TuneUp Utilities 2012 –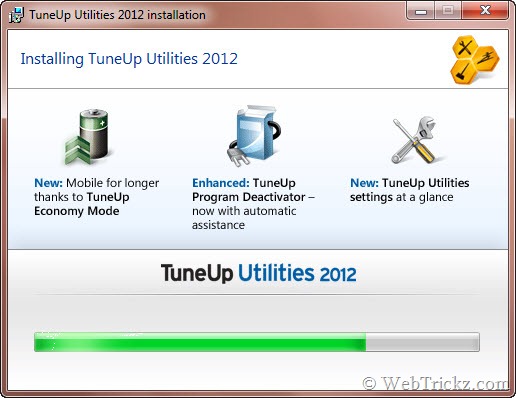 What's New in TuneUp Utilities 2012?
The New TuneUp Utilities 2012 is certainly the most powerful TuneUp Utilities of all time. That's because it emphasizes more than just simply increasing the system performance. TU 2012 introduces new ways for optimizing PCs to offer an efficient and reliable OS, drastically prolong battery life on laptops and less energy consumption on desktops, comprehensive and automatic maintenance, and the highest degree of privacy.
It comes with an elegant and revised user interface, thus making TuneUp Utilities 2012 startup screen start twice as fast and reduce in clicks by integrating the settings option for specific functions, on their button itself. The new design makes it easier to switch between all the great optimization features, such as TuneUp Program Deactivator, Economy Mode, and Automatic Maintenance, with all their settings in one place. The suite serves access to over 30 tools – more speed, better stability, less problems.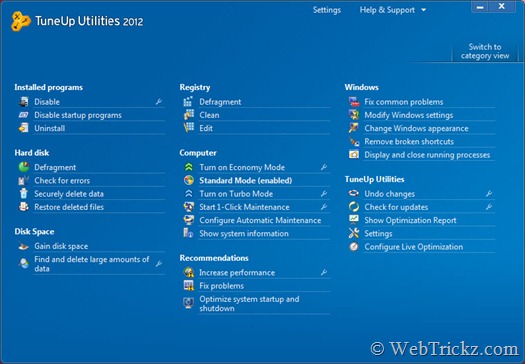 "TuneUp Utilities 2012" combines two new and unique technologies "All-new TuneUp Economy Mode" and the enhanced "Program Deactivator" that aims to give a dual performance boost.
TuneUp Economy Mode: Longer-lasting battery & Lower energy consumption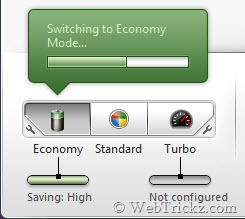 TuneUp Economy Mode guarantees significantly improved battery life and reduced power consumption by implementing crucial Power Management settings. It ensures that the CPU runs constantly at its lowest clock speed to save power, regardless of what type of application is running! Once Economy Mode is active, all non-essential background processes and services will be disabled to reduce power usage, thereby resulting in a remarkable increase in battery life. A lifesaver when you're using the laptop on the go.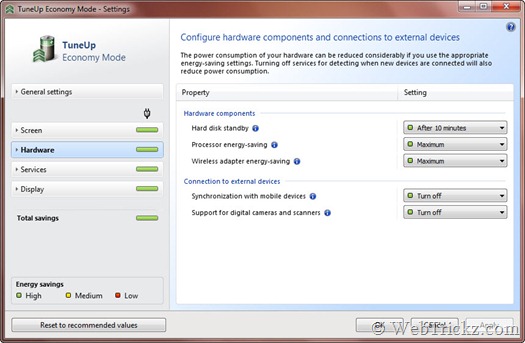 More Battery Life: Economy Mode gives laptops, netbooks, and tablets up to 30% more battery life.*
Lower Energy Costs: PCs consume up to 30% less power once Economy Mode is active.*
Longer Lifespan: Less output means less stress. By powering down your PC and many of its components, your hardware is guaranteed to live longer.
* Compared to power-saving techniques found in Windows 7. Check TuneUp Utilities™ White Paper for details on all our performance and battery tests.
TuneUp Program Deactivator: First fully automatic PC Energizer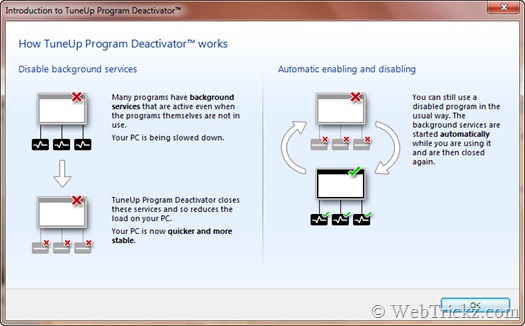 The new and advanced TuneUp Program Deactivator allows users to easily disable infrequently used programs to hibernation state; in order to conserve system resources, free up working memory, improve start-up times, improvement in battery life and energy consumption on desktop and laptop PCs. Users can disable the programs based on their considerable load namely: startup load, operational load, and shutdown load.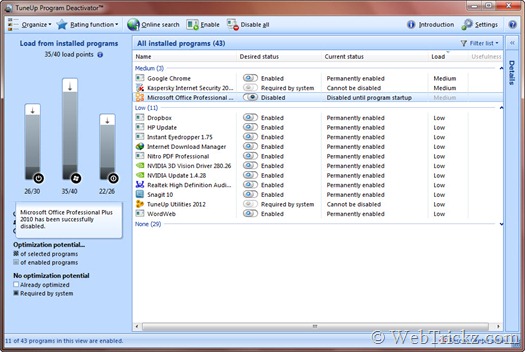 Restores over 50% of speed and free space on bogged-down PCs
Disables programs including all resource-hungry components
The moment you need them, they're back on! The very second you launch a program, Program Deactivator enables it "on-the-fly".
NEW! The moment you're done, they're "back to sleep"! Only moments after you close the application, Program Deactivator turns all of its active components off.
– Supports Windows 7, Vista and XP (32-bit and 64-bit) operating systems.
Try TuneUp Utilities 2012 – Download 15-days Fully functional Trial
GIVEAWAY – We're offering 5 Free genuine licenses of TuneUp Utilities 2012 which actually costs $49.95 each. The license has no expiration date.
To participate in contest, follow the rules below:
Tweet about this giveaway on twitter. Remember to leave a valuable comment below along with your tweet status link. (Use the Tweet button below to tweet).
OR
Become WebTrickz fan on Facebook – Just visit our facebook fan page and click the 'Like' button. Then leave a comment here below stating why you need TuneUp license.
OR
Just comment – If you aren't on twitter or facebook, then simply leave an engaging comment below, describing what you like about TuneUp 2012 and why you need it?
Note: Making a comment below is necessary in all the above 3 rules.
5 Winners will be chosen from the comments section below and results will be announced on October 21st.
UPDATE – This giveaway is closed now. Thanks for participating.
5 Lucky Winners chosen randomly are: sumit_g, Wyne, Rahsin, azziz07, Lee
Note: Winners will be notified via email and they've to respond back to our email in order to get the TuneUp license. If they don't respond, then runners-up will get the license.