Smart Installer pack – Installs 24 useful and free applications
It becomes very annoying to re-install all the previously installed applications after a Windows format. Don't worry..Here is a single installer which can let you install all your useful applications and software's in one go.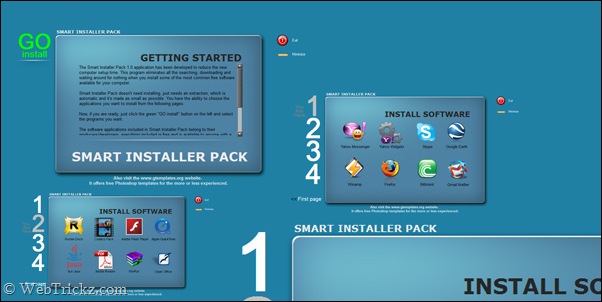 Smart Installer Pack is one executable file, which can automatically install 24 applications in one click. It eliminates the task of searching around the Internet, waiting, downloading and installing the apps one by one. It has a easy and intuitive user interface design.
You can choose the applications which you want to install by selecting the software icons. The apps included are really useful and needed by everyone of us.
24 Free Applications included are:
Yahoo Messenger, Yahoo Widgets, Skype, Google Earth, Winamp, Firefox, Bittorent, Gmail Notifier, Rocket Dock, Codecs Pack, Adobe Flash Player,Apple QuickTime, SunJava, Adobe Reader, WinRar, Open Office, Daemon Tools, ThunderBird, Gimp, Picasa, Avira Antivirus, Google Chrome, CCleaner and KmPlayer.
Download latest version of Smart Installer Pack  (Size: 227 MB) 
Source: Connected Internet